12/23/2015
Meet Tali: 2015-2016 PEI Fellow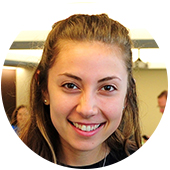 Have you ever taken the time to reflect on your primary educational journey? How about the fact that you can read this sentence? Being able to read, write, and comprehend are invaluable skills, and often taken for granted once they are mastered. The aim of the Public Education Initiative is to do just that; bolster the literacy of children in the Cleveland Metropolitan School District (CMSD), through individualized sessions with our team of dedicated volunteer tutors, and I am elated to be a part of the magic!
My name is Tali Merdler, and I am the Public Education Initiative Fellow for the 2015-2016 school year. In August, I graduated from Kent State University with a specialized degree in Sociology, Human Development and Family Studies, and Jewish Studies; I am a Cleveland native (a Brush High School graduate) and so happy to be back in our city as it continues to transform.
My passions for instilling confidence in children and helping my community are met everyday working in seven different schools in CMSD. On an average week, I float around from school to school with Jeanne Shatten, PEI's On-Site Coordinator, all the while communicating with our director at the Federation office, Jessica Bell Semel. These two wonderful women have truly perfected the program and I am so thankful to work alongside them.
At the heart of it all are the 100 tutors that invest their time in the success of these children, week to week tracking their progress, engaging in meaningful and relevant discussions, and having a blast learning! Look out for future posts that highlight each of our schools, and join me in adventure that is the Public Education Initiative!
Check back soon for more blogs from our PEI Fellow, Tali!
---
Related Items