01/18/2023
Meet the 2022 ShinShinim & Shaliach
Bringing Israel to Cleveland: Our community is lucky to host community ShinShinim and Shlichim (Israeli emissaries). These young adults spend the year living in Cleveland, bringing Israeli life and culture to our community. Get to know our 2022-23 group below: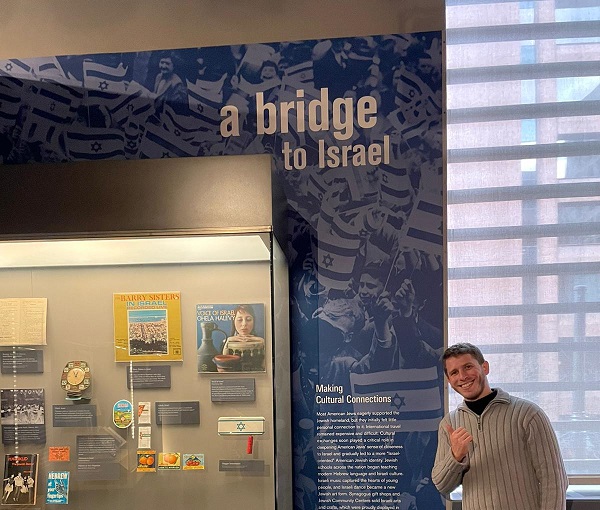 Itay Margalit is Cleveland's Community Shaliach. Itay moved to Cleveland from Haifa in Fall 2021, and has since been engaging with our community through events and programs especially for our young adult community.
Get to know Itay here:
What has been your favorite part about living in Cleveland?
Cleveland is a perfectly sized city; it feels like a small community, but there is always more to explore. There are so many interesting communities in the city that are extremely keen to learn about one another.
What's one thing anyone that's new to Cleveland should know about?
The Cleveland Metroparks. They are all over the city and the suburbs, and there is no such thing as bad weather to visit them. "Everything is possible with the right coat," is what I was told when I got here. The Metroparks have it all, from forests to the lake and the river.
What is your favorite Cleveland landmark?
It would be too easy to say Edgewater Park, the Rock Hall, or the stadiums, so I would take it somewhere else. I would say Force Sports, which is where I often play soccer in my leagues. Since I got here was a place of gathering around for people from different cultures who might would not have met otherwise. It was special to see how sport brings people together in Cleveland through a common love and creates relationships with people it wouldn't have been possible for me to meet back home.
Favorite Food:
Any Mexican food my mom (who is from Mexico) makes
Favorite ice cream flavor:
Caramel Fudge Brownie
Favorite Movie:
Forrest Gump
Favorite Musician or Band:
Paul McCartney
---
Each year, Jewish Cleveland is fortunate enough to have a group of high school graduates from Israel work in our day schools, synagogues, and throughout our community meeting and connecting our teens to Israel, the Hebrew language and Israeli culture. These young adults, known as ShinShinim, are part of the ShinShin program, a long-standing partnership between the Jewish Federation of Cleveland and @akiva, a Federation beneficiary agency.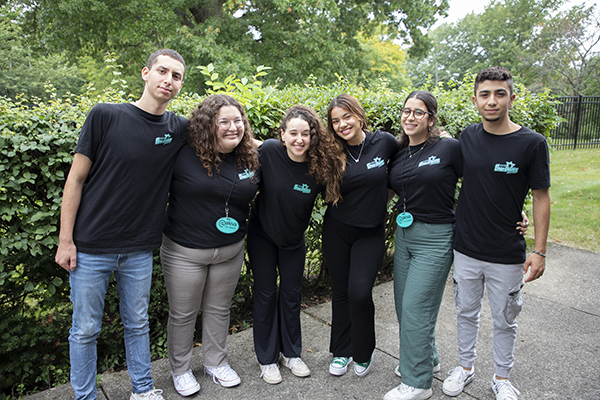 So what's it like spending a "gap year" in Jewish Cleveland? Here's what Tomer Blise, Mical Ortman, Michal Sela, Gil Geva Keinan, Yoav Manor, and Bnaya Michael Gavish Maor had to say:
"There are many gap year programs in Israel, but this is the most popular," said Bnaya. "We're not allowed to choose where we go, but we're all wishing that we're chosen for Cleveland. Other programs are for three months, but this is for one year."
"Everyone is so nice, warm, and kind," added Mical. "This community is amazing, and they all respect this program and the people who are a part of it. And so the six of us, who didn't know each other growing up, get to represent so much of Israel."
"It makes me proud to see the Israeli flag hanging or Hebrew writing on buildings," said Yoav. "You can see how much Jewish pride there is here."
"We were so welcomed into the community and we're so glad we came," said Gil. "It's a hard step for us, but we love it. The teens, the people, everyone and everything is incredible."
"I want the students and teens to feel like they have an Israeli friend," said Michal. "Each and every one of us, we are all so different and we come from different backgrounds. We all give them something special."
"I wanted to be a ShinShin in Cleveland ever since I was a little kid," said Tomer who is from Cleveland's sister city of Beit Shean. "I was here for a Super Sunday a few years ago and always promised myself to come back as a ShinShin. This community is amazing, and better than my expectations. Everyone is amazing. It's so fun to be here and experience everything here."
Now to really get to know the ShinShinim, here are a few fun facts about them:
Favorite Food:
Gil – steak
Mical – anything potatoes
Michal – shawarma
Yoav – hummus
Tomer – shawarma
Bnaya – jachnun (a Yemenite Jewish pastry)
Favorite ice cream flavor:
Gil – chocolate peanut butter cup
Mical – vegan chocolate
Michal – cookies and cream
Yoav – caramel chocolate
Tomer – peanut butter
Bnaya – lemon sorbet
Favorite Movie:
Gil – The Impossible
Mical – Mamma Mia
Michal – Nerve
Yoav – Olympus Has Fallen
Tomer – The Hunger Games
Bnaya – Blended (Adam Sandler's vacation movie)
Favorite Musician or Band:
Gil – Nathan Goshen
Mical - The Neighbourhood and Rihanna
Michal – Chaviv
Yoav – Omer Adam
Tomer – Maroon 5
Bnaya – Led Zeppelin and The Beatles
Favorite Cleveland Landmark:
Gil – Mandel JCC
Mical – Chagrin Falls and Trader Joes
Michal – Van Aken District
Yoav – Chagrin Falls
Tomer – The Grove
Bnaya – Nature Center at Shaker Lakes
Do you have a teenager at home who would like to be involved and connected to the ShinShin program or learn Hebrew? Follow the ShinShinim throughout their time in Cleveland on their Instagram page at @Cleveland.shin.shinim, and connect with them directly!
For more information on these programs, contact Tal Rothstein at trothstein@jewishcleveland.org or 216-593-2861.