08/08/2017
Meet the Belkins: Leaving a Legacy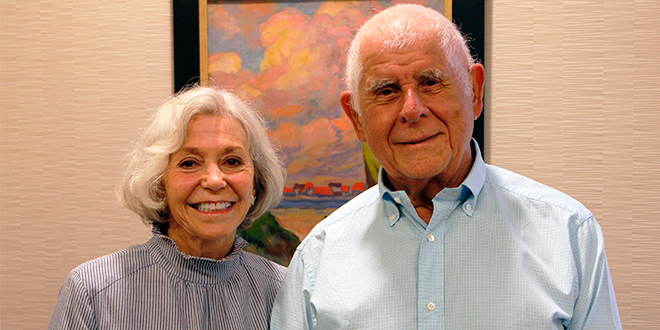 What you inherit or earn during your lifetime may end up in many different places when you pass away – you may have spent it all while you were alive, it may go to the government (especially if you don't have a will), you can leave it to your children, or you can do something good for the causes you care about. Fran and Jules Belkin chose to do something good.
The Mayfield Heights couple created a meaningful Jewish legacy by including the Jewish Federation of Cleveland in their wills. "Our Legacy commitment is our way of planning what will happen to our assets when we pass on," they said.
Bequests may be a specific dollar amount or a percentage of your estate. Once the promise of a commitment is made, you become a member of the Federation's Legacy Society. A bequest is just one of the choices for creating a Jewish legacy. "We've lived in Cleveland all our life, and the Jewish community is important to us. Leaving part of our estate to the Federation sets a great example for our children, and our community."
Every summer, members of Federation's Legacy Society gather for a "Special Evening of Thanks." New $100,000 Legacy donors have the opportunity to inscribe their gift into the Book of Life. "We like to think about that night as a reunion of givers," said the Belkins. "We all have a common cause, we haven't graduated from the Jewish community and we're continuing to learn. And learning is part of giving – the more you learn about a community, the easier it is to give. We celebrate our ability to give and celebrate the Federation."
When the Belkin's made their legacy commitment in 2016, their children joined them for the Book of Life signing event. "It was important for them to see us making that commitment – we're proud to make that impact. As a family, we were all proud; it was one of the most touching experiences to watch how emotional our daughter was."
For nearly 40 years, Fran and Jules Belkin have been passionate and generous members of Jewish Cleveland. Now, their Legacy will live on for Jews in Cleveland, Israel, and around the world.
---
Related Items
For information on how you can Create Your Jewish Legacy, contact Carol Wolf at 216-593-2805 or cwolf@jcfcleve.org.