09/21/2020
Meet the Cleveland Shin Shinim
Shalom (Hello) to Guy, Ido, and Ori! These three Israeli teens are spending the next year in Cleveland as part of the Shin Shin program, a collaboration between the Jewish Federation of Cleveland's Overseas Connections Committee, and Federation beneficiary agencies @Akiva and the Jewish Agency for Israel.
The Shin Shinim will work with our day schools, congregational schools, youth groups, and other groups in our community, teaching people of all ages about Israel and Israeli culture. They're also excited to meet other teens, like them, through their work.
Meet Guy, Ido, and Ori now, and stay tuned to hear more about three additional Shin Shin who will be arriving in Cleveland later this year!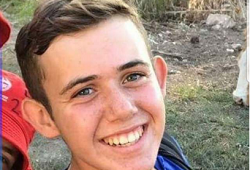 Ori Arnon is from a kibbutz called Ashdot Yaacov Ihud in northern Israel, located on the Sea of Galilee. Ori is the eldest of three siblings. He loves music, and has played piano since 5th grade. He has also taught himself to play the guitar, bass, drums, sing, and enjoys listening to all different types of musical genres. Ori also enjoys running, scuba diving, and playing soccer. Living on a kibbutz is something that Ori loves because he gets to know the small community, learn at the same schools, and go to the same activities. Ori is excited to meet everyone here in Cleveland!
Guy Gibor is from a suburb of Tel Aviv called Or-Yehuda. He loves going to the Tel Aviv beaches with family and friends, as well as the Ben-Shemen forest near his home. He is the middle child in a family of five, and has one older sister who works in the Israeli Air Force, and a younger sister who is still in high school. Guy has been active in the scouts (tzofim) since the age of nine, and also loves sports, computer graphics, and music. During COVID-19 quarantine in Israel, he also learned how to play the guitar! He's excited to discover some new activities in Cleveland!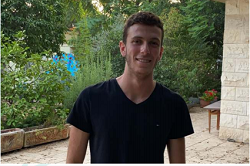 Ido Margalit is from a small moshav in the north of Israel called K'far Baruch. A moshav is a special kind of village in Israel that is similar to a kibbutz. He has one younger sister and a younger brother. Ido keeps busy by playing water polo, snowboarding, and riding horses. Because his family owns a meshek, which is fields of corn, wheat, and barley, he also stays busy working in the fields – one of the best parts of his day! He is so excited to be in Cleveland and meet our community!
For more information on the Shin Shinim Program, please contact Ilanit Gerblich Kalir at ikalir@jcfcleve.org, or Samantha Vinokor-Meinrath at svinokor@akivacleveland.org.
---
Related Items