05/12/2021
Meet the Officers of JFC Security, LLC
In 2013, the Jewish Federation of Cleveland helped make Cleveland one of the first Jewish communities in the United States to launch a sophisticated community security initiative. With the recent resurgence of overt anti-Semitism and escalating hate-fueled violence, the Jewish Federation of Cleveland has been making a concerted effort to further enhance community security.
One critical piece to enhancing security throughout Jewish Cleveland has been increasing the number of officers employed by JFC Security, LLC – Federation's security provider – that work in concert with local law enforcement. Today JFC Security has 33 highly trained and experienced officers, up from under 10 just two years ago.
Meet two JFC Security officers below: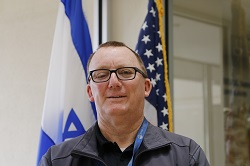 Al Buckley has been an officer with JFC Security, LLC for six years. Prior to that, he was an FBI agent as a member of the Evidence Response Team for 25 years, working in Washington, D.C. and Cleveland. Before joining the Bureau, Al was a police officer in Connecticut for approximately 10 years. Al refers to his role as an officer with the JFC Security Team as a 'Jack of All Trades.' "A lot of my responsibility involves our Mobile Patrol Unit that monitor various agencies, synagogues, day schools, and other Jewish community locations. I am the point of contact for all reports that are generated throughout the community, including suspicious activity, email threats, and more," Al said. "I am very proud to be a member of the JFC Security team. The staff and managers of the JFC Security Department are the BEST, the employees with the Federation are some of the hardest working and caring people I have ever met, and the community members are one of a kind. No matter how many times someone would walk or drive by me, they'll wave and thank me. I'm constantly returning the wave. There is something very special about this community!"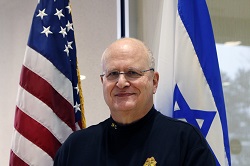 Joel Edelstein, a 40-year veteran of the Beachwood Police and Lyndhurst Police departments, joined the JFC Security, LLC team two years ago. He's reminded every day how much the community respects what the officers do and how much he respects this community. "I'm always reminded what our presence means – whether it's a wave or a thank you or just a smile, it's enlightening," said Joel. "Since 1977, I've been working in this community and I still love what I do. However I can help the team, whatever I can do to help the community, I'll do it – that's why I'm here."
For more information about JFC Security, LLC, contact Oren Baratz at obaratz@jcfcleve.org or 216-593-2788.
Stories like these are made possible by the generous support of the Jewish Federation of Cleveland's annual Campaign.