07/12/2017
Meet Trevor: Internship Spotlight
Onward Israel Cleveland participant Trevor Yasinow shares his experience as an intern at Signals Analytics.
Hello, my name is Trevor Yasinow and I am currently doing my Onward internship at Signals Analytics in Netanya as a finance intern. Signals Analytics' journey began in 2009 when two Israeli military intelligence veterans with decades of combined experience in utilizing open source and human intelligence to enable covert operations realized that the same concepts, processes and methodologies could be utilized to make better decisions in the business world. Signals has created an augmented intelligence and decision science platform that transforms the world's unconnected data into actionable insights to optimize product portfolio health, accelerate new product development and propel breakthrough innovations.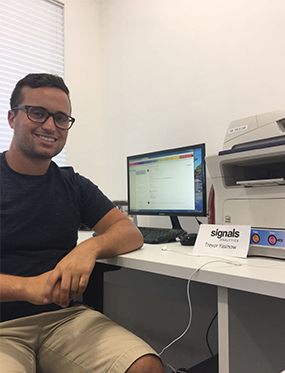 As a finance intern at a large data analytics company, my tasks can be very challenging, yet still have a large impact on the company. On the first day of arriving to my internship, I was able to meet with the entire Finance department and laid out my goals for the upcoming eight weeks. From that point on, I was able to set short-term goals that would help the company as well as myself in defining objectives. For instance, I have been given the task of researching and deciding what new purchase order software system that the entire company of about one hundred and fifty employees among three different countries would have to use. This software would have to be used by anyone within the company who is looking to create a purchase order for a certain item or service and get the approval from the finance department. As part of my role, I need to find such software that makes purchase order requests very user-friendly as well as being sure that each purchase order falls in line with each department budget.
Being trusted within my first few weeks here at a well-established company of making such an important decision shows how much I can add to the team. In the near future, I will have to shift tasks and help other members of the finance team with litigation and acquiring other companies. I'm looking forward to see what Signals Analytics has in store for me in the near future!
---
Related Items