01/09/2018
Mensch of the Month: Carol Paull
Find out how Carol Paull of Shaker Heights is making an IMPACT! by volunteering in our community.
Q - What is your involvement with IMPACT!?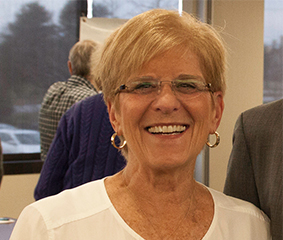 I have been involved with IMPACT! from its inception; my sister, Bonnie Marks, is the Chair of IMPACT!. When she told me about the idea, I was very excited and wanted to be a part of it. I thought that having meaningful volunteer opportunities all in one place was a great idea as I near retirement myself and start to think about my next steps. I'm also on the Advisory Committee for IMPACT!. Currently, I'm volunteering with the mentoring program, True2U, which I found on IMPACT!'s monthly newsletter. I am a mentor to eighth graders in the Cleveland Metropolitan School District; we meet with the students once a month. The goals of the program are to help the students think about their future, where their interest lie, and to help choose a high school for next year. It's a great program, well organized, well-run, and I am enjoying it immensely.
Q - What type of volunteering do you look for?
I enjoy working in intimate settings, one-on-one or one-on-a-few, so I can truly immerse myself in what I'm doing. I also look for opportunities where I will learn. Community volunteering is in my DNA; I was raised in a family where volunteering was a way of life – just as important as work and school. I was raised with the motto of "To those who have been given much, much is expected in return." I enjoy giving back, and I get a great deal of satisfaction from working in this community.
Q - How has the IMPACT! volunteer initiative assisted you in choosing your volunteer options?
I often wonder how I can genuinely understand diversity, people, cultures, environments that are different from my own. I try to do that through many of my volunteering choices. I hope I can make an "impact" through my interactions with the people with whom I'm involved, and through action – by listening and open-minded engagement.
For volunteer opportunities or more information on IMPACT!, contact Susan Hyman at 216-593-2887 or shyman@jcfcleve.org.
---
Related Items