07/12/2017
Mensch of the Month: Deena Epstein
Find out how Deena Epstein of Shaker Heights is making an IMPACT! by volunteering.
Q - What is your involvement with IMPACT?
After I retired, I was looking for ways to still stay connected to the non-profit world of Cleveland. Early last year, I received an IMPACT! email with volunteer opportunities; one immediately jumped out to me – the Kids Book Bank, a new organization that provides free books to inner city children. They were looking for help with marketing and communications; I met with the co-founders and was impressed, not only with their mission but also with their energy and vision for the future. I began consulting on communications and fund development and helped plan their first benefit.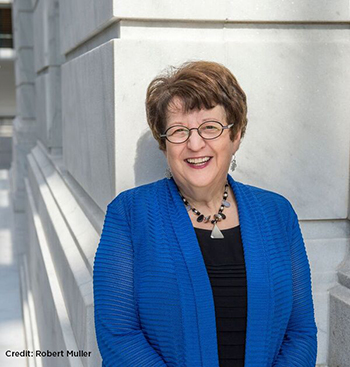 Q - How has IMPACT! helped you in choosing your volunteer options?
IMPACT! connected me to the Kids Book Bank; I might never have known about it without the staff there and the Jewish Volunteer Network. Volunteering has become a passion of mine, which is why I quickly became a board member of the Book Bank. I have been incredibly fortunate, both personally and professionally to become associated with two major organizations in the city (George Gund Foundation and The Plain Dealer). I've developed a network of contacts as well as skills and knowledge that I felt could - and should - continue to be used to help others, even after I retired. I stepped back from the day-to-day work world, but not from caring about my community. Cleveland has become my home, and I want to continue to help make it a great place to live, work and play.
Q - What type of volunteering do you look for?
I look for opportunities that resonate with me personally and also make good use of the skills and knowledge I acquired over the years. Whether it's sorting books or writing a press release for the Kids Book Bank, keeping the minutes for my synagogue board (Kol HaLev), contributing as a member of the MetroHealth Arts in Medicine Advisory Committee, proofreading a newsletter for the League of Women Voters, or informally consulting with small non-profit organizations, I feel that in these small ways I am contributing to my community. I view my volunteering as part of a larger community effort - together we can make a difference.
For volunteer opportunities or more information on IMPACT!, contact Susan Hyman at 216-593-2887 or shyman@jcfcleve.org.
---
Related Items