04/27/2017
Mensch of the Month: Meet Gail Weintraub
Find out how Gail Weintraub of Beachwood is making an IMPACT! by volunteering.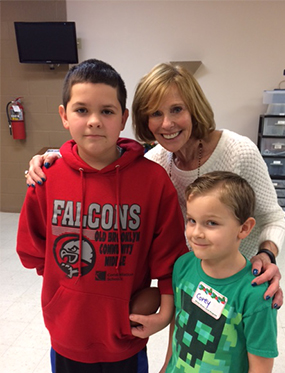 Q - What is your involvement with IMPACT?
When I retired as a social worker from Montefiore, I began to miss the busy work atmosphere. I became involved with IMPACT!, 1st as a volunteer and then as a member of the IMPACT! Advisory Committee. Volunteering has become a passion of mine and now, I am seeking out new opportunities and orienting IMPACT! volunteers at various local agencies.
Q - Why is it important for you to volunteer in and around the community?
I feel that it's important to be a role model for my adult children and grandchildren so they learn the value of "paying it forward." My family has been fortunate to be involved in our wonderful community. It gives me such joy when my grandchildren ask what I did today and I can tell them that I volunteered as a Preschool Vision Screener for the Cleveland Sight Center.
Q - What type of volunteering do you look for?
I prefer volunteering one-on-one with individuals; I'm able to learn so much about that person and be a help to them to better achieve their goals. I've particularly enjoyed being a mock interviewer with Towards Employment, improving people's job interview skills. I've also volunteered with the Conversation Partners Program through Global Connections English Language Services (ELS), helping foreign college students with their conversational English. Not only do I learn more about their culture and customs, they feel more comfortable speaking in English. I learned so much from my last student; he was from a rural area in China.
Q - How has the IMPACT! volunteer initiative assisted you in choosing your volunteer options?
IMPACT! offers well thought-out options, specifically for those 50+, who are looking to give back in a substantial way. I hope that I can provide something positive and meaningful to those I volunteer with.
For volunteer opportunities or more information on IMPACT!, contact Susan Hyman at 216-593-2887 or shyman@jcfcleve.org.
---
Related Items