03/29/2017
Mensch of the Month: Meet Jeff Felman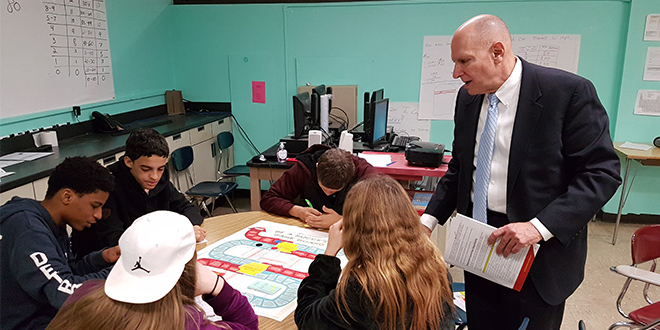 Find out how Jeff Felman of Beachwood is making an IMPACT! on volunteering.
Why do you volunteer?
After retiring from a successful career in the investment management business, I believe it is important to use some of my available time to work with others in ways that may better their lives. The often used phrase 'giving back' is the driving force behind my volunteerism.
How do you make an IMPACT with your volunteering?
While there are numerous volunteer opportunities available, I wanted to be involved in a way that I can best apply my business background. Hence, I chose to volunteer with Junior Achievement. I believe I made an impact with my recent volunteer experience by introducing teenagers to career opportunities, and the steps necessary to achieve them they would have been unaware of previously.
How has IMPACT! helped you in choosing the perfect volunteer opportunity for you?
The Federation's Jewish Volunteer Network acts like a clearinghouse between a number of diverse volunteer opportunities and people seeking those opportunities. I was exposed to several options and narrowed it down to those where I thought I could make more of an impact. IMPACT! provides an efficient and easy way to get involved!
For volunteer opportunities or more information on IMPACT!, contact Susan Hyman at 216-593-2887 or shyman@jcfcleve.org.
---
Related Items