09/26/2017
Mensch of the Month: Maxine Brand
Find out how Maxine Brand of Lyndhurst is making an IMPACT! by volunteering.
Q - What is your involvement with IMPACT?
I moved to the Cleveland Jewish community about two years ago; through the efforts of Federation and IMPACT!, I have been able to offer my time, experience, and expertise to many organizations in the area. I'm also the Chair of the IMPACT! Program Subcommittee, helping other IMPACT! volunteers locate opportunities. I find volunteering as one of the best ways to meet people and to be a contributor to the betterment of the community.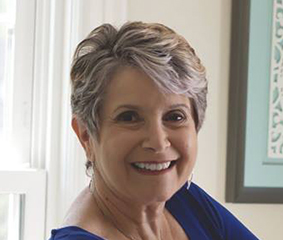 Q - What type of volunteering do you look for?
I love the Done-In-A-Day opportunities because of the many activities and commitments with which I am involved. I have participated in the reading program through the library system, as well as working with high school students with their interviewing skills as they approach the job market. Whether you have an hour, a day, or longer, you can match your experience, your interest, or your passion to organizations that need your help. I am impressed with the diversity of opportunities and the openness for new ideas that the IMPACT! team offers, and I am proud to be a participant in these efforts.
Q - How has the IMPACT! volunteer initiative assisted you in choosing your volunteer options?
I feel a much stronger tie to the community and feel my life experiences are benefiting others. Every day provides me with the opportunity to touch a life, to feel necessary and to know that my life has meaning. Every person who volunteers helps the success of the project and the organization. It doesn't take much to make an impact, but it does take effort. The more I look outward and less inward, the more significant my purpose in life becomes. My volunteering has had much more of an impact on me than it has had for the organizations I help. The impact my volunteering has as much for me, as it is for the organizations I help.
For volunteer opportunities or more information on IMPACT!, contact Susan Hyman at 216-593-2887 or shyman@jcfcleve.org.
---
Related Items