01/23/2018
Message from Danielle Wild, Women's Philanthropy Chair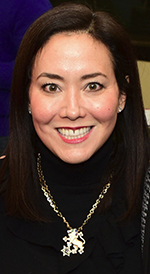 I remember getting my first phone call from Federation asking for a gift to the annual Campaign for Jewish Needs. I was in high school and remember thinking "Why are they asking ME?" I told my parents about the call, expecting them to wonder, like me, why they would be calling a high school student. Instead, they told me "Anytime that Federation calls you, you have to give whatever you can." The next time they called, they had my pledge.
I am very fortunate to have grown up in a home that not only gave me a wonderful and robust upbringing in Jewish education and traditions, but in communal involvement as well. My parents and sisters, as well as my grandparents and great-grandparents, have all been involved in our Cleveland Jewish community. As part of our beautiful traditions of tzedakah (charity) and tikkun olam (repairing the world), my husband, Jeff, and I are dedicated to teaching our three boys the importance of helping those in need, by giving of their money, their time, or their voice wherever the need may be, and whatever its size.
I wish I could meet each and every Jewish woman in our community since they all have much to offer to me in this role and our community at large. With that being said, please know that I welcome any ideas, input, or involvement on any level meaningful so please don't hesitate to reach out to me via email at daniellewild@aol.com or call me at 216- 513-2864.