12/18/2019
Message from Danielle Wild, Women's Philanthropy Chair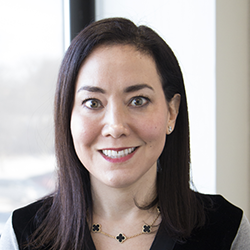 By now I hope you have heard about the tremendous success of our 2020 Campaign for Jewish Needs! Our amazingly generous community raised $33.1 million by more than 13,000 donors representing 9,869 gifts, and Women's Philanthropy raised $4.4 million from 3,550 donors. This record-setting number will allow us to do so much good for those in need in Cleveland, Israel and around the world.
Thank you to everyone who contributed, solicited, and worked on behalf of the Campaign — we are so grateful for all that you do for Jewish Cleveland. This will be my last newsletter as Women's Philanthropy Chair, and I want to tell you what an honor it has been to serve in this capacity. I have thoroughly enjoyed meeting so many of you and working together to strengthen Jewish Cleveland.
I am very excited to tell you that Michelle Hirsch will be taking over as Women's Philanthropy Chair, and I know that she will take us to new heights through her outstanding leadership. Please join me in welcoming Michelle. Wishing you all a Happy New Year!