09/19/2022
Microgrants Empower Young Adults to Make Changes In the Community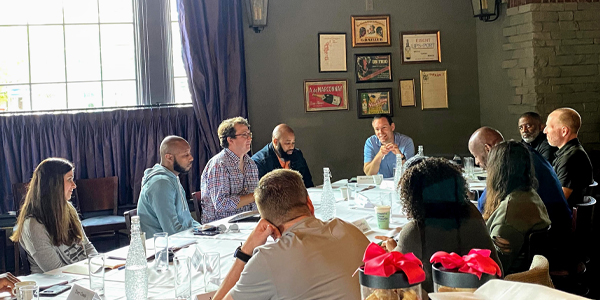 "What is the change you want to see in your community?" That is the question that the Jewish Federation of Cleveland's Young Leadership Division (YLD) Microgrant Program poses to young adults, ages 22-45.
The YLD Microgrant Program started approximately five years ago. The goal was to encourage young leaders to identify a problem, challenge, or need in Jewish Cleveland; then, help find a solution using YLD Microgrant funding. Selected applicants – both individuals and organizations – received $1,000 to support a project that connects young adults to Jewish Cleveland through educational, social, and cultural experiences. To date, more than 29 programs have been funded by YLD Microgrants.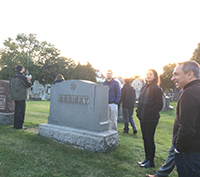 Adam Rosen, a recipient of the YLD Microgrant Program's first round of funding in 2017, saw an opportunity to preserve the legacy of Jewish Cleveland's first generations.
"I love history and connecting our past to our present. When I first learned of a Jewish cemetery just a few blocks from my house and office, I had to find out the connection to our past and who these Jewish pioneers were. I then learned about what the Federation had been doing to maintain these cemeteries, I applied for a YLD Microgrant because I want to make people aware that these places exist and to put this in our everyday knowledge that generations ago, people purposely put these cemeteries in these neighborhoods for a reason. I wanted to find out why, and then tell other people my age why."
Thanks to the YLD Microgrant Program, Adam was able to rent a shuttle to transport a group of young adults to tour the Fir Street Cemetery and Willett Street Cemetery – two of the oldest Jewish cemeteries in Cleveland.
The goal of expanding our Jewish Cleveland community was exactly what Ngozi Williams and Samia Mansour had in mind when they applied and received their YLD Microgrant. The "Jews of Color: Cleveland" community began out of a focus group through jHUB, an initiative between Federation and the Jewish Education Center. "It was a great space to talk, and we wanted to continue those conversations," said Mansour. "We wanted to find more Jews of color, find each other in this community and come together."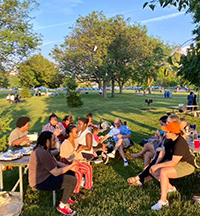 Samia and Ngozi felt the best way to come together would be to host a Shabbat dinner in Edgewater Park. That's when they heard about the YLD Microgrant Program, which would help offset costs, and help market and advertise this dinner to people they wanted to meet.
"The YLD Microgrant was enormously helpful in funding marketing, programming, and other resources that allowed us to build our capacity and expand our reach for the group," added Williams. "Using it as a springboard, we've been able to form strategic partnerships with other Jewish organizations doing innovative programming and are crafting a strategic plan for organizational sustainability so that we can continue developing this work. We've also been able to continue the momentum of that initial dinner and host other events like a Purim party."
For Matt Fieldman, the passion of community relations is what inspired him to create the group "Rekindle", which helps create dialogue between Cleveland's Black and Jewish communities, driven by a shared commitment to social justice and equity. Since receiving their initial YLD Microgrant in 2021, Rekindle has completed three cohorts in Cleveland (with two more on the way) and is working on a nationwide initiative bringing Black and Jewish communities across the country together to talk about issues that are important to them.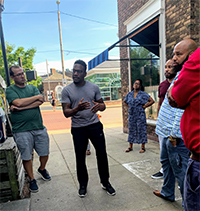 "When I moved to Cleveland in 2007, I was fortunate to be on the ground level for some inner-city initiatives with local organizations bridging the gap in workforce developments," said Fieldman. "I realized that with all of this, I was working with the Black communities and the Jewish communities, but they rarely interacted. Similarly to what the Federation's Community Relations Committee has done for many decades, that's what I tried to do with Rekindle – spur new relationships and connections in Cleveland, but also new collaborative action between the communities."
The funds from the YLD Microgrant were able to help Matt launch Rekindle's website as well as receive 501C3 status.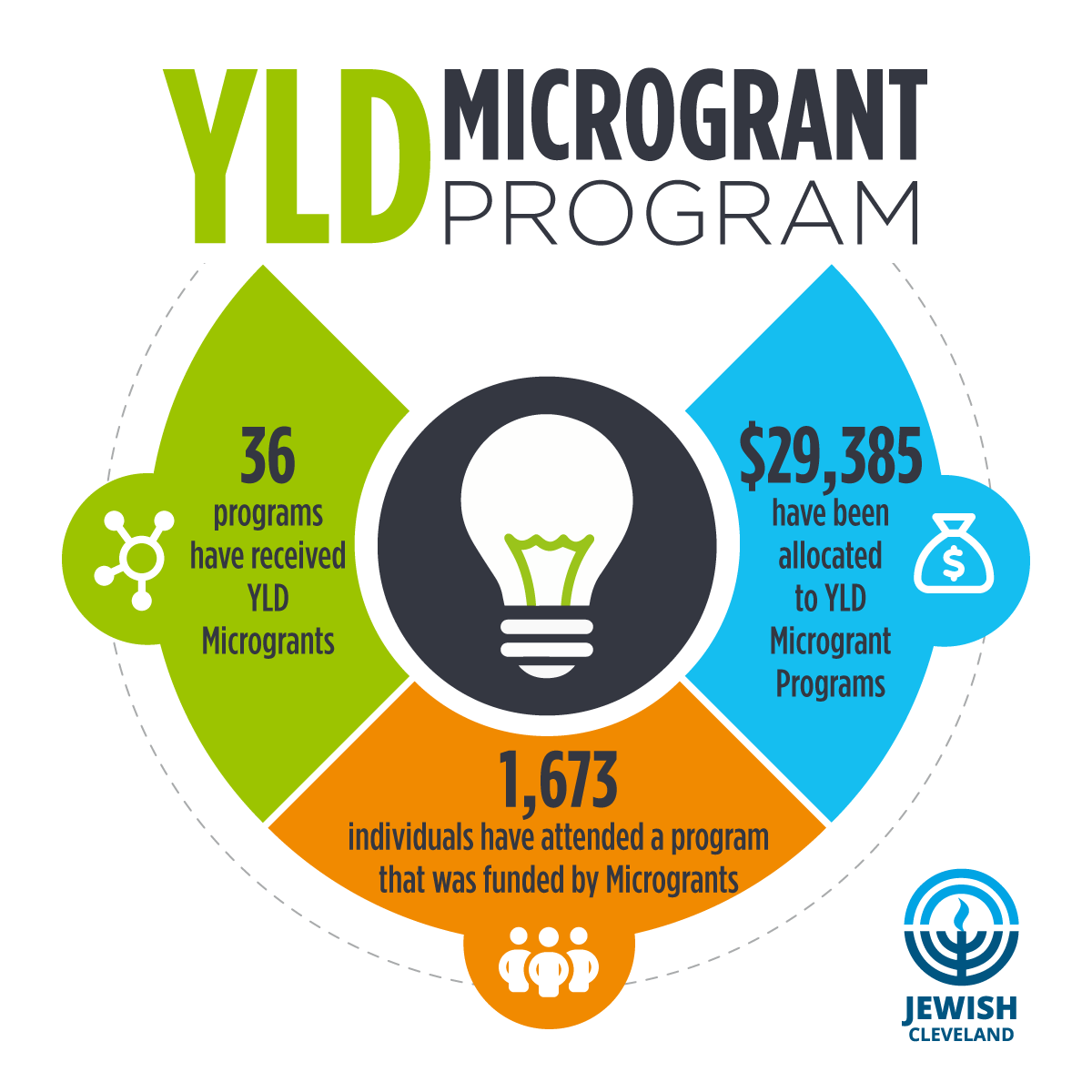 "The YLD Microgrant Program allows young adults to unleash their own creativity in the community, without the formalistic requirements to be an agency of the Federation," said Barry Guttman, who was YLD chair when the YLD Microgrant Program was launched. "It's also a way to build community and show a new generation in our community what Federation truly means to all of us and why it's in our lives."
These three programs are just a taste of some of the diversity of programs that have received funds – everything from young adult initiatives at local synagogues, grass-roots initiatives on the West Side, and more. "I'd like to think it's meant a lot to the younger community who are just coming into the Federation world," said Guttman. "The YLD Microgrant Program has given a new generation of community members the tools to build and strengthen our community."
For more information on the YLD Microgrant Program, contact Jack Fuchsman at jfuchsman@jewishcleveland.org or 216-593-2880.