10/03/2022
Mitchell Schneider Receives Prestigious Gries Family Award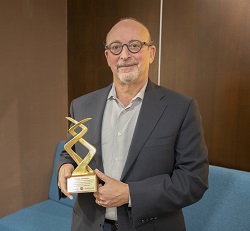 Award recognizes individual's impact on Cleveland communities
The Jewish Federation of Cleveland announced that Mitchell Schneider is the 2022 recipient of the Gries Family Award in recognition of his lasting impact in Cleveland's Jewish and general communities. For more than 25 years, the Gries Family Award has honored individuals who have demonstrated extensive top leadership in Federation and other local Jewish organization activities, as well as significant leadership in Greater Cleveland's general community. Schneider, president of First Interstate Properties, Ltd., was presented the award at the Jewish Federation of Cleveland Board of Trustees meeting on September 28.
"I am humbled by this recognition," Schneider said. "I feel privileged to be engaged now and over the years in Jewish communal work, and grateful to have ventured into the broader community to make an impact there as well. I know that each opportunity for service has helped me grow and evolve while serving. Thank you to the Gries family and the Gries Award Selection Committee for acknowledging this work."
Schneider has been actively involved at Federation for nearly 30 years. His leadership roles within the Federation include serving as a board member and executive committee member, chair of the allocations committee, and vice chair of the Campaign leadership committee.
In addition to his involvement with the Federation, Schneider has served on numerous Jewish organization boards. He is a former board member of ORT America and a trustee for life at Siegal College of Judaic Studies.
In the general community, Schneider is the former board chair of the Western Reserve Land Conservancy and a former board member The MetroHealth System. He is also a member of the Beachwood Campus Planning Commission, Greater Cleveland Partnership Mid-Market Involvement Committee, Sustainable Cleveland Committee, and the Towpath Trail Management Committee.
"Mitchell has been a dedicated leader in the community for many years, said Marcia W. Levine, Gries Award Selection Committee chair and a past Gries Family Award recipient, who presented Schneider with the award. "Promoting the strength and sustainability of our Jewish community has long been a priority for him as demonstrated by the time he has dedicated to the Jewish Federation, as well as exemplary leadership that has benefited the general community."
The Gries family was one of the first Jewish families to settle in Cleveland. The Gries Family Award includes a donation to a charitable cause chosen by the recipient. Schneider designated his donation to Western Reserve Land Conservancy and Siegal Lifelong Learning.
Click here to see a list of previous Gries Family Award recipients.