09/05/2019
My Federation Story: Experiencing Jewish Life in St. Petersburg, Russia and Israel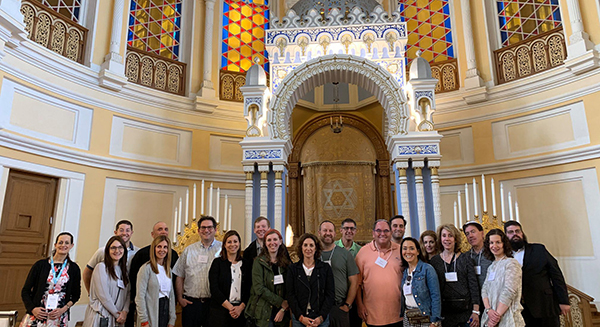 by Wendi Pavlofsky
This summer my husband and I had the privilege to attend a Jewish Federation of Cleveland Mission to St. Petersburg, Russia and Israel. I am a native Clevelander and my husband is from Dayton. As empty nesters we recently moved to Cleveland from Dayton for work and be closer to family.
Having been to Israel several times we thought this trip was an opportunity to connect with our local community as well as see our dollars at work in different cities around the world. We knew this would be a unique experience that would further our insight on Cleveland and Jewish giving; we had no way to predict the impact and lasting impressions on the experiences that lay ahead. Additionally, traveling with 16 new faces with a variety of perspectives provided valuable lessons, making the trip even more memorable.
In St. Petersburg we were exposed to a combination of Russian culture that included museums, gardens, palaces, a ballet, and a riverboat cruise to name a few. We saw synagogues, churches, and an abundance of Jewish programs. The partnership that Cleveland has cultivated makes it possible for the people of St. Petersburg to experience a Jewish life no matter what your background might be. For example, we had an evening of dinner and interactive activities with JAFI (Jewish Agency for Israel) teens where we listened to rising Jewish leaders who have recently learned they are Jewish. These teens are so thankful for our continuing Jewish partnership, and watching their passion for Jewish values and traditions solidified our presence and involvement.
We also visited the Addain Lo overnight camp that provided direct insight into youth recreation programs. Having lunch with the counselors and participating in activities was very gratifying. We danced with the groups and had discussions with teens who came back as counselors due to meaningful experiences as campers themselves.
Coming from St. Petersburg to Israel took on a spirituality that felt different than previous trips. As a group there was a sense of excitement in the air. We brought in Shabbos at the Western Wall and had a meal overlooking the Old City. There was no question we all felt at home in Israel.
Throughout the week we did more in-depth tours of the Old City and the Jewish Quarter. We continued to connect the dots with our Jewish partnerships that provide grassroots economic development to so many sectors of the population.
The impact the JDC (American Jewish Joint Distribution Committee) is having on fostering opportunities for its most vulnerable citizens was impressive. We visited a social innovation Hub Accelerator that focused on solutions to challenges such as unemployment, multi-generational poverty, and accessibility for people with disabilities. We heard inspiring stories of young adults who made Aliyah from Russia, and through the help of our partnerships they are aspiring to fulfill their personal and professional goals.
Going on a mission to St. Petersburg and Israel expanded my gratitude for my Jewish autonomy. Russian Jews didn't always have the privilege to practice their religion or identify as Jews. On our last night in Israel we discussed what impacted us most on the trip. Personally I gained a vast amount of pride for who I am as a Jew and how proud I am of that! We all gained a first-hand understanding of what Federation does around the globe, but it is much bigger than that. Our stories and memories are just a glimpse of the puzzle, the real journey is how we choose to use our knowledge and give back to our Federation in Cleveland.
Related Items