02/08/2016
My Federation Story: Together, We Can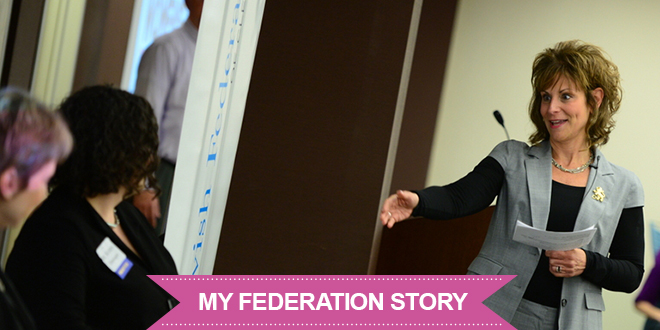 by Jennifer Cohen
A bus trip changed my life! Many years ago, the Jewish Federation of Cleveland led the effort in organizing our community to take part in the life-changing Let My People Go march in Washington D.C., supporting Soviet Jewry. A few of my girlfriends and I decided to participate. Standing there amongst hundreds of Jewish Clevelanders, and thousands of supporters of Soviet Jews, I felt an energy, a passion I had never experienced before. I felt the power of our local Jewish community coming together to advocate, to help change lives around the globe.
This was my first Federation experience and it continues to inspire me today. I had seen first-hand the impact we could make as a collective people.
On returning to Cleveland, I joined the Young Leadership Division (YLD) and became actively involved in fundraising and strategic planning activities for YLD. Today, when I see the amazing work our young leaders are doing in the community, I feel like a proud parent because it was during my time that we developed a strategic plan on how the Federation would help develop our future generations.
Since then I have taken on a myriad of roles within the Federation, working as staff and as a volunteer. And now, I am the Women's Philanthropy Leadership Development Chair, leading Coaching Circles, a mentor and peer-based coaching program for Jewish Cleveland women.
With every role, with every opportunity, my admiration for the Federation and our Jewish Cleveland community grows. My involvement at the Federation has introduced me to the most amazing people from all generations and walks of life, including some of the most prolific thought leaders and established professionals and lay leaders. It has taught me about the needs of our community, and inspired me through the work it supports. The Federation continues to show me that no matter what stage of life you are in, no matter what your skills are, there is a role for you in the community. Together, we can influence how people are living in Cleveland, and around the globe.
Women's Philanthropy thanks Jennifer Cohen for graciously offering her time, expertise, services, and talents. Jennifer has continued to bring her professional skills to positively influence the women in our community. Most recently, she has facilitated workshops and training seminars for our lay leadership, created the curriculum for Coaching Circles, a new peer coaching and leadership development program of Women's Philanthropy, and co-facilitated the Jewish Volunteer Network's IMPACT! Enrichment program entitled, "Your Retirement: Creating Meaning and Impact." Jennifer will also be showcased as the featured program moderator at the 3rd annual Women Leaning In event, "Tipping the Scale: Finding Your Balance."
*Jennifer is the Senior Vice President of Leadership Development at Ratliff & Taylor.
---
Related Items