01/24/2018
Strengthening the Community in Women's Philanthropy
My Federation Story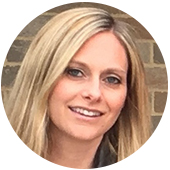 by Kerry Kertesz
Growing up, I didn't realize how much the Federation impacted my life. I was always a part of the community – from Jewish Summer Camp, to hanging out at the JCC, to visiting my grandparents at Montefiore – but it wasn't until I went to college in Charleston, South Carolina, I realized I missed the sense of community that I experienced here in Cleveland.
I knew once I graduated I wanted to come back home, and raise a Jewish family in Cleveland. I met my husband, Daryl, and we joined the Young Leadership Division (YLD) Board together. I took off and ran with it. YLD was starting to make a larger impact within Federation, and we were finding a place for so many young leaders moving back to the area.
I began to meet with more of the leadership within Federation and expand my reach within the organization and the community. I immediately connected to the work the Community Relations Committee (CRC) was doing within the City of Cleveland – in and out of the Jewish community.
While with CRC, I became involved with Women's Philanthropy. As women, it is important to make our collective voices heard. Over the past few years, I have seen and been a part of the impact women have made in Jewish Cleveland. This year, I decided to increase my donation to become a member of the Pomegranate Society.* I want to set an example for other strong, young female leaders. Women can be so powerful, and I think we are a secret weapon sometimes in what we can accomplish.
My hope for our two daughters is they follow in my footsteps and help strengthen our community. I want to teach them that they can accomplish anything in life, and to know in the Cleveland Jewish community, you can make an impact – it's easy. If you want to do something here, you can do it. You just have to stand up and say you want to be a part.
It's our job now to shape and sustain our community for the future. Just like my mom shaped me into the person I am today; she's the strongest woman I know. She worked full time with children and families with special needs. She led by example through her actions – in and out of our home. Her strength is what motivates me as a mother and as a member of Women's Philanthropy.
And that's why it was also such an honor to be awarded this year's Bennett and Donna Yanowitz Young Leadership Award. I'm proud to be recognized for the work I've done here and around the community, through some of my Latino outreach work and Co-Chairing CRC's New Member Subcommittee. It's not too many times in your adult life, that people tell you 'good job' for something you've worked really hard on. I'm very humbled to be associated with a group of people who have previously won this honor.
As the Yanowitz Award recipient, I'm excited to represent Jewish Cleveland at this year's JFNA General Assembly (GA) in Israel. This will be the first time that I have attended a GA, and I'm looking forward to seeing what it has in store. I'm excited to connect with other Women's Philanthropy and Pomegranate Society members from around the world and hear how they impact their own communities.
To find out how you can make an impact in Women's Philanthropy and on Jewish Cleveland, contact Lisa Hacker at lhacker@jcfcleve.org or 216-593-2792.
*Pomegranate Society recognizes women who make individual gifts of $1,800 - $4,999 to the annual Campaign for Jewish Needs.
---
Related Items