08/22/2016
My #JewishCleveland: Doug Breitenbach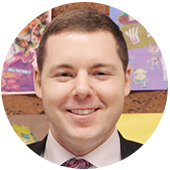 Leader. Ambitious. Hard worker. 29-year-old Doug Breitenbach is all this and more. A Cleveland native, Doug recently moved back home after living and building a successful wealth management career in Washington, D.C. for seven years.
What brought him back? A new job. But what really motivated him to return was his sense of the Jewish community. "I owe a lot to the Jewish Federation of Cleveland and the Jewish community here," he said. "They've stood by me and my family when we needed it the most."
Doug was only nine when his father suddenly died of a heart attack. As the oldest child in his family, he immediately took on the responsibility of becoming a role model for his younger siblings. Without his father around, though, he felt lost.
Doug's mom realized this and enrolled him in the Jewish Big Brother Big Sister Association, a children's mentoring program run by Federation partner, Bellefaire Jewish Children's Bureau (JCB). That's where Doug met Todd — his "Big" brother, mentor, and friend for life.
"Todd showed me the meaning of hard work," said Doug. "In my father's absence, he gave me a perspective on life I didn't know I was missing. I saw my friends talk to their dads about the things Todd and I talked about — sharing milestones and celebrating a win at the football game — that's when I realized what Todd meant to me and the role he filled."
Throughout the past 20 years, Doug and Todd have remained close. Today, Doug is a "Big Brother" himself, and serves on the board of Bellefaire JCB. He is also actively involved in the Young Leadership Division (YLD) at the Federation and joins more than 1,000 other young Jewish Clevelanders in giving back to the community.
Each year, our Federation reaches out to more than 6,700 children worldwide through our partner agencies, helping them grow into confident, ambitious individuals like Doug. Unique partner programs like the Big Brother Big Sister Association help young children develop an increased sense of self-confidence and belonging, and guide them to become successful individuals like the mentors themselves.
Stories like Doug's are made possible because of generous donors like you. Please join us, as we aspire to leave no community member behind, in Cleveland, Israel, and 70 countries around the globe. Donate today.
To learn more or get involved in the Young Leadership Division, contact Jessie Bruder at jbruder@jcfcleve.org or 216-593-2869.
---
Related Items