08/10/2017
My #JewishCleveland: Oren Kodish
Tutoring Cleveland's Future Leaders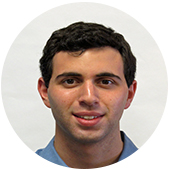 I'm a 23-year-old Clevelander; I grew up in Shaker Heights. My mom is from Israel, my dad is from Akron. Judaism has always been important to us, and I love being a part of Jewish Cleveland.
I've been connected to the Federation my entire life in one way or another. The Federation does a lot for Jews in Cleveland that we don't even know. But the Federation's mission is more than just helping out Jewish Cleveland and I experienced that first-hand as a tutor for the Public Education Initiative (PEI) program.
The PEI program pairs you with a student to tutor from a school in the Cleveland Metropolitan School District (CMSD). It's aimed at improving literacy across the Cleveland schools. After graduating from The Ohio State University, I thought it would be a good experience for me to take an hour out of my week to help someone who doesn't have as many resources as I do.
I didn't know about the PEI program, but I did know the Federation helped throughout Greater Cleveland. At first, it didn't really fit with what I was looking for – I studied Neuroscience at OSU, but I was interested in the program and wanted to pursue this opportunity. It's also something I'm passionate about – two different cultures working together.
I was paired with a 5th grader to tutor him in reading. He was so kind and always polite – shaking my hand and asking how my week was going, thanking me for coming. He was a good reader, so we worked on things like punctuation and vocabulary. We would read books at his grade level, and on subjects he found interesting.
It was heartwarming to know how much he appreciated me being there for him and spending time with him. I'd talk to him about his day, his week. We could talk about sports – that was something that would make him smile. I know he got something out of it – emotionally and educationally; his tangible reading skills improved tremendously throughout the year.
I'll be exploring entrepreneurial and business options in Israel this year, but I look forward to coming back to Cleveland. I definitely want to continue working with the PEI program. I enjoy the program because the connections you build, seeing a different part of society, and interacting with parts of Cleveland we may otherwise not have had the opportunity to know about. This experience with the PEI program was special. It was something within my city, the Greater Cleveland community. But this was my opportunity to give back to a community that has given me so much.
This is my #JewishCleveland!
For more information on the PEI program, contact Jessica Semel at jsemel@jcfcleve.org or 216-593-2874.
---
Related Items