06/20/2018
#MyMilestones: Learning Alongside Your Intern
Debbie Yasinow, Director of the Federation's Cleveland Israel Arts Connection, reflects on her time supervising Cory Irwin through the Milestones Autism Resources internship program. Read about her experience below, as featured in the Milestones Autism Resources blog.
#MyMilestones – Learning Alongside Your Intern: How Hiring Individuals with ASD is Beneficial for All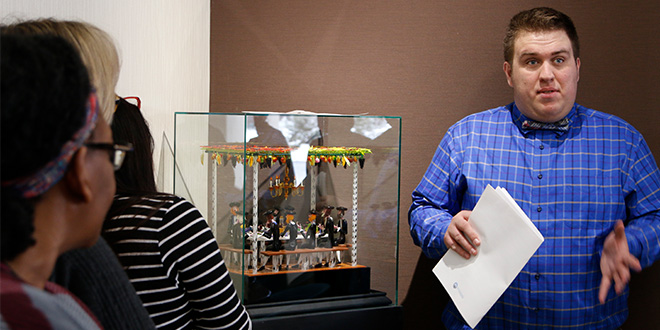 "Would you be willing to intern a young adult on the spectrum?" That was the question posed by my HR department. Milestones Autism Resources had some clients with an interest in art and as Director of the Federation's Cleveland Israel Arts Connection, I was asked if I had an appropriate project for a six-month internship.
At the time, I didn't know much about persons with autism, but I was willing to learn. Besides, I had a project on my wish list that I had never gotten around to. I thought it would be a good experience for me personally, and a mitzvah as well. Then I met Cory Irwin and the internship became so much more.
As soon as I met Cory, any outdated and uninformed notion I had of a person with autism completely dissolved. Cory is a 24-year-old college graduate who earned a B.A. in museum studies from Walsh University and is currently pursuing a master's degree in humanities from John Carroll–an amazing accomplishment for any individual.
As I explained the project to Cory, cataloguing artworks in the Federation's permanent collection, it became apparent that Cory had a vast, almost encyclopedic, knowledge of visual art and art history. He was able to interpret artworks in highly sophisticated ways. And research? I have never met anyone as resourceful as Cory. If he couldn't find information online, he would call libraries. He asked intelligent questions and contacted artists directly for insight into their works.
The final catalog contains detailed essays of over 20 artworks. Each essay explores the background of the artist, artistic influences, and an interpretation of the work. Cory compiled information from numerous sources and authored each of the essays. I quickly ran out of superlatives when describing the quality of his work. Next month, Cory will present his catalog to Federation staff and offer a tour of selected works – works that we pass by every day will now have added meaning. The catalog will also be available to visitors to the Federation's Jack, Joseph and Morton Mandel Building.
But even more than the final catalog, Cory's presence in the office will have a lasting effect. He was a contributing staff member, attending staff meetings, group outings, and holiday celebrations. Many of my colleagues commented often on his friendliness, outgoing nature, and his passion for his family, faith, and comic books. Cory enjoyed learning from others and was a willing teacher, often sharing his expertise on a variety of topics.
Cory's goal is to work as a museum educator. During his internship, he often attended open houses in the Federation's Roe Green Gallery. He was able to describe the works to visitors, providing his insight into the works. And he can now add the catalog to his portfolio as a concrete example of his abilities.
The organization that made the internship not only possible, but also positive and productive was Milestones Autism Resources. Milestones Program Director Beth Thompson made the match between Cory and the Cleveland Israel Arts Connection. Milestones Teen/Adult Coordinator Haley Dunn ensured that I was well prepared. She met with me and others who would be working directly with Cory prior to his internship to answer questions and offer best practices for working with someone on the spectrum. During the internship, Haley visited the office weekly, checking in to see that things were running smoothly and to address issues that might come up.
During the six-month period, I saw tremendous personal growth in Cory. He became more independent and confident in his work. He was able to interact with all levels of staff on a regular basis. He is a very self-aware young man and works diligently to improve his professional and personal interactions.
I felt myself grow as well. Cory's easy-going style and willingness to learn helped me to become a better supervisor and mentor. My ability to explain projects in an understandable and detailed way improved. I am more patient and appreciative for opportunities to express gratitude – an exercise that is good for everyone involved.
If you are an employer, I encourage you to consider hiring a person with autism. Organizations such as Milestones Autism Resources exist to help prospective employers and employees find each other and to create a work environment where everyone grows and succeeds. It is a true win-win situation for everyone.
---
For more information on hiring an employee or intern on the spectrum, please contact Beth Thompson at 216.464.7600 x 108 or at bthompson@milestones.org.
Debbie Yasinow is the Director of Cleveland Israel Arts Connection at the Jewish Federation of Cleveland, a program designed to facilitate a vibrant array of Israeli arts and culture. Now in its seventh official season, Cleveland Israel Arts Connection showcases Israeli musicians, dancers, authors, filmmakers and visual artists at Cleveland's finest art and cultural institutions.