04/15/2014
My Federation Story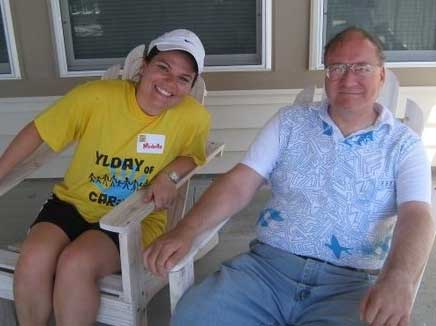 by Michelle Hirsch
I grew up in a "Federation family" – JCC Preschool, Jewish day school and summer camp, BBYO, Hillel, great-grandparents at Menorah Park. I was one of the kids running around Super Sunday collecting cards.
My parents gave a gift in my name since birth and I assumed that responsibility at my bat mitzvah. I intend to continue giving to the Federation for as long as I can – because that's just what we do.
Even with all the years of involvement, it was not until I met Howard that I realized exactly why I give to the Federation. One Sunday afternoon, my husband and I volunteered with the Federation's Young Leadership Division's "YLDay of Caring." Our assignment was to plant flowers and build Adirondack chairs for the front porch of a new JFSA group home on Cedar Road. Upon arriving at the house, the residents warmly welcomed the group and invited us in for a tour – they were so proud of their new home. The residents then joined us outside to help us plant flowers and build the chairs. I was immediately drawn to Howard, a very shy and quiet resident. Howard and I bonded as we worked together on our project.
At the end of the afternoon, Howard and I sat down in the newly built chairs to take a break and admire our work. After a moment of reflecting, Howard turned to me, grabbed my hand, looked me in the eye and said, "Thank you Michelle. I love our new chairs and every day I will sit in a chair and think of how special you made us feel today." His first and only words of the day brought tears to my eyes and the warmest feeling in my heart.
For so long I gave to the Federation to take care of the needy and make sure future generations had the same experiences I had growing up in a strong vibrant Jewish community; I never had a face or a name attached to where the money goes. Now I know that my gift is for people like Howard, individual human beings.
Even the littlest things can change someone's life forever. Howard did that for me.