04/27/2015
Support Victims of Nepal Earthquake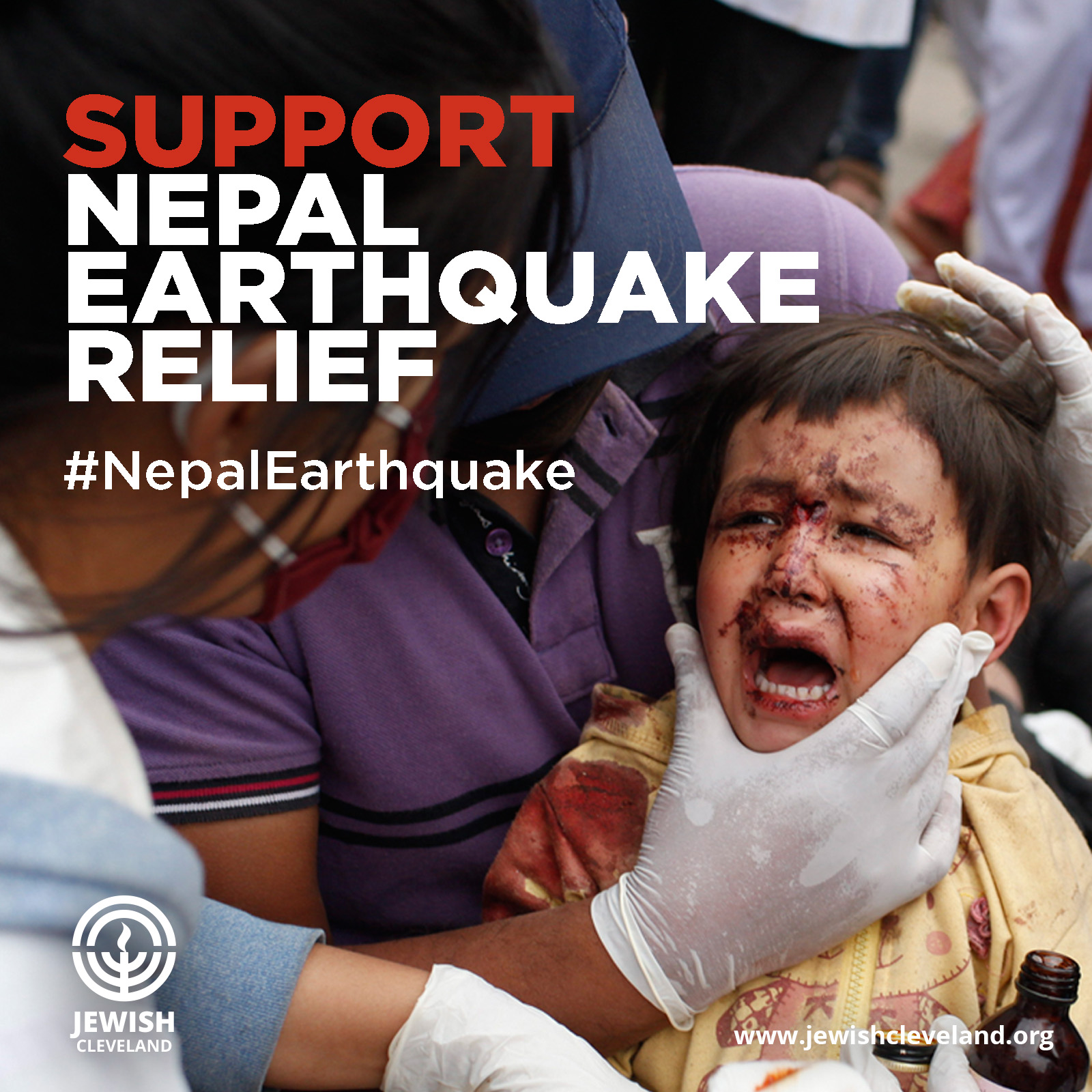 The Jewish Federation of Cleveland is mobilizing to help victims of the devastating 7.8 magnitude earthquake that struck Nepal on Saturday, April 25, leaving an enormous human tragedy in its wake. It has been estimated that over 4,000 people have been killed and thousands injured in Nepal, China and India. The United Nations projects the death toll to rise into the tens of thousands.
The Cleveland Federation has already made an $18,000 grant from its Endowment Fund to help provide emergency relief on the ground in Nepal. A mailbox and online donation fund is now open. One-hundred percent of proceeds to the Nepal Emergency Relief Fund goes directly to relief efforts led by our national and international partners.
Our national system, the Jewish Federations of North America (JFNA), is working closely with our international partners in assessing the situation as it unfolds. Our international partner, the American Jewish Joint Distribution Committee (JDC), is providing relief and medical supplies, including shelter, nutritional items, sanitation, and water.
Israelis have not escaped the disaster. Approximately 2,000 Israelis are currently in Nepal and Israel's Ministry of Foreign Affairs has said that at least 250 of them are still "out of contact," their fate unknown at this stage. Meanwhile, Israel, world-renowned for first responders, sent an Israel Defense Forces (IDF) delegation to conduct search and rescue operations as well as establish a fully functioning field hospital including operating rooms, X-ray equipment and pediatric care.
"It's at times like this, that our shared commitment to tikkun olam, repairing the world, finds its deepest expression," said Michael Siegal, Cleveland resident and Board Chair of JFNA. "In the past, Federations have worked through our partners to provide immediate relief and long-term assistance to victims of natural and manmade disasters around the globe, including the Philippines, Haiti, Japan, and South Asia after the Indian Ocean Tsunami and continue to operate programs designed to rebuild infrastructure and community life in disaster-stricken regions. Our thoughts and prayers go out to all of the victims of this tragedy."
One hundred percent of donations will be allocated directly to the relief efforts, to provide immediate humanitarian aid to disaster victims and their families. To donate online, visit www.jewishcleveland.org or address funds by mail to:
Jewish Federation of Cleveland
P.O. Box 74320
Cleveland, OH 44194-4320
Re: Nepal Earthquake Relief Fund