02/15/2019
New Year's Resolutions for Philanthropy: Climate Looks Bright
Lisa Hacker | SPECIAL TO THE CJN
Article reprinted with permission from Cleveland Jewish News.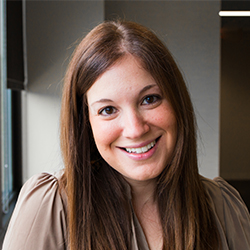 At the start of every new year, most people set out to better themselves with resolutions. Many of us promise to eat healthier, exercise more, pick up a new hobby or check off the bucket list. The beginning of a new year also affords an opportunity to take a step back and reflect on our lives with a renewed sense of hope that we can make positive changes and do things differently.
With the onset of winter storms and freezing temperatures, our eyes are often glued to the weather forecast. But what about the charitable giving forecast? According to the 2018 Giving USA report, Americans gave a total of $410 billion to charity last year, an increase of 5.2 percent from the previous year.
In addition to helping the organizations you care about, several studies have found that charitable giving actually has real health benefits. Giving from the heart helps the heart by lowering stress levels, increasing self-esteem, lowering blood pressure, increasing happiness and sometimes even leads to a longer life. Each of us has the potential to impact a person, a cause, or our community. This is the year you can be the one to add meaningful value. Your time and treasure will not only help those individuals in need, but you may be surprised to see just how much you get back as well. Here are some tips that will help you feel great about your philanthropic choices:
Find your passion: Drive your philanthropy with your head and your heart. Think about which organizations are making a difference in the causes you care about most and find ways to incorporate your interests and skills with the needs of others.
Give your time: Your time is one of the greatest gifts you can give someone and it's free. It also enables you to connect with like-minded people which leads to a happier and more productive life.
Support an organization that demonstrates transparency: Communication and trust are the means to building and sustaining successful partnerships. Seek organizations eager to share their budget and financial resources, strategic plan and allocations process to ensure your donation is funded properly.
The Cleveland winter sky may be gray, but the philanthropic climate looks bright. According to The Philanthropy Outlook 2019 & 2020, total charitable giving is predicted to increase by 3.4 percent in 2019 and by 4.1 percent in 2020. It's the perfect time of year to make positive change and be part of something bigger than yourself. Wishing you and yours bright moments and treasured memories in 2019.
Lisa Hacker is the director of women's philanthropy and the assistant managing director of development, planned giving and endowments at the Jewish Federation of Cleveland in Beachwood. For more information, call 216-593-2792 or email lhacker@jcfcleve.org.