10/29/2021
November: Soup Starter Collection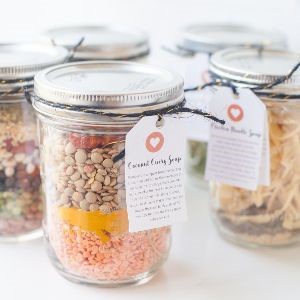 Help change the world one good deed at a time with the Jewish Volunteer Network!
During these uncertain times, those at risk in our community and in the Greater Cleveland area need our help. Together, we can show our support by donating much needed items to monthly collections.
November: Soup Starter Collection

Send a delicious "spoonful of comfort" to those in need. Make your own soup kit(s) in mason jars by layering ingredients in the jar. Attach a recipe card with the name of the soup, contents and cooking directions (see recipe examples below), OR purchase kosher pre-made soup kits (e.g. Manischewitz, Osem, Knorr, Streits, Tradition brands).
Be creative and make your own Soup Kit! Some examples:
Homemade Soup Mixes in a Jar
Handmade Holiday Vegetarian Five Bean Soup Mix
Country Soup in a Jar
Soup kits will be distributed through:
St. Augustine's Parish & Hunger Center

In addition to its daily meal programs, St. Augustine's parish provides clothing, advocacy and financial resources for the poor and homeless.

Kosher Food Pantry Recognized as one of the largest food relief agencies in Northeastern Ohio, the Kosher Food Pantry is a partner of the Greater Cleveland Food Bank and the Hunger Network.
Sunday, November 14
10:00 am – 2:00 pm 

Drop off:
Federation back parking lot
25701 Science Park Drive
Beachwood OH 44122
No registration necessary. All ages can participate.
For more information, contact Susan Hyman at 216-593-2887 or shyman@jcfcleve.org or Jessica Semel at 216-593-2874 or jsemel@jcfcleve.org.