05/26/2015
"One Hour a Day" Exhibit Inspires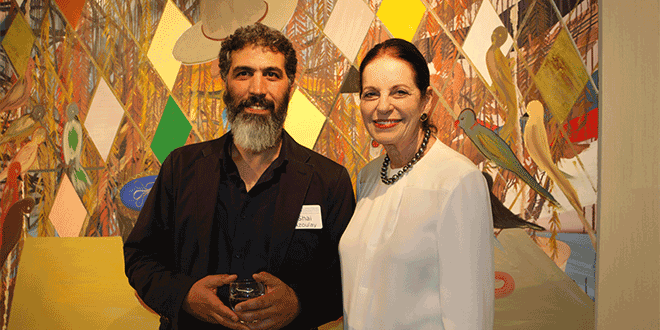 Inspired! Energized! Excited! This is how guests are feeling after visiting the Roe Green Gallery's new exhibit "One Hour a Day" by famed Israeli artist Shai Azoulay.
At a private reception on May 21, Curator Trudy Wiesenberger said, "Shai's work is so strong, real, honest and approachable. What I love best is after looking at the whole painting there are little jewels, little vignettes, little paintings within the larger painting. That's what makes it great art, every time you go back to it there's something new."
Azoulay is an award-winning artist. He has had solo exhibitions in Tel Aviv, Tokyo, London, and Jerusalem and group shows in Israel, Rome, and New York. He was born in Israel in 1971 on the border of Lebanon where it was too dangerous to go outside and play. He spent much of his early childhood indoors. When his parents moved he began to explore the world in a new way and in his early twenties traveled to new countries. It wasn't until he was 24 and visiting Thailand that he discovered sketching and drawing. When he returned to Israel, he was accepted to the prestigious Bezalel Academy of Art and Design where he received both his BFA and MFA, later being named recipient of the Bezalel Academy's Extraordinary Artistic Achievement Award and the Tel Aviv Museum of Art's Legacy Heritage Fund Prize. He joins us in Cleveland for the debut of his new exhibit, "One Hour a Day." Most of the pieces were created just for this exhibit and are being seen for the first time.
"The works here are so different. These are different expressions of noisy and quiet behavior," shared Azoulay, speaking to guests at the reception. "You should go one hour a day to nature. When you walk in nature you can sit, dream, communicate. You spend an hour to stop. This changed my art, my way of thinking, my life. This is my one hour a day."
The exhibit runs from May through September. Gallery hours are by appointment only. To schedule tours, email or call 216-593-2866.
This exhibition is presented by the Cleveland Israel Arts Connection, a program of the Jewish Federation of Cleveland. It is sponsored with support from Cuyahoga Arts & Culture.
A few moments captured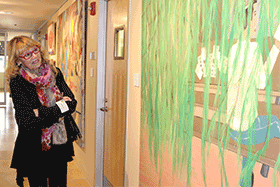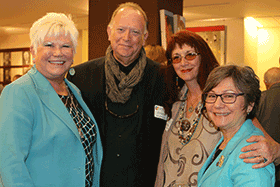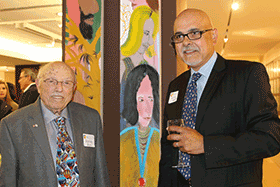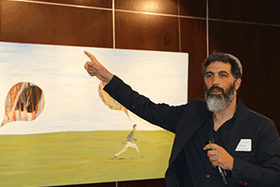 ---
Related Items