02/07/2020
One Year In, Erika B. Rudin-Luria Looks At Accomplishments, Future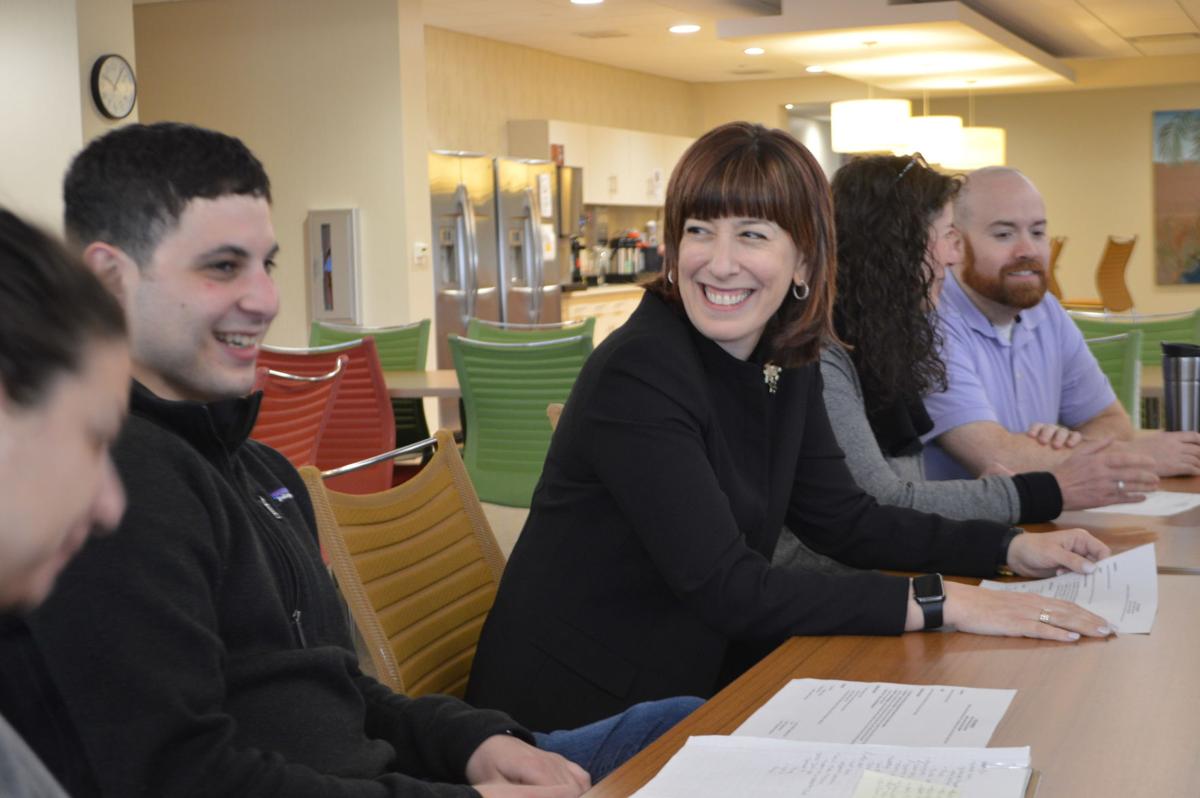 Article reprinted with permission from Cleveland Jewish News
by JANE KAUFMAN | STAFF REPORTER
Showing up is important to Erika B. Rudin-Luria.
Her first year as president of the Jewish Federation of Cleveland was capped off by a record-breaking $33 million campaign – and a nearly spontaneous mission to New York, with free bus transportation to anyone who wished to travel, in a show of solidarity with Jews there who had faced anti-Semitic attacks.
Rudin-Luria, 46, spoke about a wide range of topics, including the New York trip, security, and her vision in an interview with the Cleveland Jewish News as she rounded out her first year as the head of the Federation, which serves as a hub for, and supports all of, Greater Cleveland's Jewish agencies.
The New York bus trip was planned in 48 hours, as the "No Hate. No Fear" rally was planned Jan. 6 in the days preceding the march across Brooklyn Bridge and the rally in Cadman Plaza.
New York trip
"The feeling was that there's nothing more important than standing strong and standing together against anti-Semitism," Rudin-Luria said. "And when you take one voice and add it to other voices, together your voice is much stronger. So, for the people that lack the confidence or (are) afraid to speak out against anti-Semitism and against hate, it's really, really important that they see our confidence and the resilience of the Jewish community in coming together regardless of what the challenge is."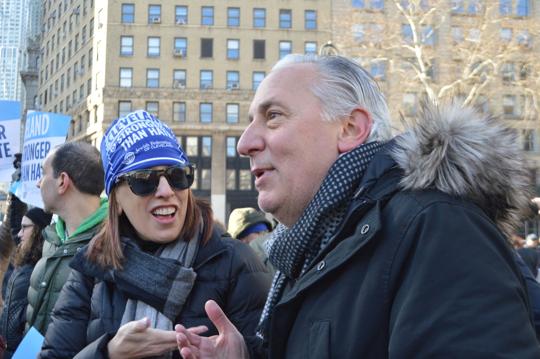 She said a few "generous donors who weren't able to travel to New York contributed to help defray costs."
Rudin-Luria acknowledged the decision to go, with about 115 people in attendance on two buses, served to raise the profile of Cleveland on the national stage.
"I would say that it reminded people that Cleveland shows up," she said. "That Cleveland is loud and proud and shows up whenever there's something facing the Jewish community regardless of geographic area. And this isn't the first time that Cleveland has rallied and shown up. This really is what is the foundation of our community."
That decision aligned with a centerpiece of Rudin-Luria's leadership to date.
In-person interaction
One of her hallmarks has been her consistent presence at events in the Jewish community in the past year.
"I feel strongly that leaders show up and interact with people," she said. "So, I've tried to be visible in many different areas. I would say that I would have even liked to be more visible, but I haven't figured out how to be in multiple places at once yet. I'm open to suggestions on that."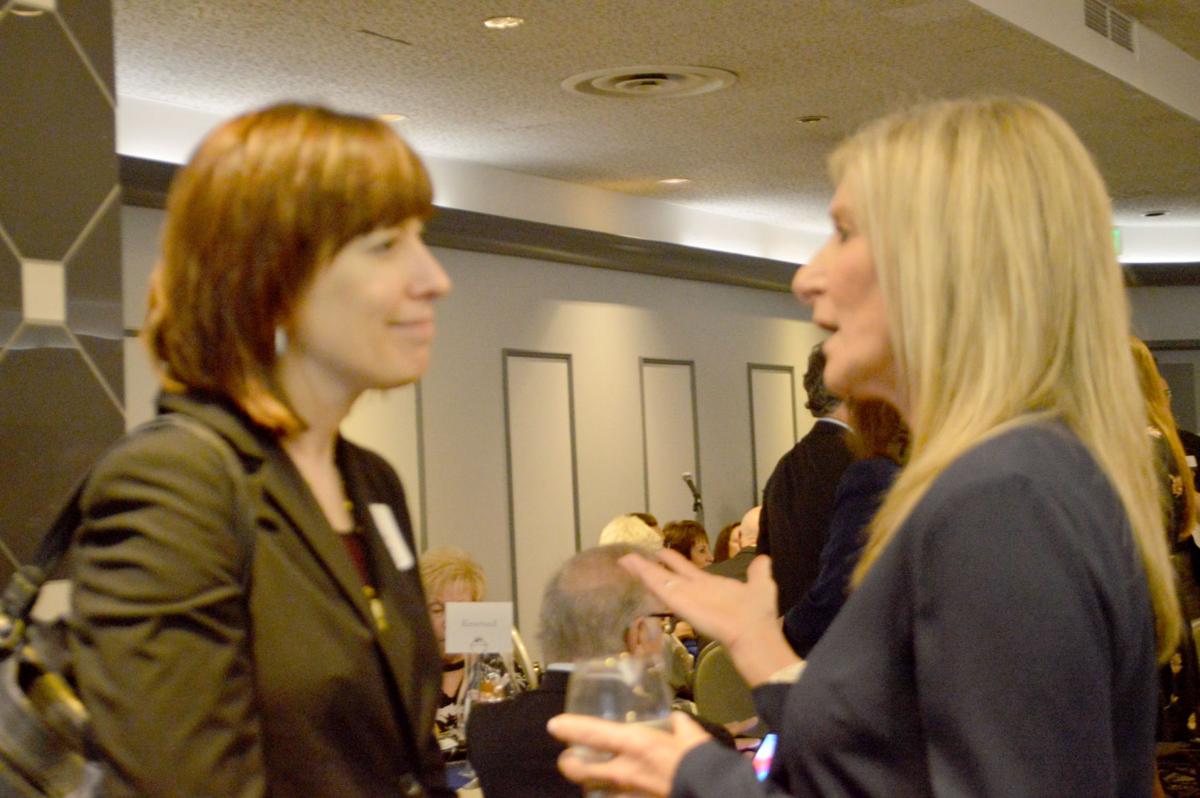 She said she finds in-person interactions to be tantamount to forming relationships.
"I really think our phones have made most of us pretty miserable," she said. "And I find when I'm talking with people that they're really craving that human interaction. They want meaningful connections with different people, and they want to have a meaningful impact on the community, Cleveland, Jewish Cleveland, their synagogue, the agency they're close with."
Rudin-Luria said she is deeply concerned about the rise of anti-Semitism in recent years.
"So, while we have phenomenal relationships throughout the Greater Cleveland community and we work hard to build connections to people of other cultural or faith backgrounds and we have strong security, there has to be something more that we can be doing to fight anti-Semitism," she said. "And we really have a serious problem here that I wish (were) different, but we must focus on."
Rudin-Luria said addressing anti-Semitism requires both building relationships with neighbors and a continued commitment to enhancing security at Jewish institutions.
Focus on security
JFC Security LLC was established by the Jewish Federation of Cleveland to provide security for Jewish institutions.
On Oct. 28, 2019, the Federation hosted Bradley Orsini, then-director of community security at the Jewish Federation of Greater Pittsburgh, to speak during a day that included a tabletop training exercise, a simulated emergency planning session, attended by 135 people. Those attending included law enforcement officials, leaders and members of Jewish institutions.
"We've been very successful at hiring guards," Rudin-Luria said. "Right now, I believe we've hired our 29th. We hired someone though who has expertise in this type of hire. We only want the highest quality of security personnel working in the Jewish community and we can confidently say that we have the best. The Israeli Ministry of Diaspora Affairs was here a handful of months ago to look at security in North America, to learn more about the challenges facing North American Jewish communities, and they said that we have the best outside of Israel."
Rudin-Luria is quick to credit the work of her predecessor, Stephen H. Hoffman, for his focus on security among the Cleveland Jewish community.
In April 2019, JFC Security received donations of two pickup trucks, doubling the number of JFC-owned vehicles.
"It's a top priority for us," Rudin-Luria said of security. "With that said, we don't want to be defined by security in our community. That's really the biggest challenge because at this point we're spending over $3.5 million a year on community security. Two years ago, the spend was a half-a-million dollars. This is a huge increase and a huge strain on resources in our community. But we need security for people to feel welcome and safe. I don't want someone to have to question when they're going to any Jewish event or into any Jewish institution whether or not they should go."
Collaborating outside Cleveland
As other Jewish communities grapple with security, the Federation has joined with them to press for enhanced funding.
"So our largest collaboration with other federations in Ohio is really through Ohio Jewish Commuities and the lobbying we do at the state level for security funding and for other funding," Rudin-Luria said. "And that, by far I would say is our most successful collaboration. But, we touch base with each other particularly around security and other needs. Our local security folks … work very closely I know with Detroit and Pittsburgh and Cincinnati, in particular, because with them, then we kind of have, there's a region there."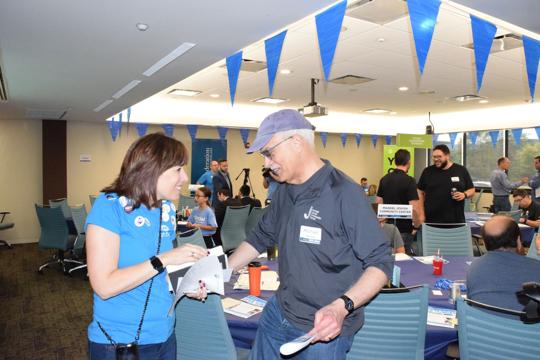 On the horizon Rudin-Luria said she looks forward to bringing a cohort of Wexner Fellows to Cleveland. The New Albany-based Wexner Foundation offers two-year fellowship to Jewish communal leaders.
"We'll have around 20 young leaders who are part of an intensive, immersive experience that is a two-year experience where they'll have exposure to really high-quality leadership development as well as high-quality Jewish educators that teach text," she said, adding the Federation recently hosted fellows from the Nachshon Project, a project of the Legacy Heritage Foundation in New York City. "We were thrilled that they wanted to come to Cleveland and frankly we saw it as an opportunity to plant the seed in each of these graduate students' heads that Cleveland is the best place to grow as a Jewish professional."
Campaign notes
Rudin-Luria credited volunteer leaders for the record-breaking total of the 2020 Campaign for Jewish Needs.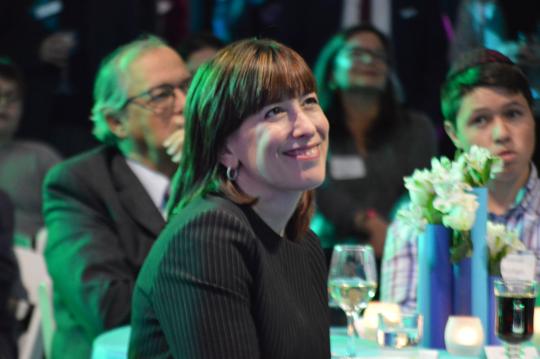 "I think we have successfully collaborated as a professional team and with our volunteer leadership," she said. "I think campaign is one example of that, with our very successful results really due in great part to the leadership of Jeff Wild (2019 and 2020 Campaign for Jewish Needs chair) and David Heller (board chair of the Federation), there's no question. To work with volunteer leaders like the two of them is really just incredible. And I know I'm the envy of many colleagues because of the volunteer leadership that we have here at Federation."
Final thoughts
Rudin-Luria said she is hopeful as she looks at the future of the Jewish community and grateful for the level of commitment she has seen among Jewish Clevelanders.
"The trend that most interests me is how people are connecting to Jewish life and Jewish identity," she said. "It's exciting. There's a huge opportunity. People are redefining what it means to be involved and engaged. And that's incredible and energizing."