12/12/2022
Onward Israel Opens Doors For College Students
COURTNEY BYRNES | STAFF REPORTER
Article reprinted with permission from Cleveland Jewish News
LAVAA, a digital health company in Israel, has hired three Clevelanders who interned with the startup over the summer through the Cleveland Onward Israel program with the Jewish Federation of Cleveland.
As college juniors on the pre-health track, Maya Hollander and Eliana and Dahlia Moskowitz applied to Onward Israel and spent two months working on individual research projects and learning the technology at LAVAA as MASA interns.
Now, they will join the team as junior research analysts.
"We were extremely satisfied with Dahlia, Eliana and Maya, and you can see that by the fact that all three are currently part of LAVAA," Nir Lieberman, head of research and internal marketing at LAVAA, told the Cleveland Jewish News Nov. 22.
As the company is about a year old, this was the first time LAVAA participated in Onward. Hollander and the Moskowitz twins will work remotely on projects from health models to data and market analysis, as LAVAA provides personalized digital care programs to providers, clinicians and patients.
LAVAA operations continue to grow for the young company as it plans to open a subsidiary in the United States in January, according to Lieberman who will be overseeing the subsidiary.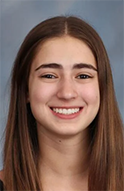 Hollander, a resident of Shaker Heights and member of The Temple-Tifereth Israel in Beachwood, attends The Ohio State University in Columbus as a health sciences major on the pre-physical assistant track. The Onward program allowed her to travel and live in Israel for the first time and see the different career opportunities in the health care space.
"The three of us are in a unique position because we're all pre-health students, but we've all been going to school in the middle of a pandemic where we can't shadow and aren't allowed to go and see things in the health care field because obviously it's not safe," Hollander told the CJN Nov. 22. "So, I think having this opportunity ... gave us each a taste of different sides of medicine."
She chose to focus on fertility for her research project as an intern.
The Moskowitzes grew up in Beachwood as members of Green Road Synagogue in Beachwood. Eliana Moskowitz is studying neuroscience at Binghamton University in New York, and Dahlia Moskowitz is studying neuroscience and business at OSU.
Eliana Moskowitz focused her project on endometriosis and said working at an Israeli health care company focused on preventative health care gave her a new experience.
"It was definitely an experience being on that side and I really enjoyed it," she told the CJN Nov. 22. "I really enjoyed thinking of putting everything together and how to actually treat it and prevent it in the future."
Dahlia Moskowitz's project focused on researching depression. By choosing their own individual projects to focus on, she said they were able to make it their own and grow into the role.
"It also encouraged you to get more involved in your role because it wasn't a communal task that the entire team was working on," Dahlia Moskowitz told the CJN Nov. 22. "It was like this is your specific job, and here's your point person, and here's all of our team that you can fall back on and use as a resource when you need help. But it's your project and you get to take it and flourish."
The three LAVAA interns joined 30 other participants in the Cleveland Onward program which offers college students the opportunity to spend two months in Israel experiencing the culture and enhancing their resume. The Federation partners with Onward Israel, which brings students from around the world, and Boots on the Ground, which coordinates the internships.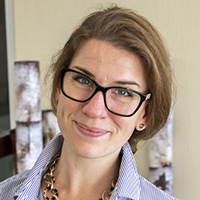 "It's a testament to them. As participants, as young women, I think they did fabulously. They were very proactive throughout the summer," Elle Henig, manger of I-Connect at the Federation, told the CJN Nov. 29. "And so, I want to just really call out the success of their story. It's also a testament to the company."
She said there have been similar success stories out of the Cleveland Onward program over its 10-year history, but the true metric of success is any participant who leverages their internship to secure a future position, often by building and maintaining a network.
With applications open for 2023, Henig said there are many reasons to apply to Onward Israel, whether it be the internship or networking aspect or the Israel experience. The program can also be used as an opportunity to pursue an interests to determine one's future career.
"Onward is set up so that participants can find whatever they define as their own meaning for success on this program in Israel," said Henig, a resident of Chargin Falls. "We will help facilitate their success as best as we can, and we leave it up to them to determine what that success looks like."
More Information:


WHAT: Onward Israel, an eight-week summer internship program
WHO: College students or recent graduates, with priority given to rising juniors and seniors, from or living in the Greater Cleveland area, who identify as Jewish.
WHEN: June 7 through Aug. 1, 2023
APPLY:
Rolling applications open now through mid-March 2023 or until spots are filled. Contact Elle Henig at
ehenig@jewishcleveland.org
or 216-593-2899, or visit
onwardisrael.org/programs/cleveland
.