10/23/2017
Our #JewishCleveland: Dayna & Cameron Orlean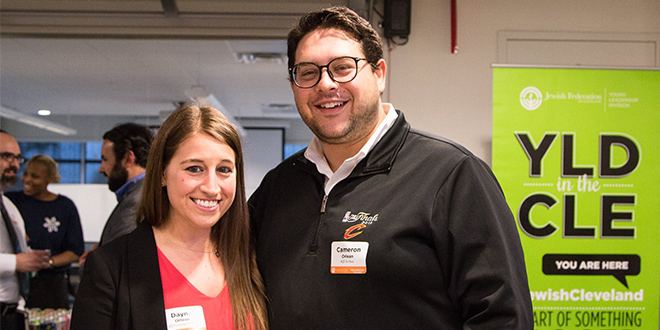 Our Jewish Cleveland story began about three years ago. We moved back to Northeast Ohio and were eager enough to get in touch with the Jewish Federation of Cleveland's Young Leadership Division (YLD) Director, Jessie Bruder. She introduced us to their LEADS (Leadership Education and Development Series) program; we wanted to get involved immediately and that was the perfect way to jumpstart our leadership skills in the community, in our professional careers, and as volunteers. LEADS was also a great way to get connected to the community, make new friends, and learn more about Federation.
We quickly realized how important the Federation is for Jewish Cleveland and how much good it did. There are agencies and organizations we've all used. Federation partner agencies touch so much in our lives - whether it's the Mandel JCC, Jewish day camps, Jewish day schools, Montefiore, Menorah Park, or anything in between. We're so lucky here in Cleveland to have such a strong Jewish community, and we feel as young leaders, we need to be involved in Federation and help perpetuate that great Jewish community we had growing up.
We took the advice we learned from our families; they instilled community service, giving back, and helping those less fortunate. We wanted to make our impact in this community. We both started to volunteer with the Federation's Campaign for Jewish Needs, the annual fundraising campaign that ensures our community's vitality and vibrancy in the year ahead. As young leaders in this community, we're the ones who are able to make a change for our generation and for future generations to come. We both have leadership positions within the Campaign (Dayna is a YLD Campaign Co-Chair; Cameron is a Ben-Gurion Society Co-Chair).
We feel fulfilled knowing YLD is represented in the Campaign and the community, from volunteering, to social events, to philanthropy. And as Campaigners, we feel like our 'ask' for a Campaign donation is easier because of how involved we are in the community. It also allows us to interact with our fellow young leaders and find that draw of what's important to them.
We're passionate about the city of Cleveland, we're passionate about the Federation, and we're passionate about the Campaign for Jewish Needs. The Jewish value of tzedakah that our families instilled in us is special. And it's our duty, our responsibility, and our honor to be able to carry that value forward and ensure that the community is here for our family and the families in this community forever.
This is our #JewishCleveland.
For information about getting involved with YLD, please contact Jessie Bruder at jbruder@jcfcleve.org or 216-593-2869.
---
Related Items