04/23/2021
Our Safety Net in Times of Crisis
Federation's Unrestricted Endowment Fund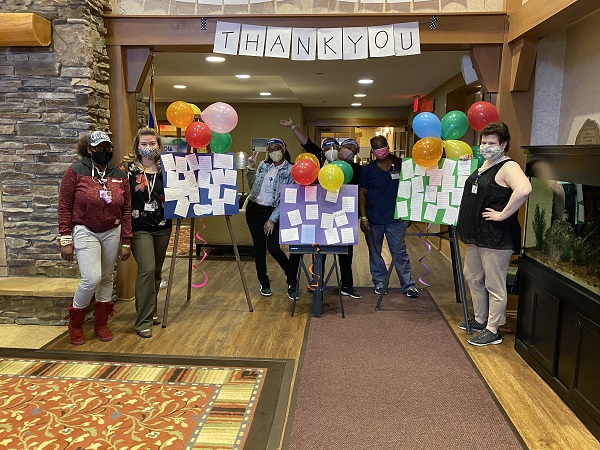 This article was originally published in the Jewish Federation of Cleveland's 2021 Legacy Magazine. Read the full publication here >>
After the devastation of World War II, the leaders of the Jewish Federation of Cleveland came together and decided that they would create an endowment fund so that if and when an unknown crisis in the future arose, the community would be prepared and able to act. Since that time, the Unrestricted Endowment Fund has been Jewish Cleveland's safety net that has supported our beneficiaries in times of economic downturns, helped to defend Israel when it has been under attack, and assisted Jewish and general communities throughout the United States and the world when natural disasters such as fires, earthquakes, and hurricanes have wrought destruction.
Due to this foresight and generosity of so many who have come before us, the Unrestricted Endowment Fund was here for our community when the crisis of our lifetimes – the COVID-19 pandemic – first came to Cleveland. Almost immediately, the Endowment Fund Committee – which is comprised of community members who consider requests for grants from the fund – approved an initial grant to meet urgent critical needs.
This initial grant, made in March 2020, provided essential funding to organizations such as the Kosher Food Pantry and the Chesed Center, who were experiencing increased demand. They were also working to help feed many of the children who attended Jewish Day Schools and relied on meals at school – who were suddenly cut off from those sources of nourishment when schools closed.
In addition, agencies who serve the most vulnerable in our community could not simply shut down, the way so much of our world did at that time. Jewish Family Service Association, Bellefaire JCB and Menorah Park needed to continue to serve homebound Holocaust survivors, children and adults with mental health challenges, and the elderly and infirm, among others. Funds from the unrestricted endowment grant also helped to procure PPE and provide other emergency support to those agencies during this crucial time.
As the spring led into the summer, Federation professionals and their partners at beneficiary agencies continued to speak on a daily basis as the crisis evolved. They discussed both current shortfalls as well as the long-term implications of the virus on agencies moving forward. With determination, these leaders believed that they had to ensure that our community emerged on the other side of this crisis in a position of strength and continuity.
After this careful assessment, Federation leadership concluded that there was a need for a one-time infusion of $16 million to address those affected by the pandemic. The goal of the Coronavirus Emergency Relief Fund was to ensure that our community's social service providers and resources would not become overwhelmed by the needs directly resulting from the pandemic; that there would not be a great loss of participation in Jewish life; and that massive, short-term financial losses that would not lead to the dismantling of key Jewish institutions in Jewish Cleveland.
Many foundations and individual donors came together to help raise these funds. And again, a request was made to the Endowment Fund committee for a second, larger grant to support the fund, which was approved. These funds were used to sustain our agencies and support the community: the Jewish day schools needed supplies in order to be able to open safely; funding was given for home delivered meals as demand increased over 30% as many people were no longer able to leave their homes; a summer program was created for young adults whose plans were cancelled and together they donated 2,200 volunteer hours to Jewish Cleveland.
A committee was formed to oversee and distribute the funds raised. The committee is comprised of former Federation board chairs , and committed and passionate community leaders. Chairperson Gary Gross explained, "Our community stood up and stood together. We refused to allow this pandemic to destroy the beloved institutions that we have spent 118 years building. We will come out the other side of this, stronger and together."
These unprecedented times have required our community to come together in equally unprecedented ways. And in part, because of the foresight and generosity of those who contributed to the Unrestricted Endowment Fund, we are able to meet those challenges together, and help ensure our community's future.
---
The Federation's Unrestricted Endowment Fund was created by insightful Jewish community leaders in 1955 and grows through bequests and investments. Only a small portion of the fund is used each year and is able to provide much needed support without diverting funds from the annual Campaign for Jewish Needs.