04/04/2017
Free Books for Parents: It's Your Turn!
Republished with permission from PJ Library.
This month PJ Library invites you to select a free "grown-up" Jewish book.
The book selection link is included in an email sent to you by PJ Library in early April. If you can't find the link, email us at pjparents@pjlibrary.org and we'll help you out.
Choices must be made no later than April 30.
Your choices are:
JEWISH HOLIDAYS ALL YEAR ROUND: A Family Treasury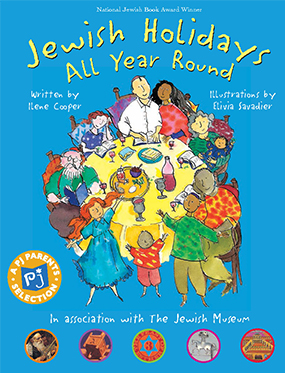 by Ilene Cooper, in association with The Jewish Museum (New York)
An easy way to learn more about Jewish holidays and enjoy holiday and Shabbat activities and recipes with your kids.
The book features fascinating art and artifacts from The Jewish Museum collection, which will deepen your and your child's appreciation of the uniqueness of each holiday.
"I pull this book off the shelf for holidays and read it with my kids. Very family-oriented with fun activities. A great resource." – PJ Library parent
"This book gives parents of all backgrounds an approachable overview of Jewish holidays. My kids and I love the art, the crafts, the variety." – PJ Library parent
CASTING LOTS: Creating a Family in a Beautiful, Broken World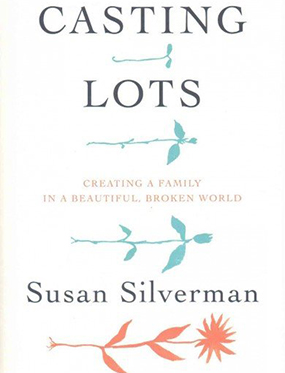 by Susan Silverman
Susan Silverman – writer, activist, rabbi, mother, and sister of comedian Sarah – tells her story of creating a multi-racial Jewish family with three biological daughters and two adopted Ethiopian sons. ("The family I have today was not made in our blood, but felt in our bones.")
A brave, irreverent, and deeply Jewish meditation on identity and belonging.
"A funny and inspiring story of one family's journey from love to yet more love. Beautifully told!" – Mayim Bialik, actress ("The Big Bang Theory"), blogger on kveller.com, and author of Beyond the Sling
"Given her nutty background, of course she's irreverent, but this funny big-hearted rabbi is reverent where it counts the most: toward Heaven, toward Judaism, and toward her family." - Melissa Fay Greene, author of Praying for Sheetrock and The Underdogs
NURTURE THE WOW: Finding Spirituality in the Frustration, Boredom, Tears, Poop, Desperation, Wonder, and Radical Amazement of Parenting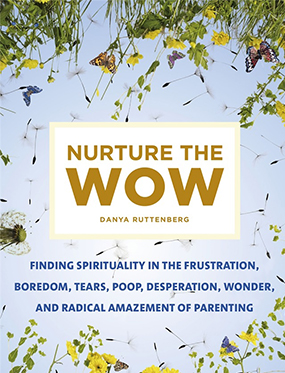 by Danya Ruttenberg
Still changing diapers? Desperate for down-time? With all the intensity and drudgery, how can early-child parenting be spiritual?
Danya Ruttenberg draws creatively from Jewish sources – as well as from other wisdom traditions, contemporary research, and her own experience raising young children – to challenge readers to find the spiritual meaning of parenting.
"What I liked most about this book was that it places childrearing smack in the center of powerful, personal spiritual practice. It takes parenthood very seriously." – Tablet Magazine
"Sometimes sassy, other times soft and reflective, Ruttenberg tills the soil of parents' inner landscape." – The Forward
THE BLESSING OF A SKINNED KNEE: Using Jewish Teachings to Raise Self-Reliant Children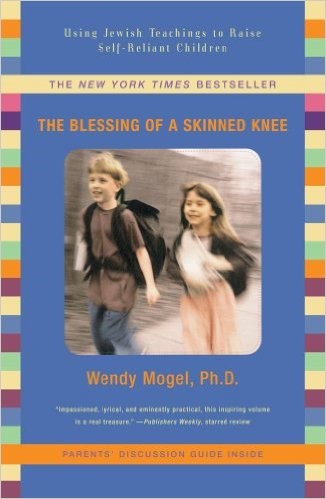 by Wendy Mogel
If you don't have a copy, here's your chance.
Written by a psychologist whose clinical practice is guided by Jewish teaching, this book tackles such issues as chores, meal-time battles, overscheduling, overprotection, coping with frustration, and cultivating gratitude.
"I love this book. I have even seen some moms reading it during services at synagogue from time to time." – PJ Library Professional
"Impassioned, lyrical, and eminently practical." – Publishers Weekly
OUTWITTING HISTORY: The Amazing Adventures of a Man Who Rescued a Million Yiddish Books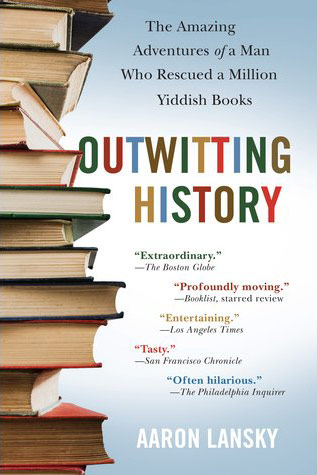 by Aaron Lansky
The story of one man's mission to save Yiddish books from history's trash bin. Along the way we learn about the riches of Yiddish literature, the current resurgence of interest in Yiddish culture, and the unlikely founding of the National Yiddish Book Center in a small town in Western Massachusetts.
"I feel like I'm getting an entire Jewish history lesson without even realizing it. A heartwarming book." – PJ Library parent
"A picaresque romp, a detective story, and a poignant evocation of a bygone world. Lansky transforms tragedy into opportunity, with an unshakable faith in the future of Jewish life." – The Boston Globe
---
Related Items