01/07/2020
Premiere Summer Internship Program in Tel Aviv for Young Adults
Applications are now open for Onward Israel, a prestigious eight-week summer internship program in Tel Aviv for Jewish Cleveland young adults. The Jewish Federation of Cleveland, in partnership with Masa Israel Journey and The Jewish Agency for Israel, are now selecting college students and recent college graduates, ages 19 – 27, to live and intern in Tel Aviv from June 10 – August 4, 2020.
Participants will choose an internship in their field of interest such as high-tech, the arts, business, finance, communications, or non-profit In addition, they will live in shared apartments in Tel Aviv and immerse themselves in Israeli culture by experiencing the city's nightlife, beaches, and more.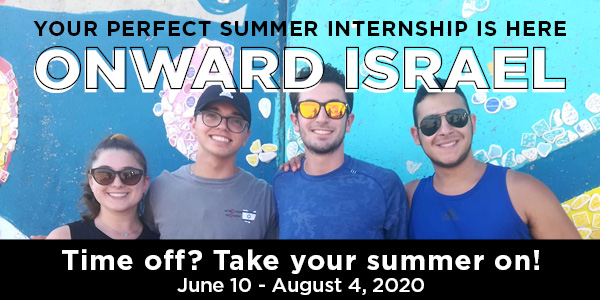 "Onward Israel is an excellent opportunity for young adults who are looking to get back to Israel and build their resume while doing it," said Ilanit Gerblich Kalir, managing director of international operations at the Federation. "Since Cleveland launched our Onward Israel program nearly 10 years ago, hundreds of young adults have taken advantage of this incredible opportunity to live like a local in one of the world's most bustling cosmopolitan cities."
Qualified applicants are Jewish students or recent graduates from or currently living in Greater Cleveland. Applicants must have one previous Israel experience such as Birthright or a teen program. Program cost is $550 plus airfare.
"I interned at a new tech startup called SuperCom, which provides security solutions to foreign nations and their police departments," said David Mack, a 2019 Onward Israel participant. "While I was able to spend the summer interning and building my resume, my biggest takeaway from Onward was the ability to connect with the Jewish land and the people of Israel."
Limited spots are available. Rolling Admission is on a first-come, first-serve basis. To apply, visit www.clevelandonwardisrael.com. For more information about Onward Israel, contact Rivki Ebner at rebner@jcfcleve.org or 216-593-2921.
---
Related Items