01/13/2020
Rediscovering Judaism at Summer Camp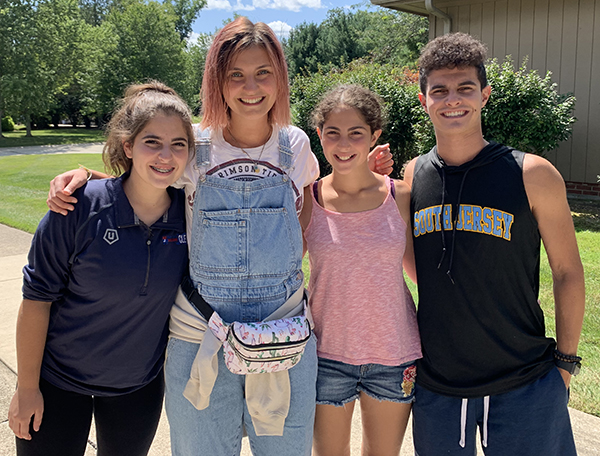 There was a time – not so long ago – that Vita didn't even know she was Jewish. Today, she is helping Jewish Clevelanders strengthen their own connection to Judaism.
Born in the Russian city of Tomsk in Siberia, Vita was told by her parents when she turned 16 years old that she would be spending the summer at a camp run by The Jewish Agency for Israel, a Federation beneficiary agency. When she asked why they were sending her to a "Jewish camp," their answer shocked her – she was Jewish on her father's side of the family! Vita is part of an entire generation in the former Soviet Union who are just realizing they are Jewish after 70 years of Communist rule. Sending her to camp was a way to encourage her to explore what that could mean to her.
From the moment she went to camp, she loved it. "I felt that I was growing and learning every day, from everyone – the counselors and the kids," she said. "I learned about what being Jewish was all about. I had my first opportunity to celebrate Shabbat and met other Jewish kids from my area."
She continued to be connected to The Jewish Agency camps during her studies at a university in St. Petersburg, Cleveland's sister city in Russia. She learned all about being a counselor (madricha) and began working as a junior counselor at The Jewish Agency-run summer camps near St. Petersburg.
After graduating college, Vita went to Israel to study special-needs education through a grant from the Federation-funded Masa Israel program. Not only did this grant enable her to further her professional interests, it provided her the unique opportunity to immerse herself in Jewish culture and explore Israel. "Through the generous grant and support from Masa and The Jewish Agency, I was able to start my life and professional journey in Israel."
During her time in Israel, Vita was chosen for The Jewish Agency's prestigious Educational Leadership Institute (ELI) counselor training program for young adults. This gave her additional skills to become a more senior counselor with The Jewish Agency and develop an expertise in informal Jewish education.

"I am so grateful for the investment the Jewish community has made in me and the Jewish community in St. Petersburg," she said. "I am determined to give back to the Jewish community and make a difference in any way I can."
Coincidentally enough, one way she was able to give back was to spend this past summer in Cleveland, where she was a supervisor at Anisfield, one of Cleveland's Jewish summer camps at the Mandel JCC – another Federation beneficiary agency. "It's amazing to think that in just a few years, I went from being a teenager who needed Jewish Cleveland to teach me how to be Jewish to becoming a teacher to Jewish Cleveland teenagers about Judaism," Vita said.
For more information on the work Overseas, contact Ilanit Kalir at ikalir@jcfcleve.org or 216-593-2815.