06/04/2018
Reflections from a Beit Shean Masa Israel Teaching Fellow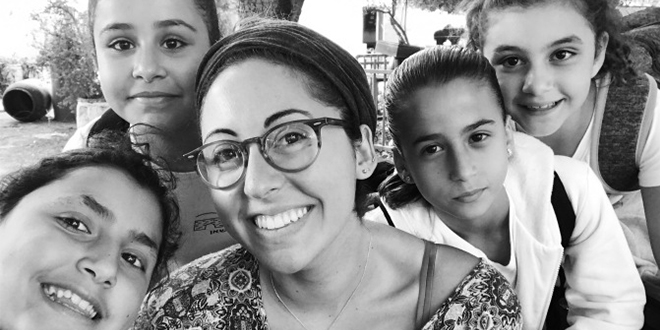 Jewish Clevelander Anna Lowenstein is spending 10 months in Cleveland's sister city of Beit Shean, teaching English to Israeli students through the "Masa Israel Teaching Fellows" program. Read an excerpt from her travel blog below:
I have spent the past year living and teaching English to 4th, 5th, and 6th graders in Beit Shean, Israel, Cleveland's sister city. It's a small town 1 hour east of Haifa and 10 minutes from the border of Jordan. Beit Shean is located in a valley, just above the West Bank, and has a population of about 17,000 people. It's a quiet town, filled with young children and their families, countless synagogues, a handful of elementary and high schools, a selection of grocery stores, colorful playgrounds, date trees, and cats. When I'm not teaching or volunteering outside of school, I typically spend my time reading, writing, resting, cooking, and/or hanging out with the other girls in my teaching cohort. At first, this simple lifestyle was unsettling; I felt isolated, bored, and, at times, stir crazy. However, I adjusted and adapted to this quieter way of life. The deeper perspective allowed me to see the beauty of this small town that I now consider my home away from home.
I have also found beauty in the Beit Shean community. Yes, the population is small, but as a result, everyone looks out for each other. The community is like one big family and, as a Beit Shean teaching fellow, I was welcomed into the family from day one. From getting tackled by and bombarded with a million hugs, smiles, and "boker tov!" messages from my students every morning to spending Shabbat dinners with my local host family, I have continuously felt welcomed, loved, and appreciated by the extraordinarily warm people in Beit Shean.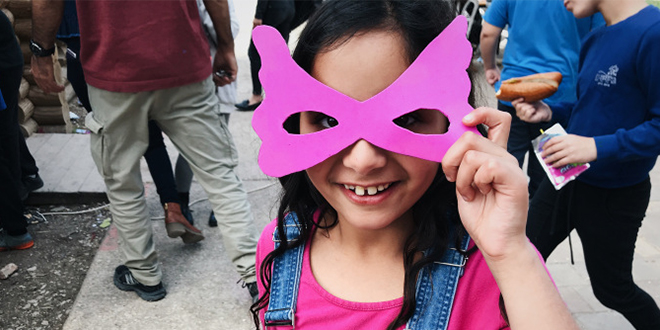 The other day, two of my 4th graders spotted me on my walk home from the gym. "Ann-oooosh!" they both yelled at the top of their lungs, as they flagged me down and motioned for me to come over to where they were standing. Through non-verbals and broken Hebrew, I learned that they were standing outside of a pet store where they volunteer after school. My students spent the next 45 minutes introducing me to every animal in the store. I now know the names of every puppy, rabbit, gerbil, and guinea pig in the shop as well as how old they are and what they like to eat. Running into my students on the street always makes me smile; this surprise encounter in particular, was the highlight of my week. Had I chosen to live and work in a more populated city like Haifa or Tel Aviv, the likelihood of experiencing a little "pet shop moment" like this would have been significantly slimmer, if not non-existent.
I have become so connected with them and they are undoubtedly the highlight of my experience here in Israel. Plus, their learning environment is already so unstable, the last thing they need is for their English teacher to leave them unexpectedly. Although challenging, working at my assigned school has not only strengthened my ability to think on my feet and quickly adapt to unforeseen circumstances but it has also given me an opportunity to see and appreciate the difference I can make in the lives of my students. The other day, I couldn't help but smile from ear to ear as I watched one of my shyest students willingly read a short story aloud to her peers with confidence, poise, and determination. I feel overwhelmed with pride every time my host brother excitedly runs up to me in school, English test in hand, eager to show me his 'A' grade—a score that he deemed unachievable before I started tutoring him outside of school. Moments like these serve as motivation to continue making positive changes in the lives of the kids at my school. These moments keep me at my school. They are what make my work here so meaningful.
For the most part, beautiful things have resulted from the challenges I've faced this year. For this reason, if I were given the chance to reselect my Masa host city, I would 100% choose Beit Shean again. My experiences in this town have given me new perspectives and outlooks; they have allowed me to grow many new and valuable layers of strength that have sculpted me into a stronger, more confident, version of myself. This year will, without a doubt, be an unforgettable memory for the rest of my life. I have about six weeks left in Israel and I am eager to see what types of layers of strength grow between now and my return to the US.
Shalom and לְהִתְרָאוֹת (l'hitraot, goodbye for now)
Get more information about becoming a Masa Israel Teaching Fellow.
---
Related Items