02/24/2015
Reflections from Volunteer: Beit Shean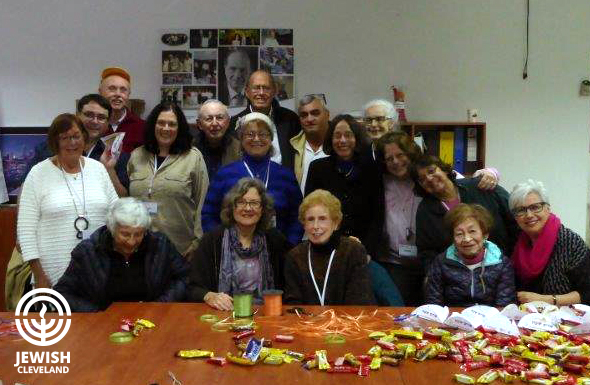 Friday, February 20
by Denise Butvin
On Wednesday February 18, nineteen of us all volunteers were headed to Beit Shean in Israel. Seven of us – Mira, Marlene (aka Peggy), Michael, Lynn, Adrienne , Lil, and Denise – all boarded our flight, for an adventure in Israel
We were all glad to finally touch down and walk on land. Once we all went through customs everybody went their separate ways. We all met back at the airport were met the rest of the group. We were all ready to start the second part of our journey – we were on the way to Beit Shean.
We arrived tired and hungry. After a nice dinner, we got our rooms and headed for lights out and a good night's rest.
Saturday, February 21
by Marlene Lefton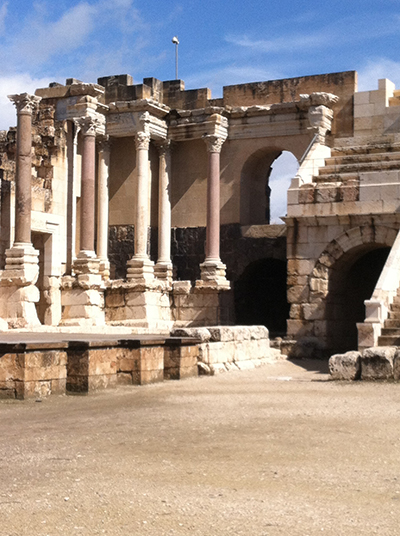 HaShem (God) has a way of weaving a pattern that He can see from above and sometimes we get to see it from below. Today was such a day for me, day two of my time in Israel.
Our tour guide told us she had a surprise that was not on the itinerary. It was to see a memorial to the man who began the partnership between our two cities, Cleveland and Beit Shean. He was a man who learned to build bridges in Cleveland and then did the same between two countries. And then I found out the man's name, Art Napersak. He was the Dean of the Mandel School of Social Science Masters program at Case Western Reserve University, when I was a student there.
My friend and I were doing catering while getting our masters' degrees which helped to defray some of our school costs. Again, Art (which is the name he wanted all of the students to call him) built a bridge. He wanted to personally get to know each student, and started lunch with the Dean meetings, which were an interactive experience for all. And maybe because he was Jewish, he decided it would be great motivation for attendance if he were to provide food at these sessions. He was right, as many would come because of the food and then would stay for the discussions. When he discovered my little catering business, he asked me to cater all of his gatherings. He got the school to pay for the meals. He kept me very busy. My husband Mike asked me, "Are you a caterer taking classes, or a student doing catering?"
As we were visiting the memorial, I briefly told my story and I was asked to place the memorial wreath that had been brought, beside the memorial. Dean Napersak has many legacies. He knew how to get people motivated to accomplish their visions. He did this for me, and today I learned he did this for the whole region of Beit Shean.
Saturday, February 21
by Karen Tucker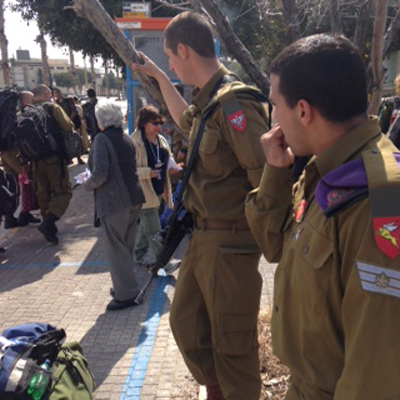 After some of the group went to Shabbat morning services at the beautiful synagogue, we took a tour of Kibbutz Shluchot (communal living space) led by our indefatigable kibbutz madricha (supervisor), Niki Weiss. A long-time member originally from the United Kingdom, Niki described the kibbutz's founding in 1948 by European immigrants and Holocaust survivors and how Shluchot, like most kibbutzim, evolved toward a more capitalist system. The kibbutz is affiliated with the National Religious Kibbutz Movement, with community life focused on the synagogue.
Shluchot is one of the largest carrot growers in the country and also grows dates, field crops, and olives for oil. It is located in a beautiful setting at the foot of the Gilboa Mountain near Beit Shean and the border with Jordan.
Niki explained how life on the kibbutz has changed over the years. For example, kibbutz members now earn a salary while in the past everyone received the same amount of money (with adjustments for family size). Members still do not own their own home but must pay for renovations and additions in certain cases. Non-members can rent houses on the periphery of the kibbutz and pay for kibbutz services, if they wish. As in the Cleveland Jewish community, many young people leave to seek their fortune elsewhere.
Besides the lure of capitalism, government regulations have also played a role in changing the old ways. For example, children under the age of 14 are no longer allowed to help out with farm activities, including feeding the animals.
The most meaningful part of the day for many of us was our home visit with kibbutz members. Another volunteer and I were invited for cake and coffee to the home of two of the original members of the kibbutz, Chaya and Moni. I was paired with this couple because Chaya and I both speak French. Chaya, who was born in Belgium, recounted a stirring story about her experience during WWII that combined both tragedy and courage. After their parents were sent to a death camp, she and her brother were hidden in a castle in France. They were then smuggled out of Europe and into Palestine by agents working for the Yishuv (pre-1948 Jewish community). Chaya wrote a book about her experiences in Hebrew, and interest has recently been shown in translating it into French, something she has long hoped for. Chaya's husband Moni managed to get out of Germany just in time.
We had a fascinating conversation in a mixture of French, Hebrew and English, though it was difficult at times since there was no single language that we all spoke fluently. Yet we managed to make a real connection and Chaya told us how much the evening had meant to her.
We had a brief Havdallah service to conclude Shabbat (a separation service to conclude the end of the day of rest), then we all got in the van for the ride to Beit Cleveland (Cleveland House). I was expecting to see the small building where Engliyada (informal English language instruction to Israelis) volunteers had spent so much time eight years ago, but was surprised to see a much larger and more colorful one instead. Inside, we had small gift baskets in the form of hamentashen (a cookie known for its triangular shape) that some of us would be giving to soldiers bright and early the next morning as they came to catch their bus to return to their military bases.
After dinner at a restaurant, we collapsed, especially those who had to get up at 4:30 the next morning!
Sunday, Feb. 22
by Jean Heflich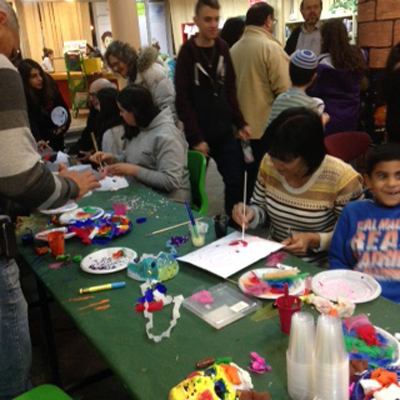 Of course we started the day with a hearty and delicious breakfast with the promise of adding oatmeal tomorrow.
We should give a special thanks to our fellow volunteers, Lil, Karen, Michael , Adrienne, Mira, Arthur and Diane who got up very early to greet soldiers at the Beit Shean bus station at 5:30 am. The rest of us volunteered at noontime. The soldiers were very young, polite, and seemed very focused on getting on rather than chatting. It was a privilege to meet them and present them with the candy packages that we prepared last night.
This morning was the first day of work for all of us. For the five of us who went to the Tomer School, we received a glorious welcome and orientation from the principal, teachers, and students. The third grade class and music teacher presented a lively musical program in the outdoor courtyard, which was attended by all the students. Afterwards we went with the Nature Teacher, Ken, for a walking tour just down the road from the school. Ken's passion and enthusiasm for teaching young people about nature is difficult to put into words. He showed us so many uses for the plants in this field from nutrition to making reed instruments to flowers as hair adornments. Toby was his favorite and she was a flower child by the end of the lesson! The school itself is about 50 years old and they moved into their new building last fall.
We had a break this afternoon and then drove to the Gilboa Mountains. At our first stop, we walked up to the top of the mountain to a special memorial area and lookout point in memory of a father and son who both were paratroopers on the Israeli Army and died in service (20 years apart). Avigail also read from the Bible and had volunteers play the role of biblical characters. I think you would have to been there to enjoy the costumes and their spontaneous acting! We drove a short distance to another lookout to the east where we could see a security road and the West Bank. We saw a beautiful sunset.
Then off to Beit Shean and to the library. The library is directed by a young man who is the only paid staff. In the two years that he's been there, he has developed it into a community center that also houses a library. There are 40 volunteers of all ages who help run their many programs. We worked with Pre-K, elementary, and middle school children to design masks for Purim. Most of the children did not speak any English. It was a fun and creative time! After that we walked to Cafe Greg, a dairy restaurant, for dinner.
Throughout the day, the Bridge to the Future staff and the Israeli Teaching Fellows were ever present to assist with logistics, translations, and surprise goodies. It's a joy to be with them and hear their career stories.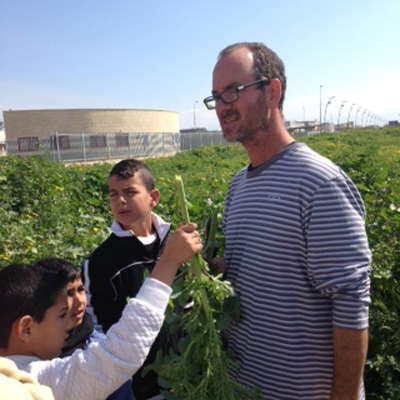 Monday, February 23
by Lynn Katz Danzig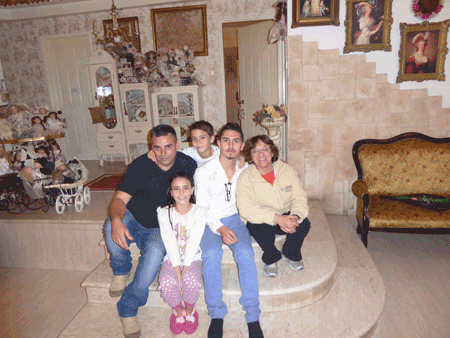 Here I sit with my mini keyboard thinking of things to say when I really should be going to sleep after waking up at 5 a.m. for no good reason and not being able to fall asleep. Get up and get ready for the day.
First, a wonderful hot shower, then to the breakfast room for the first morning with oatmeal. It was a nice treat. Next step, make my lunch for my lunch box (not a Hello Kitty one but a clear plastic one). Turkey and cucumbers on a wheat roll with chips and an apple. Water was packed but where did it go only the bottle knows.
The bus arrived for five of us to go to Tomer School to tutor students in English. We were greeted warmly by the staff of the school and brought to a room with endless food and drinks. The principal gave us information about our time that would be spent at school. She spoke in Hebrew and Rivka, the English teacher, translated to English for us. Rivka made aliyah from Mexico with her family.
In English class, the students saw pictures on the board with words posted and they had to write sentences in English explaining the pictures. The students did a great job. The next class was art where we used plastic soft drink bottles and cut them to make flowers to be painted in the next art class. The students were in 4th grade.
We went to the office of youth futures, a program for youths at risk. We participated in a game to help us understand how many of the youth feel. Some of us earned candy while others did not, which was part of learning about life.
We had a conversational Hebrew lesson which was pretty funny. Some of us knew no Hebrew, others knew a little, and some said too bad they skipped Hebrew. Lesson 2 and 3 to follow but not by me.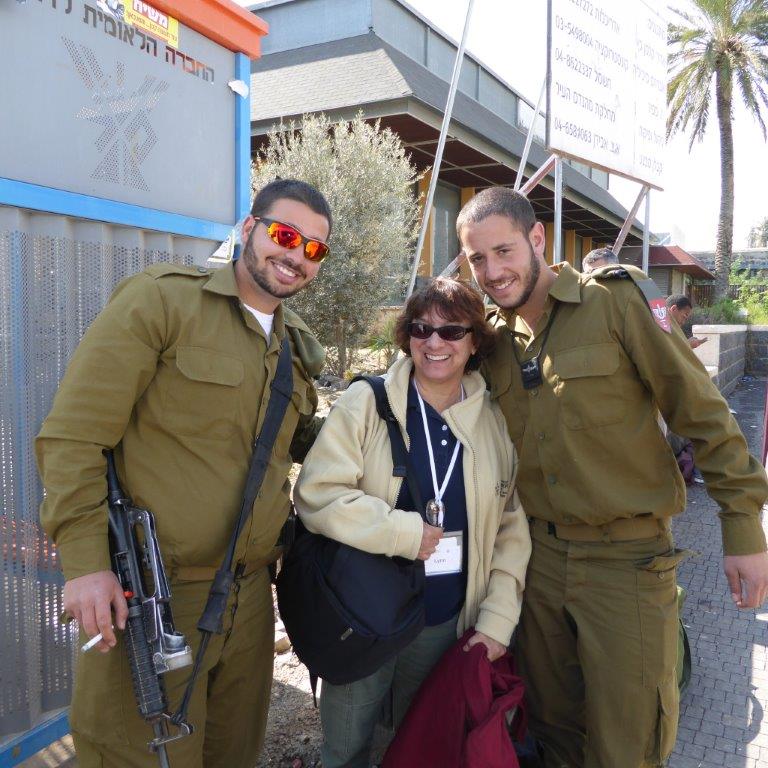 Oh what a wonderful meal we had with I-NEXT Ambassadors. We went to a beautiful home in Beit Shean with a warm welcoming family of a mom, dad, and three children. One of the children, 16 year-old Guy, spoke great English and will be in Cleveland next month. He told me that he would be attending Shabbat services at B'nai Jeshurun. My response was I will be there to welcome him and his group with open arms. Guy will be coming from Avon or Brecksville, so let us hope for clear roads and warmer temperatures than Cleveland is currently having.
Guy has 10 year-old twin siblings, a brother and sister. There is another brother who is in the army. The parents told us that their soldier son was fighting during the 2014 summer crises and they did not sleep for 5 weeks. What a rough time. Guy's mother stated that she was nervous about his upcoming travel to the USA, just like American parents worrying about their children when they are getting ready to visit Israel. I told them he would be fine.
The mom has an amazing collection of dolls that many were purchased on eBay. Great deals, but the shipping costs are awful. Guy's task is to find some dolls in Cleveland and I will help.
Back to the food – wow! Never ending beef, chicken, mushrooms all made on the outdoor grill. Homemade focaccia that I wanted half of but was told I must eat the whole thing. 9 p.m quickly approached and I was sad that we must end the wonderful evening after a few family photos with me were taken.
Laila Tov.
Tuesday, February 24
by Mary Ellen Saltzman
We begin the day with the breakfast special at Shluchot, Shakshuska (a Moroccan dish with fried egg and a sauce of tomatoes, onions and cabbage). This is my ninth trip to Israel and the first time I have had this dish. Always something new to be discovered. Delicious along with the salads, fruit, cheeses, yogurt, cereals, and artisan breads. For someone who eats only half a bagel for breakfast at home, this is quite a feast. And before we have had a chance to digest it, we are assembling our own lunches so we can eat again whenever we have a few free moments.
We board the buses at 8:30 a.m. to travel to our volunteer assignments. Mine was at Tomer School, a bright, new facility in the City of Beit Shean. The principal is a hip, young grandmother who is passionate about her school, her city, and her country and transmits her enthusiasm to everyone around her.
Today there is a Purim parade and the children are dressed up, some with painted faces, some with hats or wigs, some with green hair, some with elaborate costumes. Many of the boys are dressed as amply-endowed women, having raided their mothers' closets for lingerie, shirts, tights, and high-heeled shoes. Purim celebration here goes on for more than a week; I'm not sure why.
In the classroom we list key English words from pictures then play "favorite words bingo" with Melissa, the Israel Teaching Fellow (ITF) volunteer teacher, as caller. The kids have clearly bonded with her and she is another connection to English language. The kids are quite excited from the Purim festivities and this carries over into the classroom, which is more chaotic than what we see in the states. But the flip side is that the kids are active learners, they work well together and help each other. They seem to have command of the material they are learning. Students also have responsibilities for taking out and putting away play equipment for recess, putting their chairs in the table after class, and helping to teach lessons to children in lower grades. They always carry out these tasks with a serious attitude.
Our afternoon is at kibbutz S'de Eliyahu with Sarah, a member of the kibbutz who is originally from Chicago and was a Community Builder in 2009. She too is passionate about her work, her kibbutz, and her city. Her kibbutz is Orthodox, founded in 1939. It has resisted privatization, remaining a traditional kibbutz. It was a pioneer of commercial organic farming, but now operates factories. One is Bio Bee, which grows bees in greenhouses and sells them in regional projects to farmers for use in pollinating tomato plants, strawberries, and ornamentals. They are also working to sterilize Mediterranean fruit flies to eventually eliminate them. Biological pest control is superior to other methods because the plants cannot develop resistance and it is cheaper than organic methods. From the study of bees we went to the birds. The pools at a kibbutz fish farm near the border attracts cormorants, great white herons, grey herons, coots, storks, plovers, kites, and ospreys. The process of fish farming and harvesting was explained to us.
Our evening began at Moshav Yardena, established in 1952. At this Kurdish moshav (settlement) we had an authentic Kurdish dinner and dancing with the ITF at Kurdish Village. The owner of this tourist attraction is working closely with the Cleveland Partnership staff to develop his business. There is a small museum of artifacts and photos and we were served a delicious multi- course meal.
After our return to Shluchot we were visited by Ken Goldman, an artist who is a member of the kibbutz. He showed slides of his various works which are unconventional, inspired by Judaism and are quite cerebral. He is an Orthodox Jew, observant in his life, but questioning through his art. He is both an artist and an entertainer with a wonderful sense of humor about art and himself. (he told us about a free download of wine stains for new haggadahs!) His work can be seen at www.kengoldmanart.com and he has a show soon opening in Philadelphia.
Wednesday, February 25
by Bill Jones
For breakfast, we had our usual offerings of cold meats, whole fruit [grapefruit, orange, banana, apples (red & green), and occasionally local figs], dry cereal, dried coffees, teas, orange juice, and small loaves of white and wheat with either sesame or grains on them. Finally, eggs are cooked to specification.
We head over to Eden Farm, where we harvested cabbage for sale in the local market. Marty and I attend a class at Eden Farm for 6th grade boys, where the students are challenged to identify plants, insects, and animals. Tomorrow, we will work to install trellises for cucumbers we planted on Monday. The plants are already looking great and growing, too! The staff at Eden Farm continues to be extra solicitous in taking case of us in so many ways – Tomer Oren goes above and beyond!
Later that day, we enjoy a presentation by Rafael Shitrit, the Mayor of Beit Shean. We receive a very warm welcome and the mayor says he welcomes everything that Cleveland is doing in Beit Shean. Mayor Shitrit reviews the biblical origins of the city, as well as the ethnic Jewish antecedents of current makeup of the city. He outlines the vision for the city's economy, educational opportunity, and development. His goals for the city include an increased population through reasonable housing and quiet traffic, and to continue to keep crime level low. He concludes by sharing that Beit Shean is, "one big family in a small town."
We then had free time for shopping in the shuk (Israeli marketplace). We help cover a series of stalls that sell vegetables, clothing, household items, and jewelry. You might be interested in knowing that Beit Shean's beautiful vegetables are sold at prices lower than those of Cleveland. Around the shuk, there are independently-owned stores and also chain stores. It is interesting to learn that name brand beauty and cosmetics at the chain stores are expensive, and Aleve is 50 cents per 250 mg.
The group split into two to enjoy either an Iraqi or Moroccan meal. At the Moroccan home, there were many ethnic artifacts on display. Twelve of us crowded into the small kitchen space to begin our meal of salads, appetizers and homemade pita. Then, we ate fish, couscous with a special topping, rice, meatballs, and even more than I can remember. We finished our meal with delightful Moroccan cookies and a superb crepe with honey.
After our meal, we attended a local HaZamir choir rehearsal. They were preparing for their performance at Avery Fischer Hall in New York City in just a few weeks. They will also be in Cleveland with our local HaZamir choir, and make appearances locally. It was great to sit with the 13 teens, their director, and accompanist, and hear them practice their choral music. What a special & sonorous experience.
Thank you so much for sharing information about Volunteer Beit Shean, a truly exceptional opportunity for our Cleveland volunteers to immerse themselves in Israeli life. Our participants come from all walks of Jewish life, and the relationships they have made with each other has been a joy to watch.
Although almost all of our participants have been to Israel several times, the itinerary for this experience, carefully developed by our Israel staff, has provided us with a unique opportunity to have an in-depth look into life in Beit Shean.
Thursday, February 26
by Diane Stupay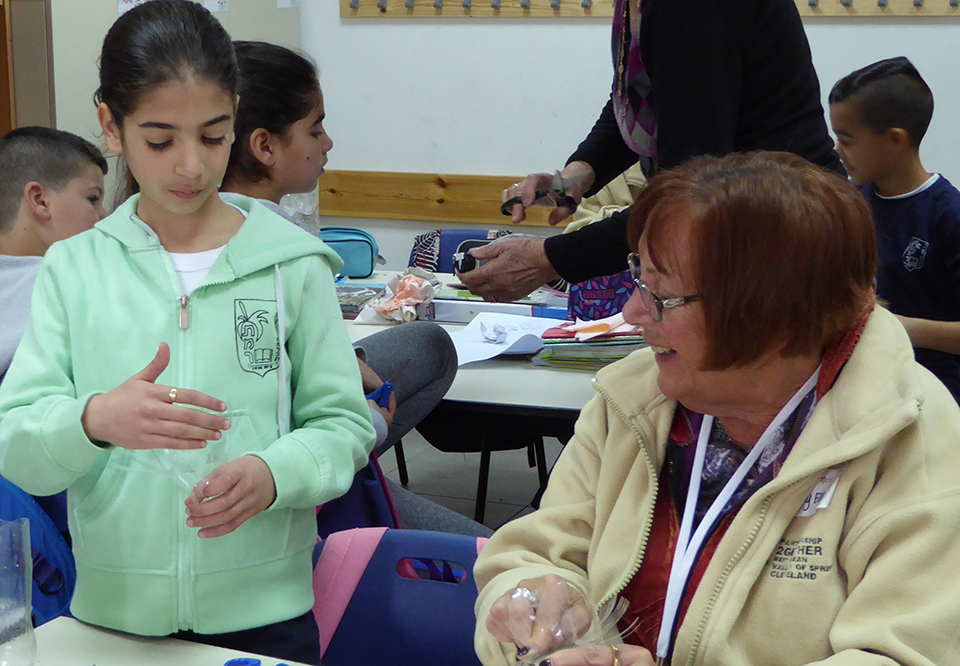 Our last full day of volunteering at Mekif Dati Middle School. As always, the students are warm and engaging. The four of us (Adrienne, Karen, Arthur, and Diane) met in the library with some boys getting ready for an exam. We have been working with the girls for the most part. Now, we can be trusted to keep the boys on task.
This afternoon, we toured Eden Farm in the Valley of Springs where two of our groups are volunteering. We met with Mr. Yram Karin, the head of the Valley of Springs regional council who described the collaboration among the various kibbutz in the valley and the fascinating approach to bio-farming and pest control. For example, to control fruit flies, the insects are irradiated to castrate the males and reduce the population. To heat the green houses, tubes of water absorb the heat from the sun and give off heat as the ground cools at night. Farmers have shared techniques with Jordanian farmers to reduce the use of pesticides on both sides of the border. Best of all was the tour of the green houses. The produce is gorgeous and delicious! Several varieties of tomatoes, peppers, and eggplant were almost ready for harvesting.
At 4:30 p.m. we headed to a Purim Carnival with the elementary age kids at Bikura School for kids with special needs. The children were shy as they came in to meet us, but they warmed up quickly with snacks and small gifts. The big event was a juggling event led by a professional juggler in the school yard. It was great fun to see the students, teachers, and our group attempt some of the juggling feats. The evening ended with a falafel dinner. Falafel in Israel is amazing!
Back at Kibbutz Shluchot, those of us who weren't too exhausted participated in our last conversational Hebrew lesson.
Monday, March 2
by Toby Helfand
I can't believe this is our last day together. It has been an incredible 11 days! From our arrival at Ben Gurion airport until today's farewell to the school children, it has been a whirlwind of experiences that were wonderfully coordinated and executed. We viewed together, learned together and experienced together everything from archeological sites to Kurdish, Iraqi, and Ethiopian dinners. And we look forward to hearing the Beit Shean HaZamir children's choir when they arrive in Cleveland.
L'hitraot (I'll be seeing you) and Bon Voyage to those of us who are going home and to the rest who are continuing on in Israel. We will never forget our time together.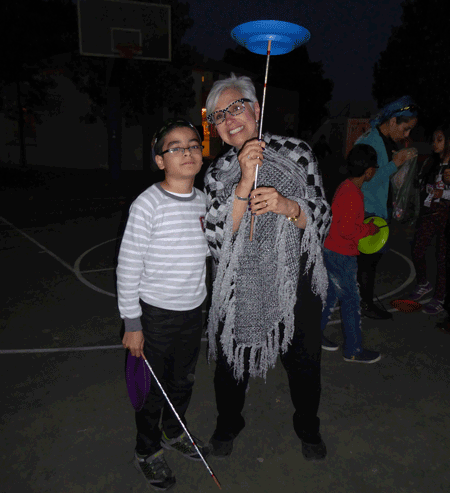 As for me, I have never felt more proud to be on the staff of our Federation. Wherever we go, we see, hear and meet the people involved in our special projects whose lives are literally being changed here in Beit Shean...all as a result of our amazing OCC Department's vision, and the support of our community in Cleveland with funds allocated from the Campaign for Jewish Needs.
Shabbat Shalom.
Susan Hyman, Jewish Volunteer Network (JVN) Director
---
Learn More: