04/13/2022
Remember the Holocaust with Yom Hashoah on April 27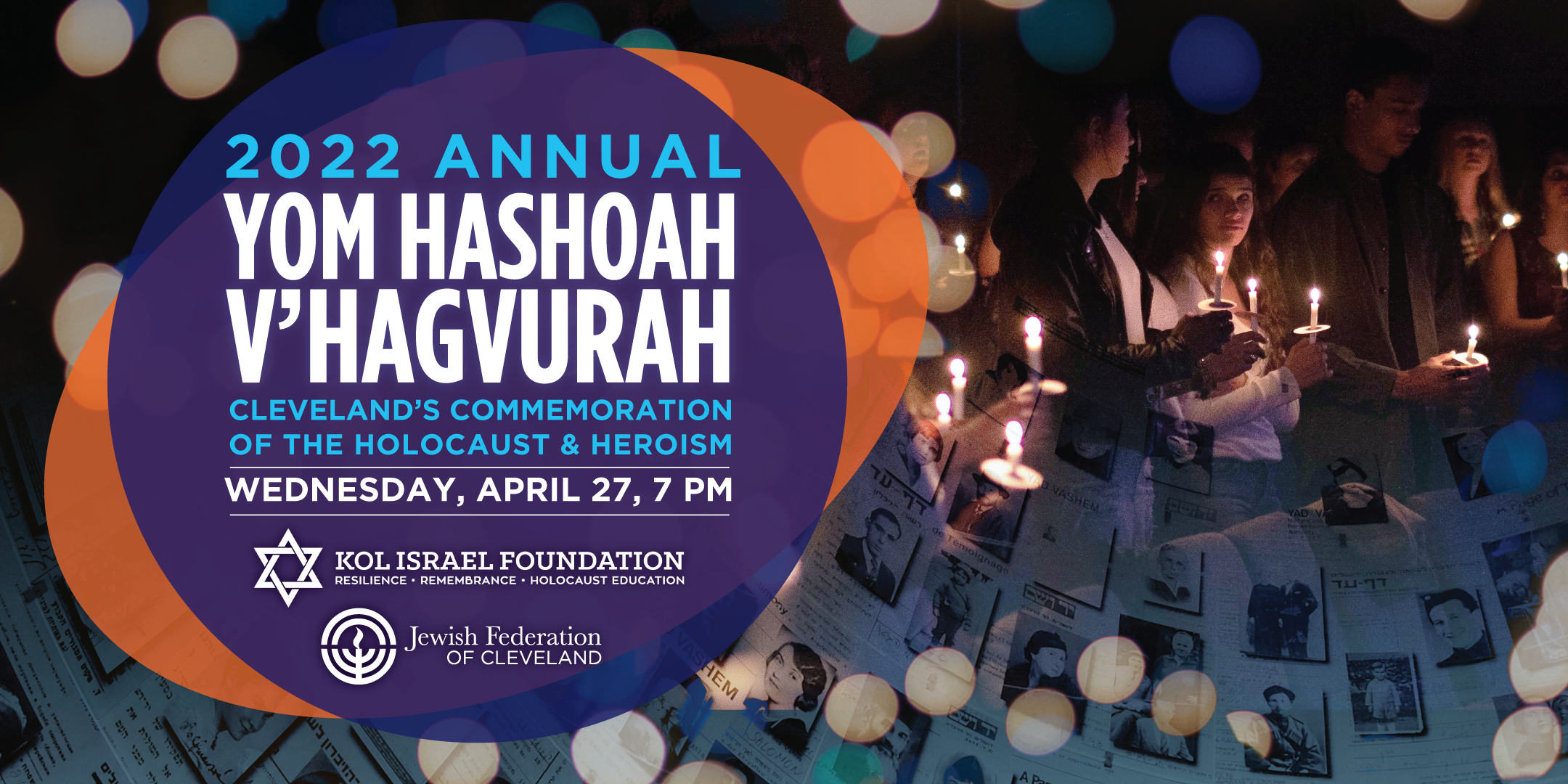 The Jewish Federation of Cleveland and Kol Israel Foundation will honor Cleveland's Holocaust survivors and remember those who perished during Yom Hashoah V'Hagvurah on Wednesday, April 27 at 7 pm at Anshe Chesed Fairmount Temple (23727 Fairmount Blvd in Beachwood). A virtual event will also be available. This event is free and open to the community.
The commemoration will feature a procession of Torah scrolls from Europe that survived the Holocaust. Survivors will join their families in lighting candles in memory of the six million Jewish who perished in the Holocaust. Children attending the commemoration can participate in a "March of Generations" to signify that Jewish life continues after the Holocaust. Additionally, Manli Ho, daughter of Chinese diplomat, Feng-Shan Ho, will share her father's story of how he issued visas to thousands of Jews who escaped to Shanghai during the Holocaust.
As part of Holocaust education curriculum, local schools entered the Yom Hashoah V'Hagvurah Creative Arts Contest, where students created visual arts pieces to incorporate this year's theme, "Resistance," and how one can resist spiritually and intellectually through everyday actions, as well as by making your voice heard. The 2022 winners are:
High School:
1st Place: Carmela DiLisi (Saint Joseph Academy)
1st Place (Video): Shawna Polster (Solon High School)
2nd Place: Lindsay Lebowitz (Solon High School)
3rd Place: Rachel Garlock (Saint Joseph Academy)
Honorable Mention: Lorena Hernandez (Saint Joseph Academy)
Middle School:
1st Place: Satya Lane (Lake Ridge Academy)
2nd Place: Iris Amore (Miller South School for the Visual and Performing Arts)
3rd Place: Sarah Korland (Ballard Brady Middle School)
Honorable Mention: Mae Casebere (Miller South School for the Virtual and Performing Arts)
Honorable Mention: Rommie Goren (Mandel JDS)
All artwork will be on display at the 78th Street Studios (1300 W 78th St) from Sunday, May 1 – Friday, May 20. The gallery is open to the public.
Pre-registration for Yom Hashoah V'Hagvurah is required. For more information or to register, please visit www.jewishcleveland.org.