02/25/2019
Remembering Henry Goodman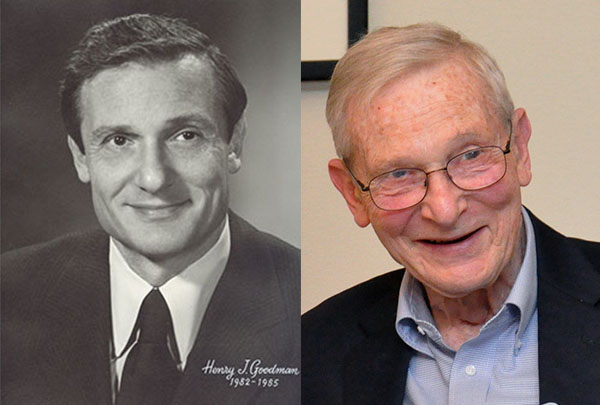 We are saddened to share the loss of former Jewish Federation of Cleveland Board Chair, life trustee, and longtime respected community leader Henry Goodman z"l, husband of (Emeritus Trustee) Lois; father of current Board member and Federation Vice Chair, Bruce (Lynn) Goodman and Stephen Goodman; and grandfather of Alison, Aaron, and Benjamin Goodman.
In addition to his Federation involvement, Henry held the role of board chair at United Way of Cleveland and Cleveland State University. Henry was also nationally involved in the Council of Jewish Federations and United Way; his leadership was critical during challenging times. Henry was the prime mover in reorganizing our Cleveland Hillel structure more than fifty years ago. Henry was a respected, beloved, and wise leader, often sought out for his uncanny ability to solve particularly challenging community problems and make people feel good about the outcome.
Our thoughts are with the entire Goodman family during this difficult time. May Henry's memory forever be a blessing.
Please read the Cleveland Jewish News article, reprinted with permission. Text provided below:
Henry J. Goodman, a Greater Cleveland entrepreneur and philanthropist, dies at age 86
by Carlo Wolff | Contributor
Master of detail. Civic leader. Moral role model. All these terms apply to Henry J. Goodman, a furniture business legend who became a philanthropist influential throughout the Greater Cleveland community.
Goodman, who considered the area an extended family, lived in Shaker Heights. He died Feb. 23 after a long illness. Funeral services are set for 1 p.m. Feb. 26 at The Temple-Tifereth Israel, 26000 Shaker Blvd. in Beachwood. Interment is at Mayfield Cemetery.
Born to Eugene and Beatrice Goodman in Cleveland Sept. 17, 1932, Goodman was a graduate of Shaker Heights High School. A contemporary, friend and occasional associate of businessmen-philanthropists such as Albert Ratner and Morton Mandel, he earned a Bachelor of Arts degree from Adelbert College at Case Western Reserve University in Cleveland in 1955 and served in the U.S. Air Force National Guard, attaining the rank of colonel.
Goodman was chairman of the board of H. Goodman Inc. and White Dove Mattress, was a member of The Temple-Tifereth Israel and belonged to numerous organizations, including the Oakwood Club, the Pepper Pike Club and the Union Club.
He also was a life trustee and past board chairman the Jewish Federation of Cleveland and United Way Services, past board chairman at Cleveland State University, past board member of National City Bank, and past vice chairman of the board and distribution committee at the Cleveland Foundation. He was a recipient of the Charles Eisenman Community Award from the Federation.
According to Stephen H. Hoffman, the recently retired president of the Federation, Goodman's father was a good friend of Leonard Ratner, and the two worked as volunteers for the Federation. Their sons would do the same. In addition, Hoffman said, "Henry worked very closely with Mort Mandel in the community and also as one of the board of directors of the Mandel Foundation."
Goodman's base was furniture. The family business, J.L. Goodman Furniture Co., was founded in 1886. It lasted until 1993, when Henry, his son, Bruce, and board chairman William L. Dippel decided to close all five J.L. Goodman stores in Greater Cleveland, retaining two Ethan Galleries and H. Goodman Inc., which manufactured and sold mattresses, according to The Encyclopedia of Cleveland History.
But Goodman was far more than a businessman. He was a force, according to Hoffman. Goodman recruited Hoffman to become Federation president. They began working together in the mid-'70s, when Goodman was chairman of a Federation subcommittee on Russian resettlements and Hoffman was his staffer.
"Henry was a very competitive person, but he was also very concerned about the community, its welfare, its future, its success," Hoffman said, "and I don't just mean the Jewish community, but Cleveland. He was a member of the Cleveland Orchestra and more importantly, he was an active chairman at Cleveland State University and at the Federation. He was board chair at all three. Henry was always ready to devote the time required and then some. He was a leader who took the position not for glory or reputation. He took leadership positions to make a difference."
Goodman was not afraid to wade into controversy, either. In 1992, when United Way Services CEO William Aramony and two associates were indicted on charges including fraud, tax evasion and money laundering, the organization was thrown into crisis mode. Goodman was one of the few local United Way executives to "go to national headquarters to straighten things out," Hoffman recalled. The Aramony situation "tainted United Ways across the country," and Goodman "was a pivotal figure in restoring trust both locally and nationally." (Aramony ultimately went to prison; he died in 2011.)
"Henry and I go back 44 years to when I was a young planning associate and Henry was on a subcommittee dealing with refugees," Hoffman said. "He was not a boss, he was a chairman. Henry was a real partner, he did his homework, he problem-solved, he dug down into the facts … Henry always mastered the details. He was the epitome of a gentleman – except, I think, he might have been a little more aggressive on the basketball court. That's where his competitiveness would come out, and of course later in life he was a huge champion and fan of Cleveland State basketball."
Goodman served on the CSU board of trustees from 1985 to 1994 and was board chairman from 1987 to 1992. Under his leadership, the university achieved such milestones as the Music and Communications Building, the opening of Viking Residence Hall and creation of doctoral programs in urban education and business administration, according to a citation accompanying an honorary doctorate CSU awarded him. Goodman also was instrumental in the development and construction of the Wolstein Center and the Henry J. Goodman Arena there is named in his honor. Cleveland State made him an honorary doctor of humane letters in 2008. The December ceremony took place in Goodman's namesake arena.
"Prominent businessman, civic volunteer and esteemed community leader, you have devoted your energy, talents and resources to making Northeast Ohio a better place for all its citizens," Goodman's diploma read.
Family will receive friends following interment until 7 p.m., from 2 to 5 and 7 to 9 p.m. Feb. 27 and from 7 to 9 p.m. Feb. 28 at the residence, 2952 Glengary Road in Shaker Heights.
Friends who wish may contribute to the Jewish Federation of Cleveland or the Cleveland State University Center for Arts and Innovations.