05/02/2016
Remembering Joyce Garver Keller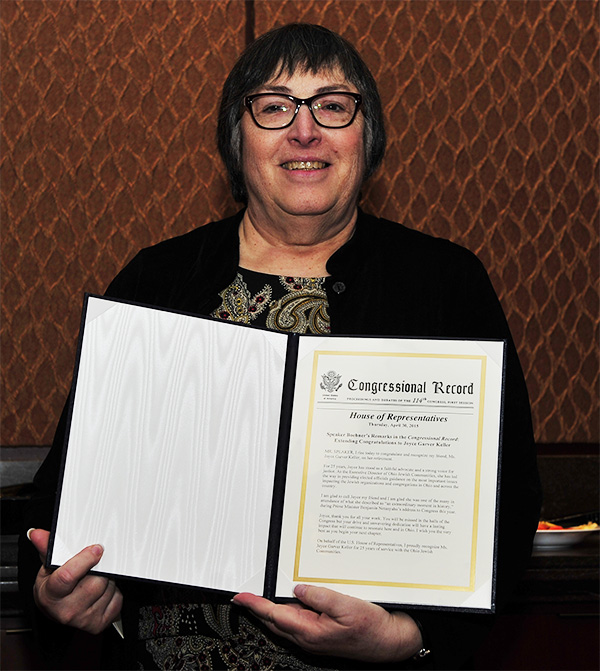 Statement from Jewish Federation of Cleveland
We are saddened to inform you that Joyce Garver Keller, retired Director of Ohio Jewish Communities (OJC) who has served our community for more than 25 years, unexpectedly passed away in her sleep last night. Till the very end Joyce was mentor to so many and a tireless advocate on behalf of our community here in Ohio, nationally, in Israel, and around the world.
Funeral is at Congregation Agudas Achim in Columbus (2767 Broad Street, Columbus, OH 43209) on Wednesday, May 4 at 10 a.m. Burial is at Mt. Olive Cemetery in Cleveland (27855 Aurora Road, Solon, OH 44139) on Wednesday, May 4 at 2:30 p.m. For information on shiva, please contact Ohio Jewish Communities at 614-463-1835. Donations can be made to a charity of the donor's choosing.
OJC is collecting remembrances and other statements from those who knew Joyce. Statements may be emailed to ohiojc@ohiojc.org, subject line: Joyce Garver Keller ob"m.
May Joyce's memory be for a blessing.
Gary L. Gross
Board Chair
Stephen H. Hoffman
President
Statement from Jewish Federations of North America (JFNA)
Dear Friends,
It is with a very heavy heart that I pass along the news that former Ohio Jewish Communities executive director Joyce Garver Keller passed away in her sleep last night. Joyce was a mentor to many of us and was a great leader of the Jewish people.
Joyce was a force of nature. When she saw the opportunity to advance the agenda of the Jewish community, she would take no prisoners. As a 22 year old staffer in the Ohio Governor's office, I received the benefit of the "full JGK treatment" – as did just about every Jewish and non-Jewish elected official and staff person in the Ohio Statehouse. In fact, as I was honored to repeat many times during her retirement tour last year, Joyce was instrumental in introducing me to the organized Jewish community, and setting me on the path that led to my immersing myself in Judaism, which literally changed the path of my life. I know for certain that there are dozens of us who have similar stories about Joyce's impact on us individually, and collectively.
When we have details about funeral arrangements, we will pass them along.
May her husband Steven, their son Stuart (Michelle), their three grandsons, and all of us who loved Joyce be comforted among the mourners of Zion and Jerusalem, and may Joyce's memory eternally be for a blessing.
William Daroff
Senior Vice President for Public Policy and Director of the Washington Office of The Jewish Federations of North America