12/28/2021
Remembering Leonard Fuchs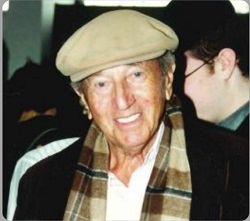 We are saddened to share the loss of Leonard Fuchs (z"l), Jewish Federation of Cleveland emeritus trustee and founder of Federation beneficiary agency Fuchs Mizrachi School.
Our thoughts are with the entire Fuchs family during this difficult time. Baruch Dayan Emet – May Leonard's memory be for a blessing.
Please read the Cleveland Jewish News article, reprinted with permission. Text provided below:
Leonard Fuchs, founder of Fuchs Mizrachi School, dies at 98
by Jane Kaufman | Staff Reporter
Leonard Fuchs, a founder of Fuchs Mizrachi School in Beachwood, died Dec. 28 at his University Heights home. He was 98.
"It is with tremendous sadness that we announce the passing of Leonard Fuchs," Fuchs Mizrachi School announced in a Dec. 28 email.
"Leonard cemented his legacy through the Fuchs Mizrachi School," the school's email read. "When addressing our faculty at an in-service several years ago, Leonard remarked that as a Holocaust survivor, his diploma was from Auschwitz. Knowing what was taken from him as a child he wanted to ensure Jewish learning and life for future generations and recognized that the best way to rebuild was to build the future – to invest in the children.
"In partnership with Susan z"l, Leonard gave a fledgling school the credibility and legitimacy it needed to flourish. Since that time, Leonard has seen the Fuchs Mizrachi School as a child of his own, and every student as his grandchild. When he handed the diplomas to the young men, it felt just like that – like a grandfather sending off his grandchild with tremendous pride and hope.
"The Fuchs Mizrachi School would simply not be what it is today were it not for the support and encouragement of Leonard. Along with his wonderful family, the school community will continue to serve as his legacy.
"We will be coordinating a Siyum Mishnayot (a communal study) in Leonard's memory as well," the email closes. "May the family be comforted among the mourners of Zion and Yerushalayim."
Barnett Bookatz, manager of Berkowitz-Kumin-Bookatz Memorial Chapel, said the graveside service will take place at 1 p.m. Dec. 29 at Zion Memorial Park, Young Israel Section, in Bedford Heights.
This is a developing story.