07/15/2019
Remembering Mark Talisman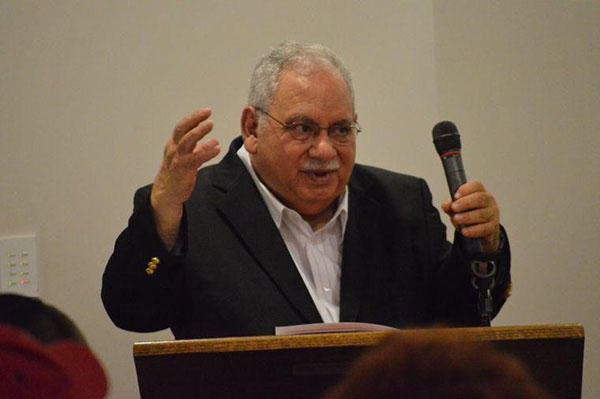 We are saddened to share the loss of Mark Talisman z"l, a Cleveland native and advocate for Soviet Jews and Holocaust survivors. Talisman represented U.S. Rep. Charles Vanik, the central Cleveland Jewish community member of Congress, for over 10 years, and went on to international prominence. Talisman was the person behind the rescuing of many Holocaust-era torah scrolls that are now placed in almost every Cleveland congregation today.
Our thoughts are with the entire Talisman family during this difficult time. Baruch Dayan Emet - May Mark's memory be for a blessing.
Please read the Cleveland Jewish News article, reprinted with permission. Text provided below:
Mark Talisman, who helped write Jackson-Vanik Amendment to free Soviet Jews, dead at 78
by Bob Jacob | Managing Editor
Former Clevelander Mark Talisman was a champion of Soviet Jews and Holocaust survivors.
As chief of staff to former U.S. Rep. Charles Vanik, a longtime Democratic congressman from Cleveland, he helped write and gain support for a measure to free Soviet Jews in 1974, which was known as the Jackson-Vanik Amendment. It linked U.S. trade credits with freedom to emigrate from the USSR. Talisman, a resident of Chevy Chase, Md., died unexpectedly July 11 at age 78, five days before his birthday.
Talisman, who grew up in the Harvard and Lee roads area in Cleveland, graduated from John Adams High School in Cleveland and earned bachelor's and master's degrees from Harvard University in Cambridge, Mass..
He was president of the Project Judaica Foundation in Washington, D.C., when he was the guest speaker in July 2014 at Holocaust "Survivor Weekend Tribute" at Oheb Zedek Cedar Sinai Synagogue in Lyndhurst. He spoke about the importance of honoring survivors, but there could have been many more had America let Jews into this country. Anti-Semitism was not limited to Germany, he said.
"We can say 'never again,' but it is another matter to make it happen," he told the gathering. "Oh, how history could have been different if the United States hadn't redacted."
There are 551,000 survivors living in poverty who need assistance, Talisman said in 2014, and "they're going to die without getting out of poverty."
Former Clevelander William Daroff, the current director of what is now the Washington office of the Jewish Federations of North America, remembered Talisman as "a force of nature who devoted his life to making the world a better place."
Talisman, who worked for Vanik from 1963 to 1975, created the Washington Action Office for the Council of Jewish Federations of North America and served as its director for 18 years. At the time, the 21-year-old was the youngest person to be appointed an administrative aide in the House of Representatives.
In 1980, Talisman, who was a member of Temple Emanu El, then in University Heights and now in Orange when he was growing up, was appointed founding vice chairman of the U.S. Holocaust Memorial Council by then-President Jimmy Carter, who appointed author and Holocaust survivor Elie Wiesel as chairman. The 60-member council was established to lead the country in commemorating the Holocaust and to raise private funds for construction of the U.S. Holocaust Memorial Museum in Washington, D.C, which opened in 1993, on land Talisman picked out.
In an obituary in The Washington Post, a statement from U.S. Holocaust Memorial Museum chairman Howard M. Lorber, vice chairman Allan M. Holt and director Sara J. Bloomfield, a former Shaker Heights resident, they said, "Mark was a lifelong advocate for Holocaust survivors. He was an inaugural and passionately dedicated member of the museum's committee on conscience that oversees our genocide prevention work. Mark's leadership and bold vision were instrumental in shaping the museum in its formative years."
Michael Berenbaum, who served as project director for the museum, said in an email to JTA, "He schooled many on the commission and the council in the ways of Washington at a time when the leadership was often novice to their task. He offered wise counsel and kept the project moving. He was an unsung hero in the creation of the United States Holocaust Memorial Museum."
In 1983, Talisman and his wife, Jill, who is also a Cleveland native, created the Project Judaica Foundation, a nonprofit supporting efforts to rescue and exhibit historic or threatened Judaica. Berenbaum said Talisman was instrumental in bringing a landmark exhibit of Judaica to the Smithsonian Institution and other U.S. museums in 1983. "Precious Legacy: Judaic Treasures from the Czechoslovak State Collections" represented Judaica stolen by the Nazis and shipped to Prague, where it was to serve as the basis for Museum to the Extinct Race.
In a story he wrote for the Cleveland Jewish News in 2007, Talisman recalled when it came time for the President Gerald R. Ford to sign Jackson-Vanik into law, his wife was in labor with their daughter at a Washington hospital. Ford delayed the ceremony and dispatched a car to bring Talisman to the White House.
"While the amendment did little, initially, to help Soviet Jewry, by the late 1980s, Soviet leader Mikhail Gorbachev agreed to comply with its protocols," he wrote. "Since then, hundreds of thousands of Soviet refugees (Jews, evangelical Christians and Catholics) have immigrated to the US, and more than 1 million Soviet Jews have immigrated to Israel. Soviet Jews, representing a fifth of all Israelis today, have markedly changed the face of the Jewish state."
Talisman was a gourmet cook, professional photographer, traveler and raconteur.
In 1987, Talisman had major heart surgery and credited doctors with "allowing me to live."
In addition to his wife, he is survived by a daughter, Jessica, and a son, Raphael.
Talisman's grandfather, Rabbi Simon Talisman, founded five small synagogues in Cleveland that ended up being merged, and he also founded The Schvitz in Cleveland.
JTA and the CJN Archive contributed to this story.