05/04/2018
Remembering Mendy Klein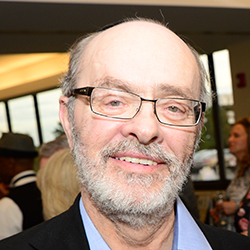 With profound sadness and a heavy heart we regret to inform you of the tragic death of our Board Member, Robert "Mendy" Klein z"l.
Mendy was a respected leader of numerous Jewish organizations who benefited from his wisdom and tzedekah.
"He cared passionately about Jewish education, children, and Israel," said Gary L. Gross, Board Chair. "He championed issues to improve the lives of families in our community."
"We will remember Mendy as a lover of Israel and the Jewish people, a fierce advocate for Klal Yisrael, and a compassionate mensch for the most vulnerable in our community," said Stephen H. Hoffman, President.
Mendy was a bridge builder between different parts of our Jewish community and a role model for many. Our community and Jews everywhere have lost a true friend.
Our thoughts are with the entire Klein family during this difficult time. Baruch Dayan Emet - May Mendy's memory be for a blessing.
Please read the Cleveland Jewish News article, reprinted with permission. Text provided below:
Robert 'Mendy' Klein dies at 65
by Bob Jacob, Managing Editor
Robert "Mendy" Klein, an icon in the Jewish community, died May 3. He was 65.
"He was one of the pillars of the community who cared for every human being," said Rabbi Eli Dessler, financial director of the Hebrew Academy of Cleveland in Cleveland Heights. "He was behind every major project, privately and publicly, and he set the bar of charity on a tremendously high level and encouraged people by example to follow suit.
"He loved Jewish education. He was passionate about children of all backgrounds. He was passionate about Israel, and he was passionate with his involvement in the broad community and at the Federation (Jewish Federation of Cleveland)."
Klein was chairman of Safeguard Properties, a turnkey resource for multiple aspects of default property preservation; founder and chairman of SecureView, a supplier of clearboarding polycarbonate material; and chairman of RIK Enterprises.
The funeral will be at noon May 4 at Hebrew Academy of Cleveland's Beatrice J. Stone Yavne High School, 2475 S. Green Road in Beachwood.
Agudath Israel of America issued the following statement:
"Reb Mendy was one of the parnesei hador, a baal tzedaka on a grand scale whose chesed toward the downtrodden and needy was legendary. What set Mendy apart from other generous philanthropists was his passion — his passion for Klal Yisroel and Eretz Yisroel, his passion for the downtrodden and the needy, his passion for fairness and justice. He invested his tzedaka dollars wisely, and the dividends on those investments are reflected most dramatically in the countless tortured neshamos to whom he brought healing and happiness.
"Agudath Israel was looking forward to paying public tribute to this extraordinary individual at its upcoming annual dinner. Instead we will search for ways to perpetuate his remarkable legacy for generations to come.
"We join Mr. Klein's choshuve family in mourning this terrible loss."