07/14/2015
Remembering Mort November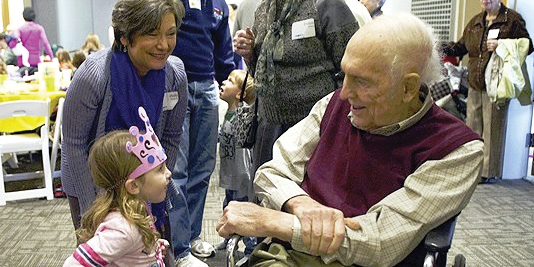 We remember philanthropist Mort November, who passed away on July 12, 2015, leaving a legacy our community will always cherish. Mort understood the importance of Jewish journeys for Cleveland – even for the community's youngest members. Thanks to Mort, and his wife Iris November, in 2012 Cleveland became the very first of 180 communities across the country to endow its PJ Library® program with the Jewish Federation of Cleveland.
"I'm deeply grateful to Mort and Iris for their generous legacy gift in memory of their daughter, Debra Ann November," said Enid Rosenberg, Federation Board of Trustees Vice Chair. "Because of their generosity, families will continue to have an influx of Jewish ideas and traditions brought into their homes each month."
It was three years ago that the Novembers endowed our PJ Library program, and today it continues to flourish. Over 4,300 local Cleveland children ages 6 months to 8 years have enrolled in the PJ Library program. And, more than 100,000 Jewish books and CDs have been delivered to the homes of local Cleveland children for free, strengthening their Jewish connection.
When this partnership was first announced, Mort and Iris were excited. They said "for the thousands of children who, over many years to come, reap the benefits of these wonderful books and also honor the memory of our daughter, Debra Ann November, for whom we have named the program."
Hedy Milgrom, the Federation's Chief Development Officer, remembers Mort's leadership and legacy. "It has been my honor and privilege to work with both Mort and Iris for many years, facilitating their philanthropy through their supporting foundation at the Jewish Federation of Cleveland. The tragic loss many years ago of his beloved daughter, Debra Ann, provided the motivation for his philanthropy – he focused all of his resources on memorializing her through projects that helped children. He leaves a legacy of optimism – how to make lemonade out of lemons, and one of generosity – how a man of very humble beginnings worked hard and saved well, and then devoted all of his resources to making life better for so many children in so many different ways. I can't express how much I will miss him, personally and professionally."
May his memory be forever a blessing.
---
Related Items