10/17/2019
Remembering Morton L. Mandel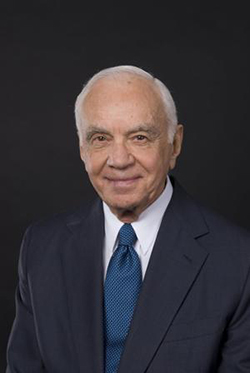 We are saddened to share the loss of Morton L. Mandel z"l, a visionary philanthropic force in Cleveland, Israel, and around the world. "Mort Mandel was a leader among leaders," said Erika B. Rudin-Luria, Jewish Federation of Cleveland president. "The impact that he made in nurturing and growing leadership has without a doubt left a lasting impression on our community and the world. The countless number of leaders impacted because of his vision will be his legacy."
"Mort was a real giant in our community," said J. David Heller, Jewish Federation of Cleveland board chair. "He was a former Federation board chair and a Federation life trustee, and shared his passion for leadership development locally and globally to train the future of the Jewish people. He leaves behind a tremendous legacy."
Our thoughts are with the entire Mandel family during this difficult time. Baruch Dayan Emet - May Mort's memory be for a blessing.
---
Morton L. Mandel dies at age 98
Please read the Cleveland Jewish News article, reprinted with permission. Text provided below:
by Jane Kaufman | Staff Reporter
Morton L. Mandel, local philanthropist, entrepreneur and businessman, died the morning of Oct. 16 at his home in Florida. He was 98.
Mandel, who was born Sept. 19, 1921, was chairman and CEO of Parkwood Corp., an investment firm in Cleveland. He was also chairman and CEO of the Jack, Joseph and Morton Mandel Foundation, which gave deeply and widely to Cleveland cultural, health care, educational and Jewish institutions.
In recognition of his charitable efforts, Mandel was named a recipient of the 2019 Carnegie Medal of Philanthropy. He was elected a fellow of the American Academy of Arts & Sciences in 2011 and in 2016, he received their Scholar Patriot Award. Over his lifetime, he received 12 honorary doctorates from universities including Case Western Reserve University in Cleveland, Brandeis University in Waltham, Mass., and Hebrew University in Jerusalem.
Mandel was raised on Cleveland's east side, where his parents, Simon and Rose Mandel, owned a dry goods store. In a 2013 interview with the Cleveland Jewish News, he said his mother was the inspiration for all of her sons.
Education
When he graduated from Glenville High School in Cleveland in 1939, Mandel was awarded an academic scholarship to attend Case Western Reserve University (then Adelbert College), which was interrupted when he enlisted in the U.S. Army. While in the Army, he continued his studies at Pomona College in 1943 and the University of California at Berkeley in 1944.
Mandel completed his bachelor's degree at Case Western Reserve University in 2013.
"(Education) should be valued and treasured because it's the path to the future for every living soul," Mandel said at the time of his college graduation, according to the foundation's website.
"I'm not a teacher," Mandel was quoted as saying, "but I guess you could say that we're all teachers."
"I want you all to know how proud I feel with the response of this institution and of the Jewish community to this effort for the Mandel family and me to do something that will honor my brother Joe's name and his wife, Florence," Mandel said after the foundation gifted $17 million to Agnon School, which was renamed the Joseph and Florence Mandel Jewish Day School in Beachwood.
His philosophy of hiring
In 2013, the same year he graduated from college, he co-authored the book, "It's All About Who You Hire, How They Lead. … and Other Essential Advice from a Self-made Leader," with John A. Byrne, in which he laid out his philosophy
"I felt that I had a message that was worth recording for a number of different audiences," he told the CJN at the time. "The principal audience is the 2,000 or so people that are in my world."
He said the book represented, "the learnings I've accumulated over the years, and I felt that I was at an age where I could do a serious job of saying lessons learned along the way."
He divided people into A's, B's and C's. Of them, he said, an "A will be spectacular, someone 'B' will be good, 'C' average. My conclusion is 'A's' will build you and make a millionaire, and if you have enough 'A's,' they'll make you a billionaire."
He said 'A's' are worth hiring, even if the timing is not opportune.
"When we find an 'A' and don't have a job for them, we hire them," he said. "We call that 'parking.'"
Building a business
In 1940, with an investment of $900, brothers Joseph, Jack and Morton Mandel formed the Premier Automotive Supply in Cleveland. The brothers bought the furniture, fixtures and inventory remnants of a small auto parts business from their uncle, Jacob Mandel, forming an automotive supply company that evolved into an electronics distribution powerhouse. The name was changed to Premier Industrial Corp.
In 2006, the company merged with the British firm Farnell Electronics to become Premier Farnell LLC. in a $3 billion transaction. About $1.8 billion went to the Mandel brothers. The combined entity, Premier Farnell PLC, became one of the largest industrial and electronic component suppliers in the world. Mort Mandel served as the deputy chairman from 1996 to 2002.
Charitable endeavors
The Mandel brothers began donating modestly to charities in the late 1940s, according to Parkwood Corp.'s website. As their business success increased, so did their giving. In 1953, the brothers founded the Mandel Foundation (now the Jack, Joseph and Morton Mandel Foundation), which supports civic and philanthropic activities in their various areas of interest. In 1990, the foundation launched the Mandel Foundation-Israel.
The foundation awards gifts in the following areas: leadership development, management of nonprofits, humanities, Jewish life and urban engagement.
Starting in 1950, Mort Mandel devoted a substantial amount of his time to philanthropy. He personally founded, or helped found, more than a dozen nonprofit organizations, including Cleveland Tomorrow and MidTown Cleveland. He served on the boards of many local and national nonprofit organizations, including serving as president of United Way Services in Cleveland.
In July, the foundation gave a $23 million naming gift to the Cleveland Clinic's Global Leadership and Learning Institute. In March, the foundation gave a $1 million gift to Cleveland Clinic for an endowed chair in urologic cancer research. In September 2018, the American Academy of Arts and Sciences received a $3.5 million gift. The foundation gave a $4.8 million gift in August 2018 to a Palm Beach, Fla., recreation center named the Barbara Mandel Recreation Center, for his wife.
In addition, the Jewish Federation of Cleveland's building and the Mandel Jewish Community Center, both in Beachwood, are named for the brothers. The Temple-Tifereth Israel in Beachwood received $16 million from the Mandels toward a major renovation. There is also the Jack, Joseph and Morton Mandel Armor Court at the Cleveland Museum of Art, the Jack, Joseph and Morton Mandel Humanities Center at Cuyahoga Community College's eastern campus in Highland Hills, the Jack, Joseph and Morton Mandel Honors College at Cleveland State University, the Mandel Center of Leadership in the Negev, Israel; the Mandel Institute of Jewish Studies at The Hebrew University in Jerusalem; the Mandel Leadership Institute Israel; the Mandel Center at Brandeis University in Waltham, Mass.; the Mandel Public Library of West Palm Beach, Fla; the Mandel JCC of the Palm Beaches in Florida; and the Joseph, Jack and Morton Mandel Center for Advanced Holocaust Studies at the U.S. Holocaust Memorial Museum in Washington, D.C.
Personal awards
In addition to the awards named above, Morton Mandel received numerous awards recognizing both his business acumen and his commitment to philanthropy, including the Distinguished Alumni Award from Case Western Reserve University; the Cleveland Heritage Medal; and the Presidential Award for Private Sector Initiatives presented by President Ronald Reagan.
Family
Jack N. Mandel died May 12, 2011, at age 99 and Joseph C. Mandel died March 22, 2016, at age 102.
Mandel is survived by his wife, Barbara. They have three grown children and several grandchildren.