10/12/2020
Remembering Norman Wain
We are saddened to share the loss of Norman Wain z"l, Federation Board of Trustee Emeritus and past Campaign Chair. Norman was a beloved leader who devoted himself to community and family.
Our thoughts are with the entire Wain family during this difficult time. May Norman's memory be for a blessing.
---
Norman Wain, radio legend, has died at 92
Please read the Cleveland Jewish News article, reprinted with permission. Text provided below:

by Bob Jacob | Managing Editor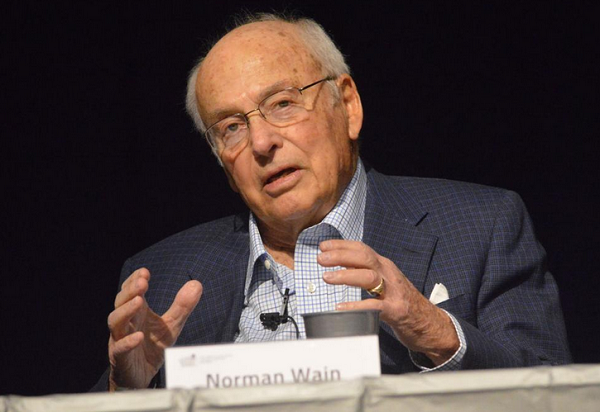 Norman Wain, a radio pioneer in Cleveland broadcast history, died Oct. 10. He was 92.
A past chair of the Cleveland Jewish Publication Company Board of Directors, the Brooklyn, N.Y., native, was part of a group that created Westchester Corp.
Wain, who was a disc jockey and an account executive, joined Bob Weiss and Joe Zingale to purchase WFAS radio in White Plains, N.Y. in Westchester County, and they took control in December 1964.
In November 1965, they assumed control of WDOK-AM and FM in Cleveland when AM radio was on its way out. They proceeded to change the course of Cleveland radio as WIXY became the No. 1-rated station. Wain, who was known as "Big Chief Norman Wain, served as an announcer at WDOK and was a disc jockey at downtown social clubs.
"We took the AM (station) and changed that to WIXY, rhyming it with the dial position, WIXY 1260," Wain said in 2016 at an event, "Cleveland Radio Superstars," co-sponsored by the Cleveland Jewish News.
"At the time there were two other rock and roll radio stations in town, WHK and WKYC, so there were three stations playing the exact same format of music."
Wain's group decided it needed to do something different to stand out, so it went on "an all-out promotional kick," he said.
"We had new promotions almost daily, and it was those promotions that really put WIXY on the map," Wain said. "That really was the key to WIXY's success."
Those promotions included Appreciation Day concerts, Thanksgiving Day parades and bringing the hottest bands to town, including the Beatles, The Monkees, The Rolling Stones, and The Supremes.
Pop culture historian Mike Olszewski told the CJN in 2016 WIXY conducted wild promotions, including a mini-skirt competition that might not be viewed so favorably today. Under Wain's direction and through the use of a wild assortment of promotions, the station morphed from a "tiny little station with a tiny little signal" to a dynamic leader, Olszewski said.
Larry Morrow was hired from CKLW radio in Windsor, Canada, and quickly became one of WIXY's most popular disc jockeys from 1966 until the station was sold in 1972.
Wain, a member of Park Synagogue in Cleveland Heights and Pepper Pike, was also philanthropic, creating the Nina and Norman Wain Family Foundation with his late wife. He remarried Barbara Rosenthal, and in 2017 they funded the Wain Pavilion at Park Synagogue East in Pepper Pike.
He told the CJN in 2010 he credits his family's philanthropic efforts to his wife's caring nature and lessons he learned from his father. When he was growing up in Brooklyn, his father and a group of men who came from the town of Kiblutch in the Ukraine met once a month to "literally pass the hat for fellow Kiblutchers in need," Wain said. "Their generosity during those tough times made a big impression on me as a kid."
Wain's parents, Pearl and Benjamin Weinstock, operated a small grocery store, which they lived above with their children, Charlotte, Norman and the late Harris.
Wain was given the nickname, "Mr. Superlative," because every day was the "best day ever," every meal was the best he ever tasted, every visit with his family was the best one yet.
He served on committees and boards of the Jewish Federation of Cleveland, Hebrew Free Loan Association, Greater Cleveland Food Bank and others. He built a radio station at Hebrew University in Israel and was a supporter of the Israel Tennis Centers.
His iconic voice made him a favorite emcee for charity events, including the CJN' 50th anniversary in 2014.
He also acted in community theater and played tennis, golfed and bicycled into his 80s.
Wain enjoyed Shabbat dinners with his children, visits to his grandchildren and large family gatherings.
Wain attended Midwood High School in Brooklyn and earned a degree in speech from Brooklyn College in New York. He served in the U.S. Army.
Wain and Nina, whom he was married to for 53 years until she died in 2009, created the Nina and Norman Wain Advertising Internship at the CJPC.
Wain is survived by his wife, Barbara; and children: Beth (Bob) Brandon, Amy Wain Garnitz, Cathy (Jonathan) Stamler and David Wain; nine grandchildren; nieces and nephews; and his sister, Charlotte Cove.
Private graveside services for immediate family.
Donations may be made to Bellefaire JCB at bellefairejcb.org
This is a developing story.