03/03/2016
Resilient Relationship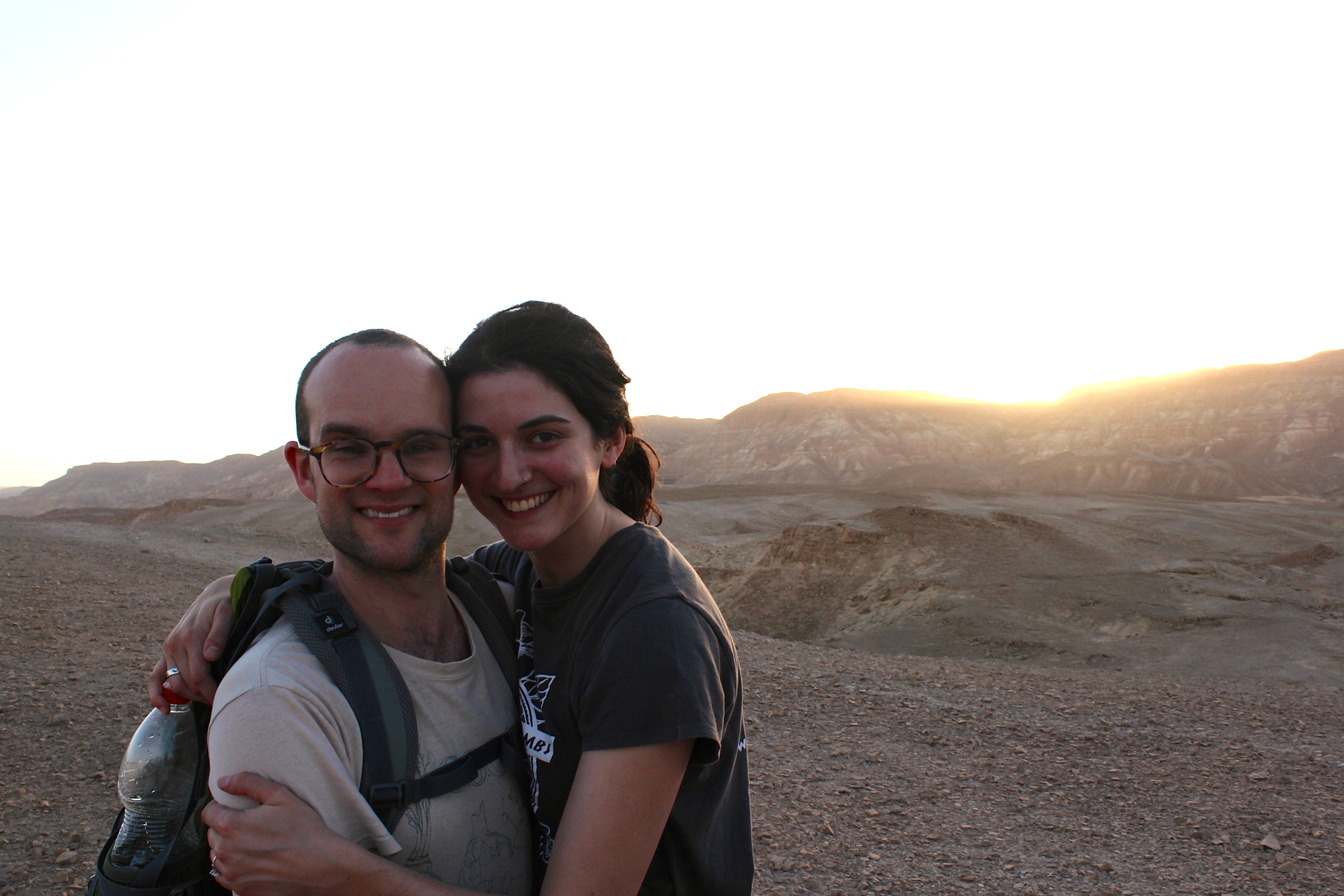 Article Reprinted with permission from JStyle
Through long times and across long distances, Joshua Davidson and Rebecca Richman's love flourished.
by Jonah L. Rosenblum
Joshua Davidson and Rebecca Richman's love story began with a promise – a promise not to fall in love. As the two sat in a field at Camp JRF, a Reconstructionist Jewish summer camp in South Sterling, Pa. where both worked as counselors, they shook hands and vowed they would not fall in love.
Davidson, a Shaker Heights native, was about to enter his sophomore year at Oberlin College. Richman, a native of the Interstate 495 circle just outside of the nation's capital, was getting ready to commence her studies at Brandeis University. The schools are separated by 664 miles of interstate, a nearly 10-hour drive.
Falling in love didn't make sense. Then again, it so rarely does.
Beginning with moonlit walks in the densely forested topography of Eastern Pennsylvania, extending through months in mountainous Haifa and culminating at the spot where it all started with a September wedding at Camp JRF, Davidson and Richman have trod quite a path, one imbued with a remarkable love.
An Identity in Cleveland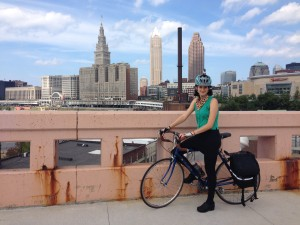 Long distance isn't easy. Many choose to break up, but Davidson and Richman made it work – for three-and-a-half years.
How?
It all started that summer when they weren't supposed to fall in love – but did.
"You just take walks after your campers go to sleep," Richman recalls.
They bought a plane ticket for Davidson to pay Richman a visit in Waltham, Mass., that fall – and that turned into visiting each other every single month.
They decided after a school year apart, they should spend a summer together. Their first summer, the couple lived with a friend on Overlook Drive in Cleveland Heights. Their second summer, they lived on Hessler Street in University Circle, while Davidson worked with the Hillel program and Richman worked at the Monarch Center for Autism.
Those summers smacked of paradise. They bicycled all over the city – to gorgeous Edgewater Park, to Progressive Field, to dinners at Ohio City's Momocho, to evenings at Mahall's, a funky (in a good way) bar and bowling alley in Lakewood.
"We rode our bikes everywhere," Davidson recalls.
"Cleveland really became, for Josh, for me, it became a symbol of freedom and independence," Richman adds.
Beyond the beauty of summertime Cleveland, they discovered common values, most notable their love for family, over weekly, sometimes even more frequent, dinners, Shabbat and otherwise, with Davidson's parents and grandparents.
Getting the blessing of family wasn't difficult. Richman recalls asking her parents if she could spend the summer with her new boyfriend.
"They were fine with me spending my summers in Cleveland and they could see how happy I was and how good it was for me," Richman says.
"They were extremely supportive of me," Davidson adds. "We were very close with each other's families very soon after we started dating."
Of course, during the year, they were still apart. How did they make it work?
"I think incredible amounts of communication and honesty," Davidson says.
That meant daily calls – and no texting.
"And egalitarianism," Richman pitches in, reflecting on their daily calls. "He's the person you call after a good class and a bad class and to talk about your ideas."
But Richman admits that's not an entirely satisfying answer. If it were as easy as daily calls, more long-distance couples would succeed.
"I really think that Josh and I are lucky, and we have a really special, deep connection, in part because we met at camp and in part because of our souls," Richman says. "I think we're really lucky to have found each other. There's a lot that we do to make our relationship work, but there's also a lot that we don't have to do."
Israel, cycling and nuptials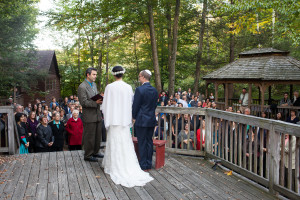 When Davidson graduated Oberlin and moved to Waltham, it was momentous for the couple. After three-and-a-half years, they were finally together. Long separated by a 10-hour drive, they were now a mere 20-minute walk apart.
"It felt like a joke. It felt completely unreal when it happened," Richman says. "We made it through three-and-a-half years of long distance and now we get to be together? Now? Really?"
That was when the couple changed from dating long-distance to traveling long distances together – never more so than their six-month stint in Israel starting October 2014 as part of Masa Israel's "Israel by Design" program and their across-the-nation bike tour from May to July of 2015. The program allowed them to do what others would not – live together despite not being married yet (they got engaged in the summer of 2014). The goal was to help Richman learn Hebrew in preparation for rabbinical school. The obstacle was the ongoing warfare in Israel at the time. Given the conflict, the couple spent a good deal of time there discussing politics. Davidson and Richman took in a lot – beauty, tragedy and war.
"Israel by Design" isn't for everyone, according to Cleveland regional director for Masa Israel Mirit Balkan, since most people looking into Israel want more company, guidance and/or structure.
Davidson and Richman, on the other hand, already knew Israel. For Richman, it was her second trip to the holy land. For Davidson, it was his fifth.
They also didn't mind going on their own – rather, they relished it.
The couple, separated for so long, spent every moment together. They were in class together. They did homework together. They walked from their living space at the base of a mountain up to the cafes toward the top together. They navigated old streets together and slowly began to understand the ancient language being spoken around them. They visited with members of Davidson's family who lived in Israel.
"It was our first time having our own space just to be shared for us," Richman says.
"I thought it was a really profound thing for our relationship," Davidson says. "Most of our life in Haifa was just the two of us."
And in Haifa, the couple found something that reminded them of their original land of freedom and togetherness, because according to Balkan, Cleveland and Haifa aren't so different. Both are loved by those who live there and occasionally scorned by those who don't. Both are defined largely by their distinct neighborhoods.
"People talk about Haifa and Cleveland in the same way," Balkan said. "Young people love it. They think it's the best. There's no traffic and the best food and it's very diverse."
Like Cleveland, Haifa offers an intimacy one might not find in Jerusalem or Tel Aviv.
"They had their own café where they used to come and study every night," Balkan said. "People knew them and exactly what they were going to order. That's something special. Not every city could offer that. They achieved that in Haifa, and I was very happy for them."
Mere months after returning from Israel, they embarked on an across-the-nation bike tour, with a few segments achieved by rail, starting in Washington, D.C. and ending in Astoria, Ore.
Finally, after years of long distance followed by months in Israel and a bike trip across the country, the couple married Sept. 26, 2015 at their old camp in the Keystone State and settled close by in Philadelphia. Their wedding was low-key, just the way they wanted it, with the camp chef preparing the food. There was no wedding planner. It was just the couple, their friends, their family, the place they met and 160 blankets to fight off the autumnal chill in the Poconos.
Future in Northeast Ohio?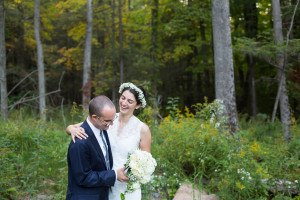 Davidson, 26, is pursuing his master's degree in city and regional planning at the University of Pennsylvania. Richman, 24, is studying at the Reconstructionist Rabbinical College in nearby Wyncote, Pa.
"We are on a much more normal schedule," Davidson says. "There's this amazing sense of peace that I feel in my relationship now, really, really incredible peace," he continues. "Right now, there's this really beautiful togetherness and being together that I'm very grateful for."
That said, the couple still yearns to return to Cleveland, the city where they found themselves – and a cherished sense of independence.
"We've been thinking about ways that we can come back after graduate school," Richman says.
With her focus on community in the rabbinate and Davidson's focus on urban afairs, they've discussed creating some sort of Jewish community in downtown Cleveland – perhaps buying an old factory building on Superior Road or in Tremont and converting it into a Jewish living center. The center could house a research space, a prayer space, a preschool, even a brewery.
"We're dreaming," Richman says with a gentle laugh. "Josh and I are definitely both builders. We work really well together and we're really excited about building community and that feels really possible in Cleveland. Cleveland is a symbol and continues to be a place of freedom and independence. It's a place we know we'd be able to live our lives, our shared life."
As for that shared life?
That's something that Richman reflected on beautifully in her wedding talk, her tish, when she discussed her fear of losing Davidson.
"My fear of losing Josh, that something will happen to Josh, is a reflection of how much I love him and how deep that love is," Richman said. "I think that my life has been totally transformed by this relationship and I just feel like I have a buddy. I feel that I have a buddy in everything that I do.
"I don't worry anymore about anything. We have each other."
---
Related Items