03/02/2017
Robertson Joins Security Team
Former Cleveland Heights Police Chief Robertson joins Federation security team
Article reprinted with permission from the Cleveland Jewish News.
By Amanda Koehn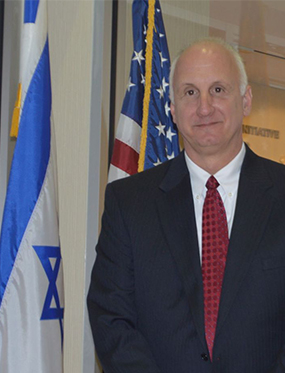 Jeff Robertson, a former Cleveland Heights police chief, joined the Jewish Federation of Cleveland's security team last week, in the newly created role of deputy director of community-wide security.
Robertson will supervise the security force, work on special projects and also help develop strategies to prevent and respond to crimes within the Jewish community. He will work under director of communitywide security, Jim Hartnett, whom Robertson said he has known well for years.
"I think this security team is one here that other security teams and the federations throughout the country look at," Robertson said. "That's the goal really, to put a program in place that's a model."
Robertson, Gates Mills resident, retired from the Cleveland Heights Police Department in February 2016. A former Lyndhurst resident and a graduate of Charles F. Brush High School in Lyndhurst, Robertson began working for the Cleveland Heights police as student at Kent State University. He moved up the ranks from patrol to chief and was chief for five years.
"We are pleased to have Jeff Robertson join the Jewish Federation of Cleveland as deputy director of communitywide security. Jeff's 30-plus years of experience in local law enforcement makes him a great new addition to our security team and will allow us to do even more to ensure the safety and security of our community," Oren Baratz, senior vice president of external affairs for the Federation, said in an email.
Although Robertson is not Jewish, he said his positive interactions with the Jewish community throughout his 34-year tenure with Cleveland Heights police influenced his decision to take the role. He also said his career-long interest in community policing made the position at the Federation a good fit.
"When I was a policeman and when I became chief, I put a big focus on community policing and reaching out into the community," he said. "I know that Jim, even though we are on the security end of it, he wants the security of the Federation to reach out to the community."
---
Related Items