05/03/2017
Rockin' with Raichel
Article reprinted with permission from the Cleveland Jewish News.
By Amanda Koehn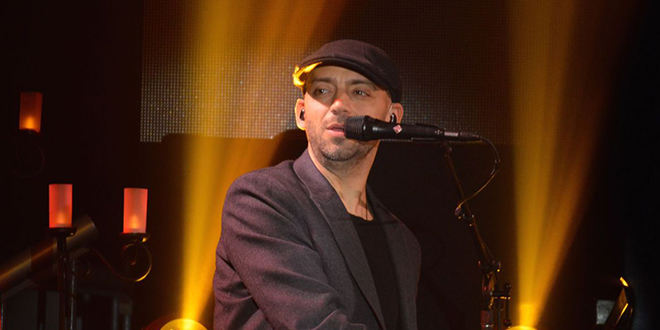 Clevelanders celebrating Israel's Independence Day, or Yom Ha'atzmaut, spent an evening with Israeli singer and musician Idan Raichel, who captivated the crowd with his solo, piano-based performance.
The Yom Ha'atzmaut celebration, presented by the Jewish Federation of Cleveland, engaged about 2,000 Clevelanders in Israeli cultural activities, music and food May 2 at Landerhaven in Mayfield Heights.
Yom Ha'atzmaut is celebrated the day after Yom Hazikaron, or Israel's Memorial Day. Raichel told the crowd about how both days are important to him to remember and celebrate those who served for Israel's freedom.
"I always prefer to spend (Yom Hazikaron) back home," he said, however adding that he is often on tour spending both days with audiences around the world.
Raichel interspersed his songs with some poignant, but also light-hearted commentary. He told the audience that the reason behind his hairdo change – he shaved his dreadlocks since the last time he was at Cleveland's Yom Ha'atzmaut in 2015 – was his mother's opinion, to which the audience laughed.
People of all ages enjoyed activities at the event prior to the concert, while those in their 20s and 30s were invited to attend a separate "Blue and White Party," which included cocktails and dancing to Israeli music.
At the "Blue and White Party," the Israel Defense Forces delegation of soldiers who attended Yom Hazikaron and Yom Ha'atzmaut events around the Cleveland area all week, danced with Clevelanders. First Lt. Yael Hadar, a company commander in the IDF, said it was her first trip to the U.S. and so far, going to downtown Cleveland was fun, as was Fuchs Mizrachi School's Yom Ha'atzmaut parade.
"People are so nice here," Hadar said. "Cleveland was fantastic."
"The people here are awesome," said co-IDF delegate First Lt. Gilad Benayahou.
Holly Sukol, a member of the planning committee for the "Blue and White Party," said she hoped the event would connect young Cleveland-area Jews to both one another and Israel.
"I think it's a wonderful opportunity to get people connected to the Jewish community who are at a little bit of a gap age, that aren't going to synagogue, that aren't in Jewish day school any longer, so it's a nice way to network with people who share a common religion and a common culture," said Sukol, a Shaker Heights resident.
Nicolle Simonovic, Susan Reisman and Juliana Levi, attendees to the "Blue and White Party," all from the Cleveland-area, said the Israeli food – which was falafel and breaded chicken in pitas with Israeli salad, as well as a selection of miniature pastries – and the presence of the IDF soldiers made the event a hit.
"Considering that a lot of the people in the delegation are a similar age to a lot of young people here, it's just an amazing way to connect," said Simonovic, a University Heights resident.
---
Related Items