10/25/2018
Rudin-Luria Impressed with Israeli President Rivlin
Article reprinted with permission from Cleveland Jewish News.
By Alyssa Schmitt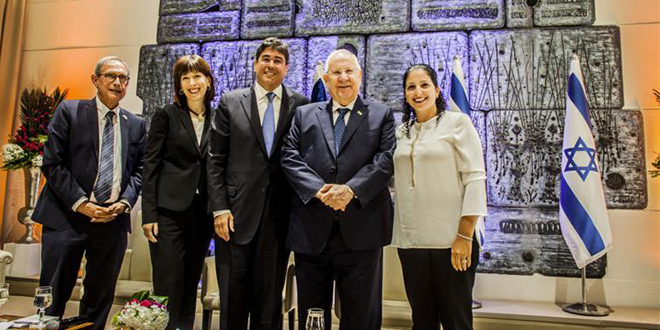 Before the Jewish Federations of North America's annual general assembly in Tel Aviv began, incoming Jewish Federation of Cleveland President Erika Rudin-Luria shared how the gap between North American Jews and Israel can be bridged during a panel in front of Israeli President Reuven Rivlin.
She sat on a panel Oct. 21 with Eric S. Goldstein, CEO of UJA Federation of New York, and Shira Ruderman, the executive director of the Ruderman Family Foundation in Boston, hosted at Rivlin's residence in Jerusalem. Rivlin opened the discussion and Nachman Shai, a Knesset member, facilitated it.
"President Rivlin opened up by welcoming all of us and indicating that he really appreciated all of us and our communities," Rudin-Luria said. "He thinks of the Jewish people around the world as family and that he's thrilled that we're in Israel. He was very gracious and he said his goal in requesting this dialog was to listen and said we need to do a lot of listening. He basically just emphasized the importance of that as well as the relationship between Israel and the Jewish people around the world."
The questions posed to Rudin-Luria related to the young American Jewish community and changes in Jewish identity. When she answered, she noticed Rivlin listened intently to her responses, which she said showed he cared.
She shared to the group made up of leadership from the North American Jewish community how she sees the young Jewish community being more diverse than it used to be. Many of the people she comes in contact with have expressed a deep care about Israel, yet they have questions about Israel and do not know how to engage with the country.
"The young Jewish-American community is seeking meaning and relationships and they want to see their values reflected in those organizations and experiences that they choose," she said. "We need to be open to questions, we need to be open to conversation and we need to not look at questions as if it means someone is disloyal."
She remembered a point in the dialog were she compared U.S. politicians making a grand statement to an Israeli politician making a similar statement and how it could pose a challenge when talking about Israel-North American relations.
"When a U.S. politician makes a statement, we don't (as Americans) take it as it's the entire United States of America making that statement," she said. "However, sometimes, when an Israeli politician or an Israeli journalist writes something that we find offensive, there are people that take it as if it is the entire state of Israel that's making that statement."
It's not up to Israel to make sure there's a relationship with North American Jews, but that it's a two-way street, she said, and Cleveland Jews have plenty of opportunities to get involved with Israel through the Jewish Federation of Cleveland.
"I think it's about encouraging people to come together to work on the issues they care about and partner (on them)," she said. "A lot of the investments the Federation makes in Israel deal with complex societal issues and (our Federation has) had a great amount of success. These are things I think people would be very proud of."
After the panel, Rudin-Luria said she walked away confirming her feelings that a partnership bridging Israel and North America together is doable.
"Rivlin really cares," she said. "He was listening so intently. What he said seemed to resonate with us, what we said resonated with him. I walked away feeling that we really need to partner on this together."
---
Related Items