05/06/2016
Saltzman to Receive Volunteer Award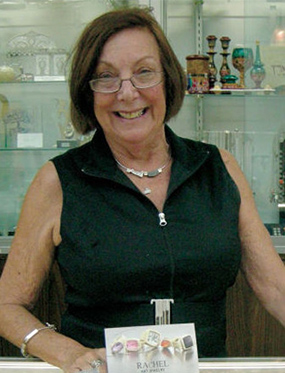 by Kristen Mott
Article reprinted with permission from Cleveland Jewish News.
Beachwood resident Mary Ellen Saltzman will be recognized for her work at the Treasures Gift Shop at the Mandel Jewish Community Center and Siegal College during the Jewish Federation of Cleveland women's philanthropy's annual Women's Spring Luncheon from 11:30 a.m. to 1:30 p.m. May 18.
Saltzman started the gift shop in 1992 after returning from her first trip to Israel.
"This was an idea she had some 20 years ago and she brought it to fruition and it was totally a labor of love," said Jennifer Korach, women's philanthropy chair at the Federation. "I think a lot of people think the gift shop at the Mandel JCC and Siegal College are a for profit venture and they are not. They are run and created and operated because of Mary Ellen."
Saltzman will receive the Irene Zehman Volunteer Award during the event. The award recognizes a woman, group of women or a women's organization whose efforts on behalf of the Cleveland Jewish community demonstrate the highest ideals and practices of volunteer service.
"She was nominated by so many women who volunteer at the gift shop. It made me feel so happy that we are giving this award to someone who is so grateful for being able to do what she's doing. She just wants to be like a light to young people," Korach said.
Jessica Fechtor, author of "Stir: My Broken Brain and the Meals that Brought Me Home" and an Orange High School graduate, will serve as keynote speaker at the event. At 28 years old and pursuing a Ph.D. at Harvard University in Cambridge, Mass., Fechtor suffered a brain aneurysm and nearly died. She began her recovery through cooking and baking and documented the restorative power of food in her book.
"I think what we're trying to do at the Federation is create opportunities to make the people we help resilient and create a safety net for them," Korach said. "That gumption and resilience that she had by healing herself through food and writing in a very difficult time in her life after suffering from an aneurysm is just an incredible, hopeful story. We just wanted to share that with people."
EVENT INFORMATION
WHAT: Jewish Federation of Cleveland's Women's Spring Luncheon
WHEN: 11:30 a.m. to 1:30 p.m. May 18
WHERE: Landerhaven, 6111 Landerhaven Drive in Mayfield Heights
TICKETS: Lunch and program cost $45
INFO: RSVP is requested by May 11 to 216-593-2845 or jewishcleveland.org