05/28/2021
Saltzman Youth Panel Grants $40,000 for Community Needs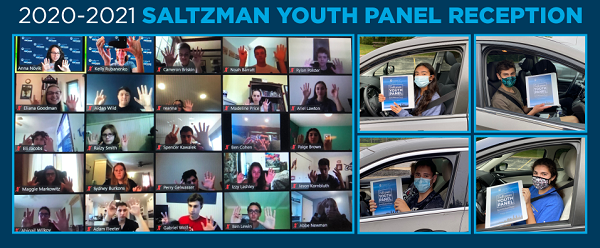 41 Jewish high school juniors and seniors from public and private high schools across Cleveland have come together to recommend grants totaling $40,000 to 14 organizations for crucial programs in the Jewish and general community through the Jewish Federation of Cleveland's 2020-2021 Maurice Saltzman Youth Panel.
Saltzman Youth Panel was established in 1998 through a generous gift from Shirley Saltzman z"l and her family in memory of the late Maurice Saltzman z"l. The program is designed to help educating the next generation of Jewish community leadership, a passion of Maurice Saltzman, who was a past board chair of the Federation. Each year, a new Saltzman Youth Panel allocates up to $50,000 to worthy organizations – 85% of which are awarded to programs serving the Jewish community and 15% awarded to non-profit programs serving the general community. Through this experience, the participants learn about the philanthropic process and responding to community needs.
Panelists Jason Kornbluth, a senior at Orange High School, and Paige Brown, a senior at Solon High School, presented the panel's recommendations regarding the allocation of $36,000 to Jewish community programs to the Federation's Board of Trustees during a virtual meeting on May 25, 2021. Recommendations from the panel were unanimously approved by the board. At a previous Federation Board of Trustees virtual meeting on February 16, the board unanimously approved the panel's recommended allocation of $4,000 to general community programs.
"This year's panel has shown incredible initiative and a sense of responsibility for our local and global Jewish community," said J. David Heller, Federation board chair. "These impressive teens are taking their responsibility seriously!"
Among the grants were: $4,000 to Menorah Park Foundation towards direct care costs for indigent patients facing end of life; $3,940 to the American Jewish Joint Distribution Committee for Jewish teens in St. Petersburg, Russia to develop and strengthen their Jewish identity and leadership skills; and $2,000 to Boys and Girls Club of Northeast Ohio to support ClubSmart locations to improve vulnerable youth's success with remote learning.
Prior to the Board of Trustees meeting, panelists and their families gathered for a virtual reception to celebrate their accomplishments. Federation President Erika B. Rudin-Luria congratulated the group on their successful collaboration and philanthropic spirit. Panelists commented on how much they learned about community needs, evaluation of grant proposals, and the struggle to prioritize needs when resources are limited.
Panelists, selected through a competitive application process, met eight times throughout the school year. They created a Request for Proposals, reviewed grant applications, learned about consensus decision making and, in the end, had a tremendous impact on programs and organizations which improve the lives of others. Seven alumni also joined the 2020-2021 panelists as Saltzman Youth Panel Peer Advisors, a newly created role that helped transform the panel into a meaningful online experience.
To nominate a rising high school junior or senior for the 2021-2022 Saltzman Youth Panel, please contact Anna Novik at anovik@jcfcleve.org or 216-593-2844. Application deadline is Friday, August 6, 2021.